EXSA 2021 Virtual Presentation Ceremony, 16 Nov 2021
EXSA 2021 Virtual Presentation Ceremony, 16 Nov 2021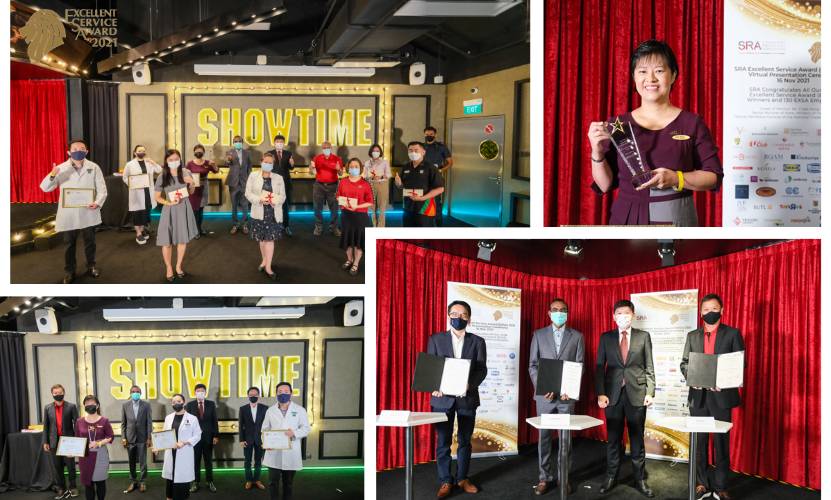 The Excellent Service Award (EXSA) 2021 Virtual Presentation Ceremony ended on a high note on Tuesday, 16 November! It was a day of celebration as we unveiled the winner of the EXSA (Retail) 2021 Service SuperStar Award. Ms Tan Chye Sin (Wendy), Concierge at Orchard Turn Developments Pte Ltd emerged as the ultimate winner out of the 35 individuals vying for the coveted award. The other 2 finalists are Ms Lee Rolin (Iser), Senior Counter Manager at Estée Lauder Cosmetics Pte Ltd (Brand: Clinique) and Mr Colin Tang Wei Qiang, Senior Pharmacist at Watson's Personal Care Stores Pte Ltd.
Our heartiest congratulations once again to the 4,598 retail workers from 130 companies for their dedication and outstanding customer service. See you at EXSA 2022!
#EXSA2021 #SRA
---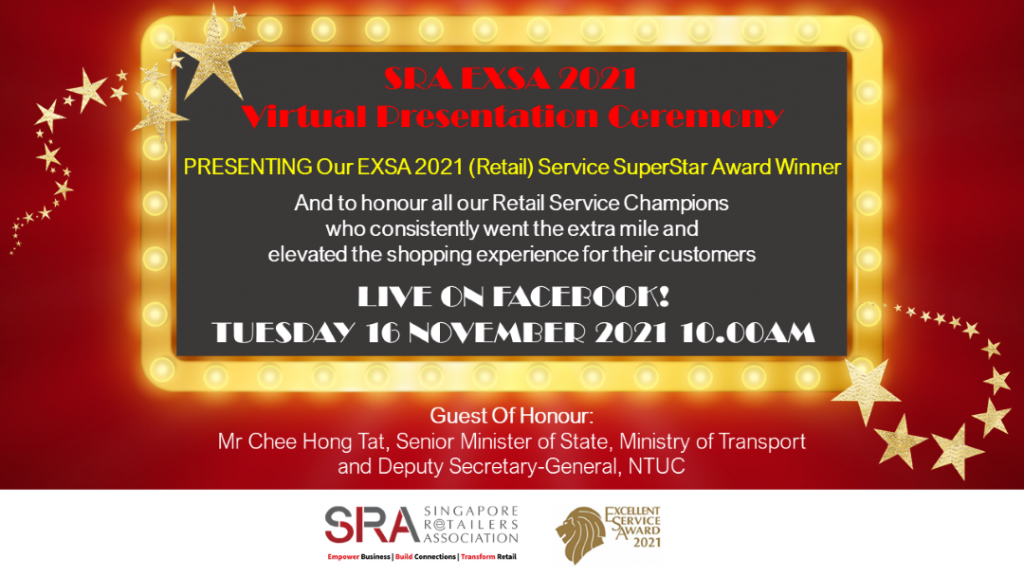 Join us LIVE on Facebook as we unveil the winner of the EXSA (Retail) 2021 Service SuperStar Award! Find out what's the success formula of our service champions and learn from the BEST in the industry.
Take part in the live quiz and you may just win prizes like a 2-in-1 Steamboat & BBQ Grill and powerbanks!
Programme Highlight
Signing ceremony of a Memorandum of Understanding (MOU) between Singapore Retailers Association, NTUC LearningHub and e2i on the joint commitment to upskill the retail workforce in tandem with industry transformation plans
Prize presentation of the Top 10 finalists and Winner of EXSA (Retail) 2021 Service SuperStar Award
See you on FB live at https://www.facebook.com/SingaporeRetailAssoc/ on Tuesday 16th November, 10am!
For more information about EXSA 2021, please contact Ms Elise Lee at 9768 6981 or elise@sra.org.sg
Like and Follow our page to get instant notification when we go LIVE!
#EXSA2021 #SRA