Save the Date! EXSA 2022 Awards Presentation Ceremony will be held on 9 & 10 Nov 2022 at D'Marquee Downtown East.
About EXSA
Launched in 1994, the Excellent Service Award or EXSA is a national award that recognises individuals who have delivered quality service. It seeks to develop service models for staff to emulate and to create service champions. Organisations with EXSA staff are committed to achieving service excellence. They seek to deliver superior service through service champions in their organisations.
Award Objectives
Inspire service staff to scale new heights
Identify service role models
Encourage service champions
Recognise the efforts of service staff
Award Categories
The Excellent Service Award is conferred at three levels:
Silver Award
Gold Award
Star Award
Companies may nominate both front- and back-end employees for any of the three categories ­­- Silver, Gold and Star Award. The nomination may be made across two different levels, namely Managerial/Supervisory/Executive or Non-Managerial/Non-Supervisory/Non-Executive.
Eligibility Criteria
The Excellent Service Award is open to all individuals from all levels in the organisation.
Nominees must meet the following criteria.
EXSA 2022 qualifying period is from 1 Apr 2021 to 31 Mar 2022.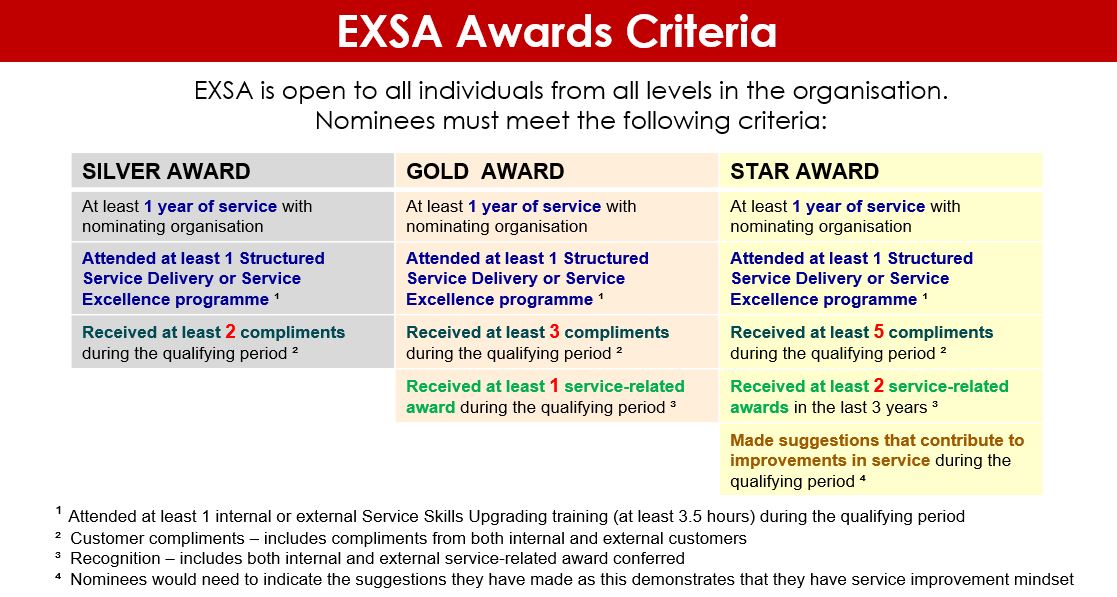 All EXSA recipients will receive a certificate of recognition and an exclusive Excellent Service Award badge. Additionally, they will receive an invitation to the annual physical or virtual EXSA Ceremony in celebration of their merits. A framed certificate will also be presented to companies in recognition of their remarkable efforts in elevating the service excellence in their organisation.
 Characteristics of EXSA Nominees
Prompt and proactive in anticipating and attending to customer needs
Going beyond the call of duty to exceed customer expectations, championing and role modelling excellent service
Accurate, consistent and seamless in service delivery
Ensures good and consistent service at all moments and touch points, stepping in to help out team members without being asked
Knowledgeable and helpful in communicating service offerings
Uses skills and knowledge to advise customers and add value to addressing customer needs, rather than merely pushing products
Empathetic, flexible and uses good judgement to understand and respond to different needs
Demonstrates emotional quotient (EQ) in assessing different situations so as to create positive experiences
Effective and reflective in the handling of feedback and resolution of difficult situations
Exercises agility in providing service recovery, turning adverse experiences into positive ones, and customer feedback into opportunities to delight, learn and develop best practices into opportunities
Nomination Process

Download SRA EXSA 2022 – Nomination Forms and email the completed nomination forms to michele.ng@sra.org.sg
SRA EXSA Compliments Form 
To encourage your customers to leave compliments for your retail staff so that they can in turn be nominated for the SRA Excellent Service (Retail) Award, we have developed a QR Code for customers to scan and leave their compliments for good service received in your store.  Refer to SRA EXSA Compliments Form – Step-by-Step Instructions and SRA EXSA Compliments Form – QR Template to set up your QR code today.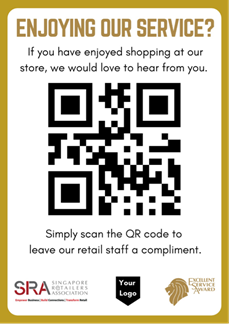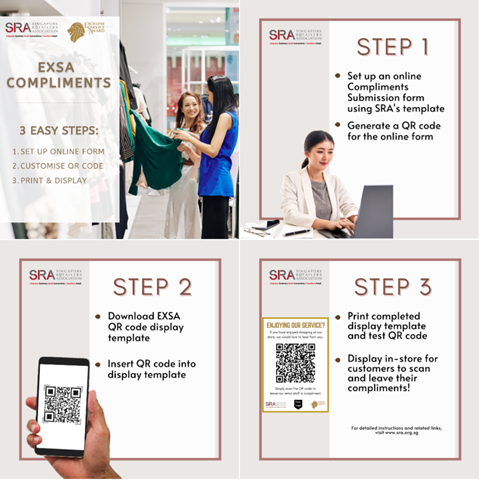 Stats of EXSA recipients (2016 to 2021)
| | | | | | | |
| --- | --- | --- | --- | --- | --- | --- |
| Year | 2016 | 2017 | 2018 | 2019 | 2020 | 2021 |
| Silver Award | 1,699 | 1,820 | 2,059 | 2,301 | 1,970 | 2,402 |
| Gold Award | 856 | 1,070 | 1,209 | 1,371 | 1,094 | 1,291 |
| Star Award | 440 | 517 | 695 | 841 | 675 | 905 |
| Total no. of EXSA Recipients | 2,995 | 3,407 | 3,963 | 4,513 | 3,739 | 4,598 |
| No. of EXSA Participating Companies | 97 | 121 | 132 | 148 | 121 | 130 |
EXSA Workshops (Online and Classroom-based) 
All qualified nominees for the Silver, Gold and Star awards will be required to attend a 4-hour EXSA Development Workshop which serves to reinforce and sustain a consistent level of service after receiving the awards. EXSA workshops provide nominees an understanding of how service excellence has been redefined in today's context, so as to better enable them to build customer loyalty and forge relationships with their customers.
Attendance at this EXSA Development Workshop is COMPULSORY to qualify for the awards. The workshops are available in both English and Mandarin and will be conducted from July to October every year.
EXSA Development Workshop fee is S$60.00 per nominee for SRA members and S$80.00 per nominee for non-SRA members, subject to 7% GST.
For more details about SRA EXSA (Retail) 2022 nomination, please contact:
Ms Elise Lee at M: 9768 6981 | E: elise@sra.org.sg or Ms Michele Ng at M: 9186 7938 | E: michele.ng@sra.org.sg
The Excellent Service Award (EXSA) 2021 Virtual Presentation Ceremony ended on a high note on Tuesday, 16 November 2021! It was a day of celebration as we unveiled the winner of the EXSA (Retail) 2021 Service SuperStar Award. Ms Tan Chye Sin (Wendy), Concierge at Orchard Turn Developments Pte Ltd emerged as the ultimate winner out of the 35 individuals vying for the coveted award. The other 2 finalists are Ms Lee Rolin (Iser), Senior Counter Manager at Estée Lauder Cosmetics Pte Ltd (Brand: Clinique) and Mr Colin Tang Wei Qiang, Senior Pharmacist at Watson's Personal Care Stores Pte Ltd.
Our heartiest congratulations once again to the 4,598 retail workers from 130 companies for their dedication and outstanding customer service.
Click here to view our EXSA 2021 video where SRA EXSA 2021 Top 3 Service Superstar award finalists and their employers share their views on the future of Retail in Singapore.
Past EXSA Superstar Winners (from 2017 to 2020)
In recognition of our SRA EXSA Past Years' Service SuperStar Award Winners and SRA EXSA 2020 SuperStar Service Award Finalists' outstanding service efforts, we have invited them to share their sentiments on Service Excellence. Let's hear what they have to say! SRA Excellent Service Award (EXSA) 2020 Video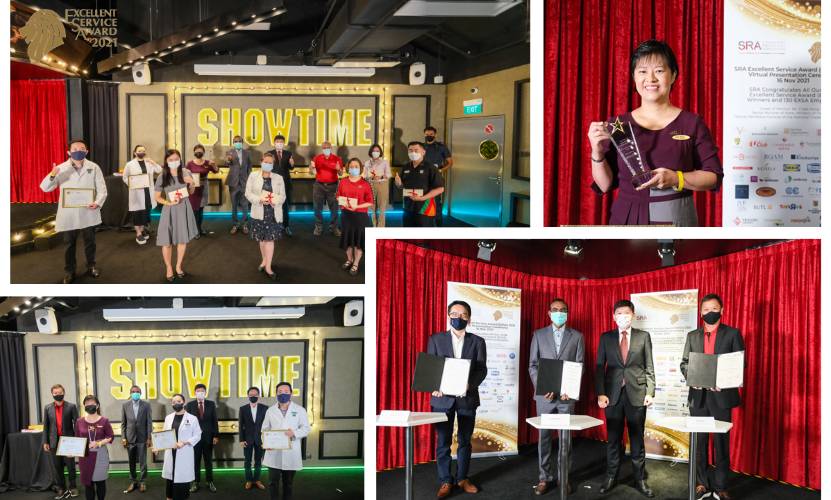 Missed our EXSA 2021 live ceremony? Watch the recording here!
#EXSA2021 #SRAEXSA
---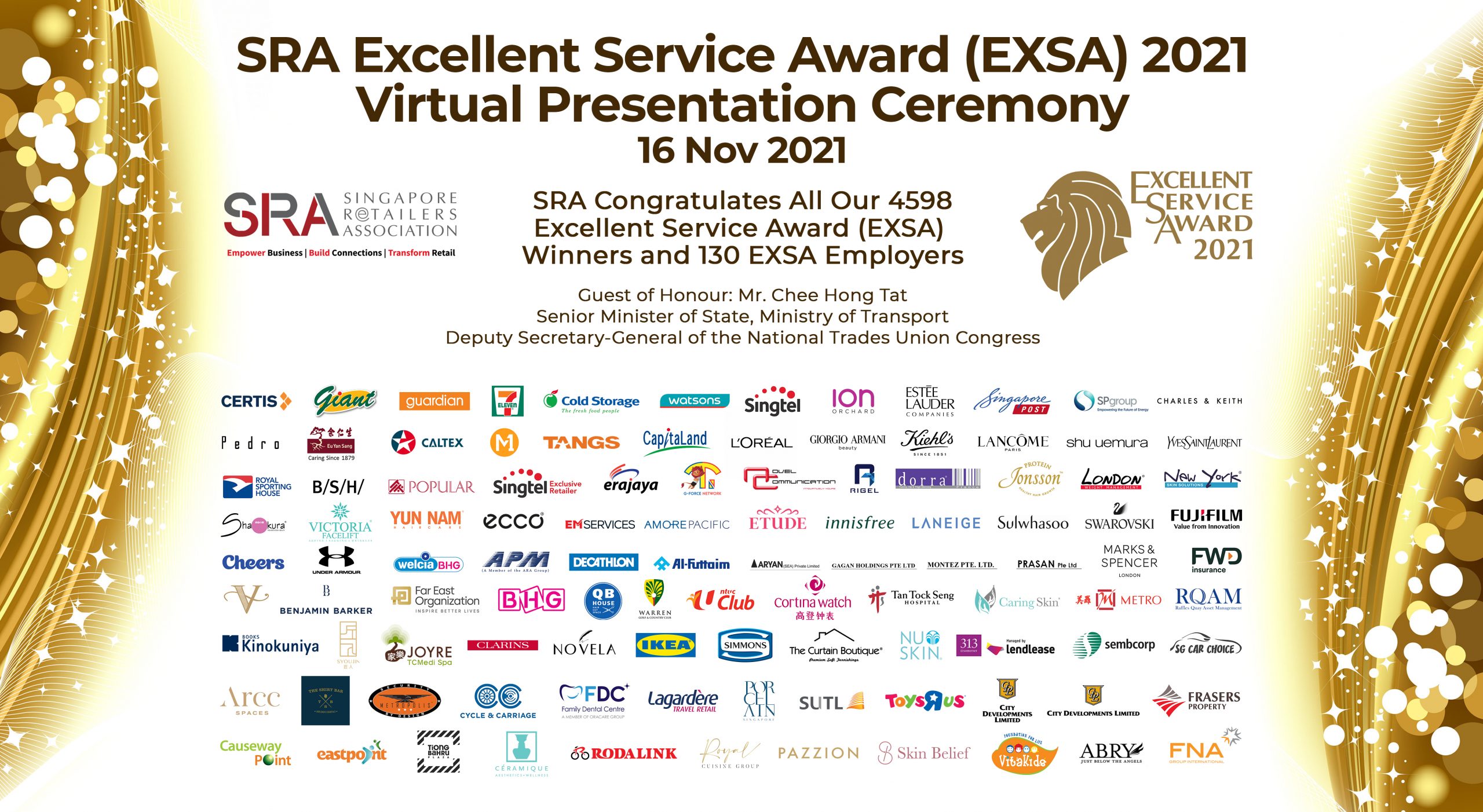 4,598 retail staff are awarded EXSA 2021 award across 3 categories. We have a total of 2,402 Silver, 1291 Gold and 905 Star award winners. 130 companies have nominated their service champions for SRA EXSA 2021, the service staff who have consistently delivered excellent service to customers and deserve all the recognition ! We would like to say a HUGE THANK YOU to all companies who made efforts to identify and submit nominations for your well-deserving employees. We truly appreciate the way you've supported the EXSA Awards.
SRA Service SuperStar is the epitome of the retail industry, where retailers nominate and pitch their best of Star EXSA Award winners from the Excellent Service Award (EXSA).
SRA EXSA 2021 Service SuperStar Top 10 Finalists
| | |
| --- | --- |
| 7-Eleven | Mr Ng Beng Yong Jeffrey, Franchisee |
| BSH Home Appliances Pte Ltd | Ms Daisy Ng Hui Peng, Senior Experience Centre Executive |
| Certis Land Security | Mr Muhammad Hafizuddin Bin Mohamed Happy, Senior Manager |
| City Developments Limited (City Square Mall) | Ms Sarah Dula Jimenez, Senior Customer Service Assistant |
| Cold Storage Singapore (1983) Pte Ltd | Ms Yong Lee Choo, Checkout Supervisor |
| EM Services Pte Ltd (Town Council) | Mr Tang Teck Yu, Assistant Property Manager |
| Estée Lauder Cosmetics Pte Ltd (Brand: Clinique) | Ms Lee Rolin (Iser), Senior Counter Manager |
| Guardian Health & Beauty | Ms Ng Siow Tian, Pharmacy Cluster Manager |
| Orchard Turn Developments Pte Ltd (ION Orchard) | Ms Tan Chye Sin, Concierge |
| Watsons Personal Care Stores Pte Ltd | Mr Colin Tang Wei Qiang, Senior Pharmacist |
SRA EXSA 2020 Participating Companies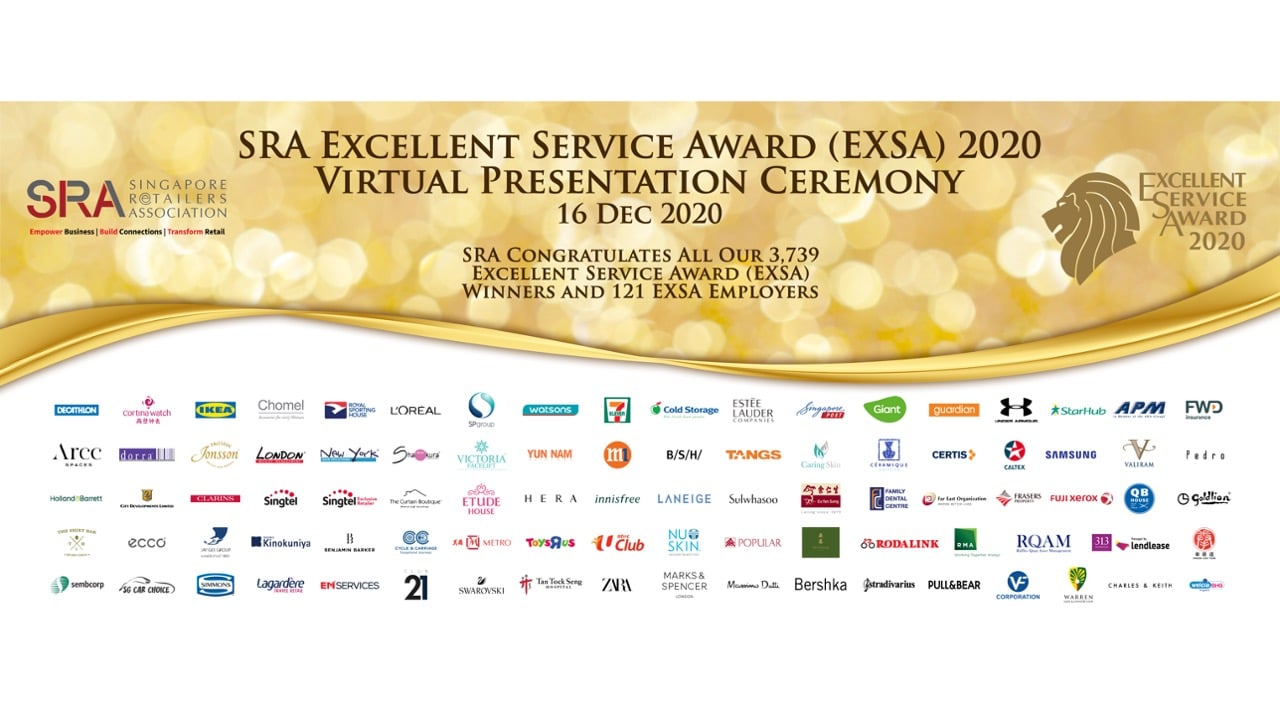 SRA held a hybrid presentation ceremony on 16 Dec 2020 which was live streamed on Facebook LIVE to acknowledge and celebrate the achievements of all our 3,739 retail service employees from 121 companies who exhibited excellent customer service in the preceding year. The occasion also revealed the 3 SRA EXSA Superstar Service Award Finalists – Mr Seah Cheng Huat of Cold Storage Singapore, Mr Tan Qing En Benson of Royal Sporting House and Mr Lee Weng Chee of Watson's Personal Care Stores Pte Ltd. And Mr Tan Qing En Benson emerged this year's Winner where he received the coveted trophy from Mr R Dhinakaran, President, SRA.
Click on the link here to watch our LIVE ceremony ! : SRA Excellent Service Award (EXSA) 2020 Virtual Presentation Ceremony
SRA EXSA (Retail) 2022 is open for nominations from 1 to 30 Apr 2022!
For more details about SRA EXSA (Retail) 2022 nomination, please contact:
Ms Elise Lee at M: 9768 6981 | E: elise@sra.org.sg or Ms Michele Ng at M: 9186 7938 | E: michele.ng@sra.org.sg