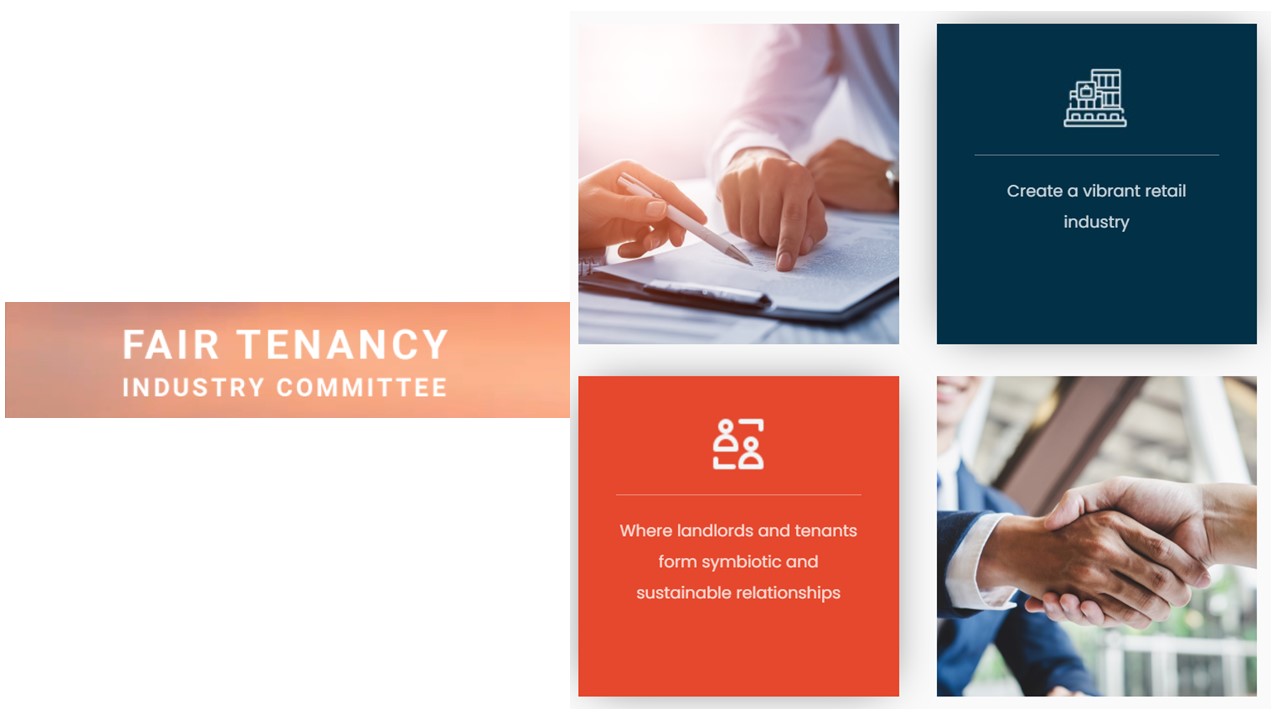 On 26 June 2020, key representatives from Singapore's landlord and tenant communities, together with industry experts, formed the Fair Tenancy Pro Tem Committee in a bid to strengthen collaboration and increase the vibrancy and competitiveness of Singapore's retail, food & beverage (F&B) and lifestyle sectors. The Fair Tenancy Pro Tem Committee, chaired by Mr Michael Lim Choo San, Chairman of Nomura Singapore, comprises 18 key representatives from both the landlord and tenant communities, industry experts and members from academia.
The landlord community was represented by the Real Estate Developers' Association of Singapore (REDAS) and REIT Association of Singapore (REITAS). The tenant community was represented by members of the Fair Tenancy Framework Industry Committee (FTFIC), which was formed with representation from the Singapore Business Federation SME Committee (SBF SMEC), Association of Small & Medium Enterprises (ASME), Restaurant Association of Singapore (RAS), Singapore Retailers Association (SRA) and Singapore Tenants United for Fairness (SGTUFF).
The result is an industry-led Code of Conduct for Leasing of Retail Premises in Singapore ("Code") based on the principles of transparency, reciprocity and sustainability.
The key objectives of the Code are:
To serve as a set of mandatory guidelines to provide guidance to landlords and tenants of qualifying retail premises to enable a fair and balanced lease negotiations
To provide landlords and tenants of Qualifying Retail Premises with a governance framework to ensure compliance with the Code.
To provide an accessible dispute resolution framework for both landlords and tenants.
The Code is divided into four main sections
Part A – Conduct and Spirit of Negotiations
Landlords and tenants must adopt a consensual approach to negotiate in good faith, which includes acting honestly and fairly having regard to the legitimate interests of the other party and observing accepted or reasonable commercial standards of fair dealing in the performance of identified obligations. Neither party shall attempt to unfairly profit, or take unfair advantage of the other party, from the known ignorance of the other party.
Part B – Leasing Principles for Key Tenancy Terms
There are a total of 11 key tenancy terms such as exclusivity, pre-termination by landlords due to landlord's redevelopment works, sales performance, pre-termination by tenants. where the Code of Conduct set out the leasing principles for landlords and tenants.To see the complete list of terms covered, please download the Code of Conduct for Leasing of Retail Premises in Singapore
Part C – Data Transparency
Landlords must share sales data metrics by trade category (i.e., total monthly sales, total floor area) on a one-on-one basis before the signing of the lease agreement and to existing tenants on a bi-annual basis if they collect sales data from tenants as part of the Gross Turnover rent structure.
Part D – Dispute Resolution & Enforcement 
For non-compliant practices, parties can report these cases to the FTIC. The FTIC will collate and monitor the reported cases. All lease agreements issued must be accompanied by a checklist of clauses within the Code of Conduct and all clauses which deviate from Code of Conduct must be flagged by landlord for tenant's attention. For clauses where the Code of Conduct allows for deviation, a joint declaration of deviation shall be filed with FTIC within 14 days of signing of lease agreement if both parties agree with the deviation. Should there be a dispute or disagreement arising from the lease agreement, either party may escalate the matter to Singapore Mediation Centre (SMC). Once escalated, both parties must approach SMC and shall comply with the resolutions of the SMC.
Download a sample checklist template that is to accompany all retail lease agreements.
On 3 May 2021, the Fair Tenancy Industry Committee (FTIC) was set up to be the custodian of the Code and ensure that it provides guidance to landlords and tenants of qualifying retail premises so that fair and balanced lease negotiations can be achieved. It is represented by both landlords and tenants, as well neutral parties to offer a holistic approach when addressing matters related to retail lease agreements.
To provide landlords and tenants with a one-stop resource on the FTIC and CoC, the Singapore Business Federation (SBF) launched the FTIC website (www.ftic.org.sg) today. The website will allow businesses to provide feedback on the CoC and all matters related to retail tenancies. Landlords and tenants will also be able to file for mutually agreed deviations that are permitted under the CoC.
The composition of the FTIC, and landlords that have committed to abide by the CoC from 1 June 2021, are appended as Annex A and Annex B, respectively. If you have any queries, please direct them to enquiry@ftic.org.sg.
August 2023
July 2022
June 2021
Case Study on Floor Area Alterations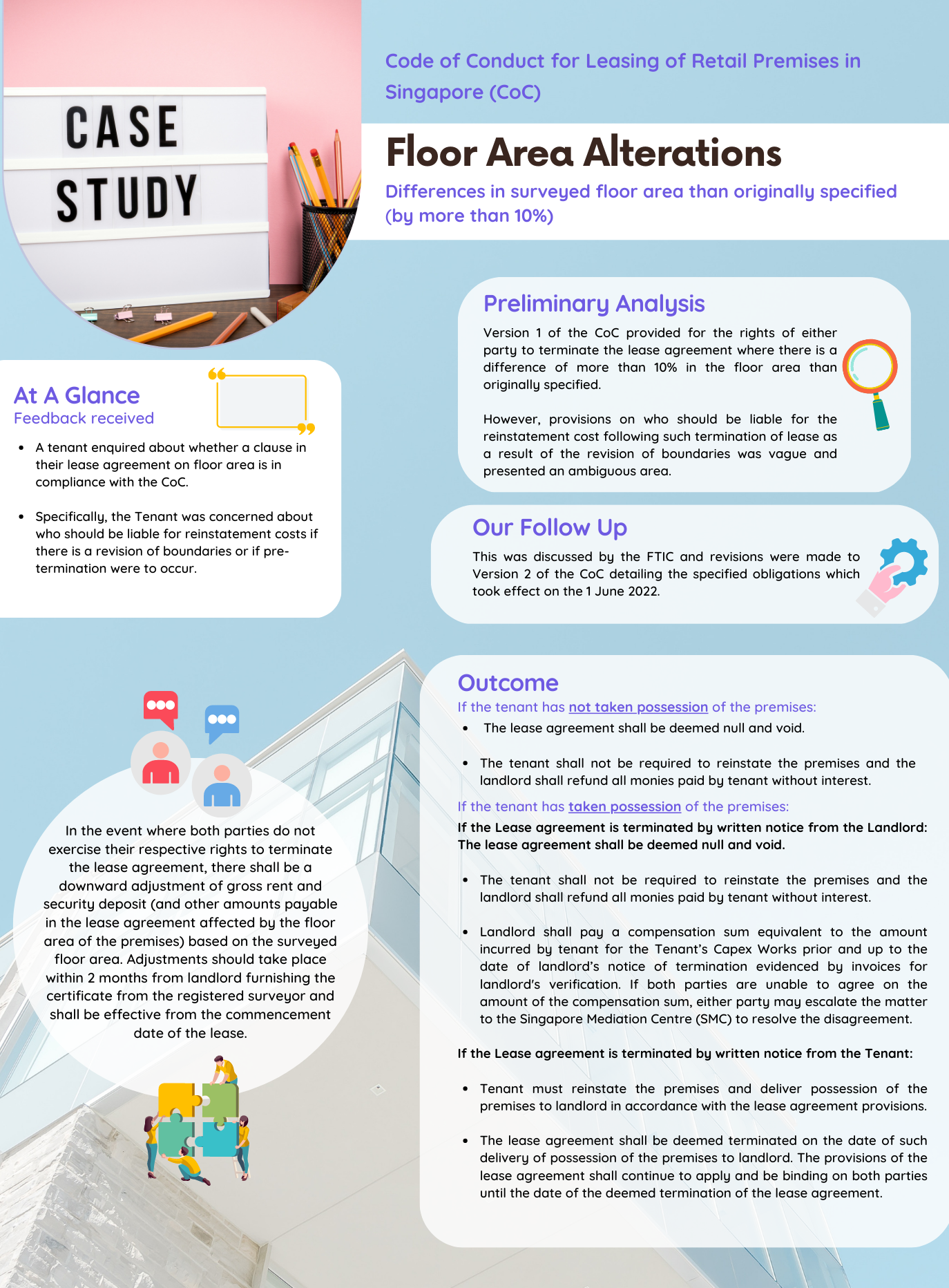 CoC leasing principles on pre-termination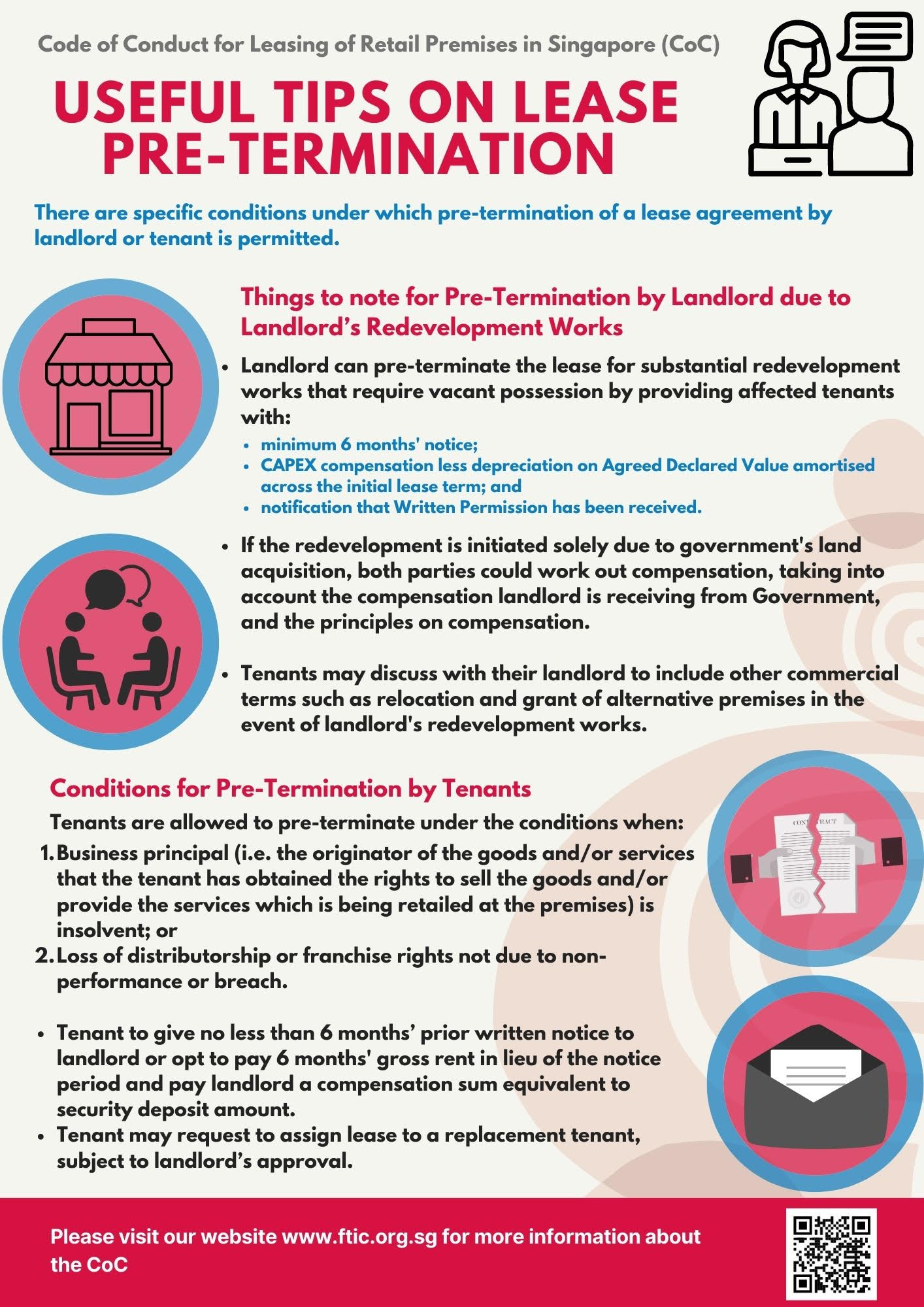 CoC Tips on Floor Area Alterations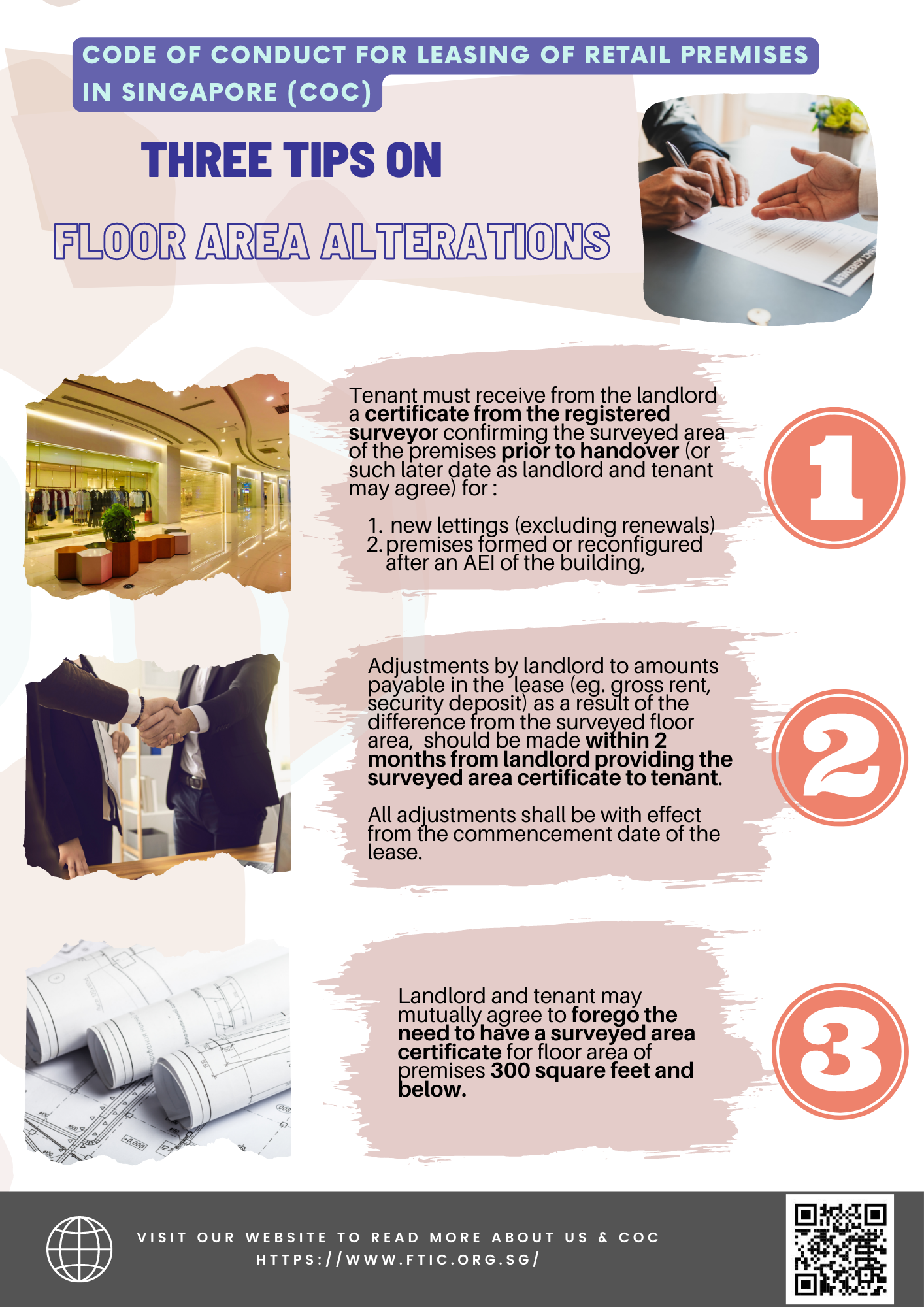 Costs to Prepare the Lease Agreement & Tenant Initiated Fees