Supporting the TRANSFORMATION objective of the SRA Retail Sector Roadmap, the 'SRA Retail Brigade' (SRB) is a complimentary diagnostic service for SME retailers, to help identify your business gaps and develop digital capabilities.
The SRB will review your existing state of digitalisation, identify gaps, and assess your data integration infrastructure and digital marketing capabilities. SRB will also identify gaps in business operations and strategy, such as branding, product development and innovation, whenever possible.
SRB will then recommend solution providers and connect you to them.
The diagnostic process goes like this: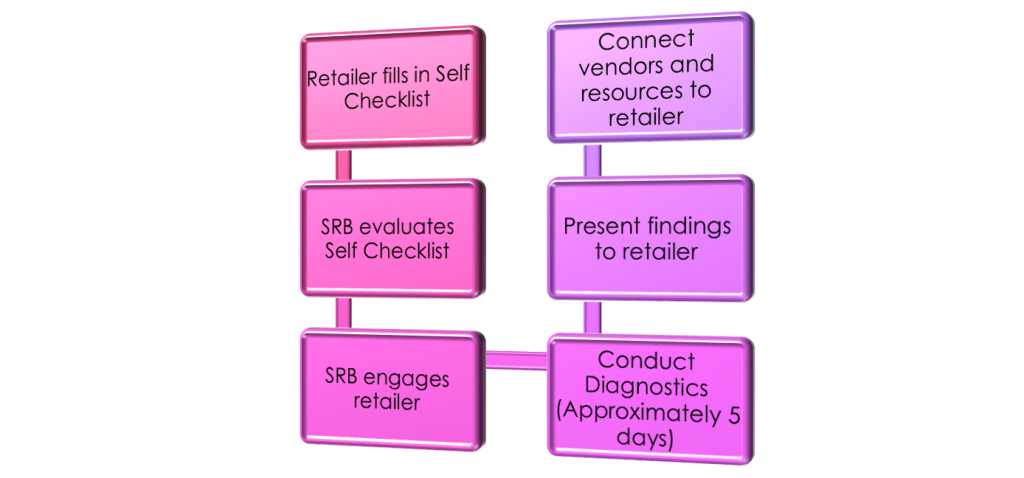 It will include the following:
Review your existing state of digitalisation maturity and readiness
Identify gaps in your IT, eCommerce infrastructure and digital capabilities
Discover gaps in business processes such as branding, HR and operations
Recommend and connect you to suitable solution providers and government support programs
And if you would like the SRB to engage you for the complimentary diagnostic, please fill in the SRB Self-Checklist, and we will be in touch within 5 working days.
Do check out our Calendar of Events, and join our wide range of webinars, workshops and learning journeys, which we hope will be helpful in your digital and business transformation journey.
Retail Community Smart Guide (RCSG)
To support the SRB and make it easier for SME retailers to digitalise and find the most suitable service providers for your business operations, SRA will be developing the Retail Community Smart Guide (RCSG).
The RCSG is an interactive self-help portal, designed to guide you through your business journey, which will comprise the following:
A curated list of technology solutions, retail operation tools and services (such as marketing, accounting, consultancy, human resource etc),
Consolidated relevant government grants and schemes for the retail sector,
Information on industry best practices,
It will also be a knowledge community for SME retailers to share information on the technology solutions that they have adopted, and feedback on their usefulness and effectiveness. It's also the platform to share the quality of the service providers that they have engaged and vendors whom they have worked with.
Watch This Space for updates on the RCSG portal.
For enquiries, please contact Anwar (anwar@sra.org.sg) or Rose (rose@sra.org.sg)