These jobs and many more are now available in the retail industry!

With the opening of the borders and relaxation of safe management measures, over 40 retail companies are looking to hire over 1000 individuals for a wide array of job roles.
If you are looking for a job, like excitement, meeting people, challenges, solving problems and an evolving work environment, look no further! The retail industry is where you should be!
7-Eleven * Cold Storage * Epitex * Eu Yang Sang * Eureka * Evergreen * Elush * Far East Flora * FJ Benjamin * Giant * Guardian * Herbal Pharm * Jay Gee Health * La Parfumerie * Luxasia * Metro * MOBOT * Mothercare * MUJI * NTUC * OG * OSIM * Harvey Norman * Pet Lovers Centre * Phoon Huat * Star Furniture * Sustainable Familie Trading * The Experts Group * The Hour Glass * The Luxe Concierge * Vitakids * Wing Tai Holdings
and many more are hiring! They want you!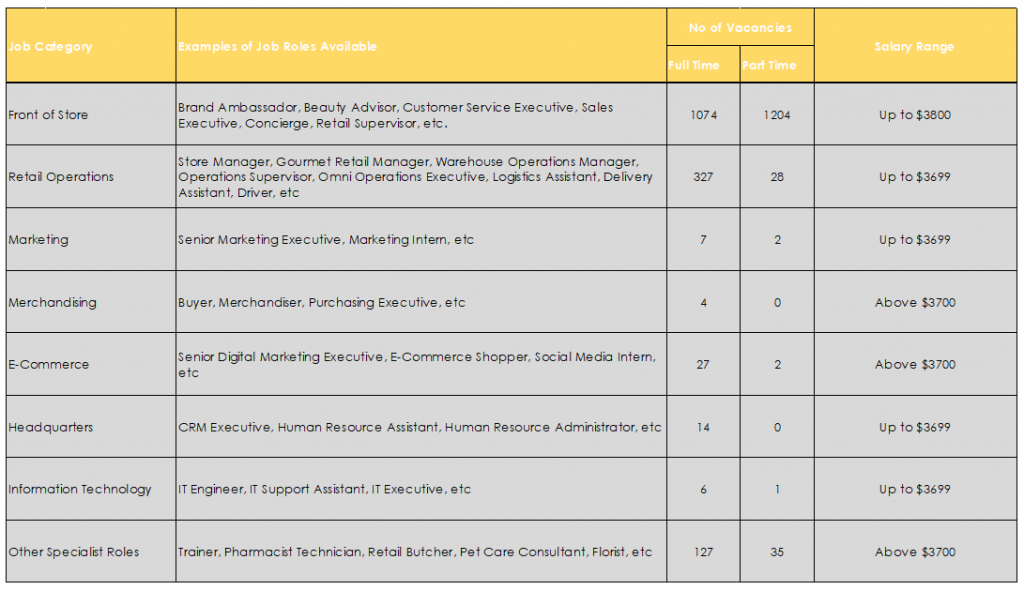 * Commission is paid for some positions
To find out more about the vacancies available, click on the attached PDF file below.
If you are keen to apply for any position in the List of Job Vacancies, please complete the Interest Form.
Your contact details will be forwarded to the HR personnel of the selected companies accordingly. They will be in touch should you be shortlisted for the position.