We understand companies need flexibility and autonomy in terms of how your retail workers learn, when and how they are assessed. SRA is pleased to organise training programmes customised to your company's training needs content wise where we use relevant case studies and teaching videos whenever necessary to ensure learning is contextualised and anchored in real world experience.
Companies can choose to conduct these training programmes classroom style, online or blended at either your company's premises or at SRA's training rooms.
Contact Elise at elise@sra.org.sg / 9768 6981 for more details.
Click below to view our upcoming Specialised Training Programmes (Complimentary for SRA-GRT approved employers)!
Style-Shoot-Sell Workshop (27 Oct, 3 Nov 2021, 12 & 19 Jan 2022)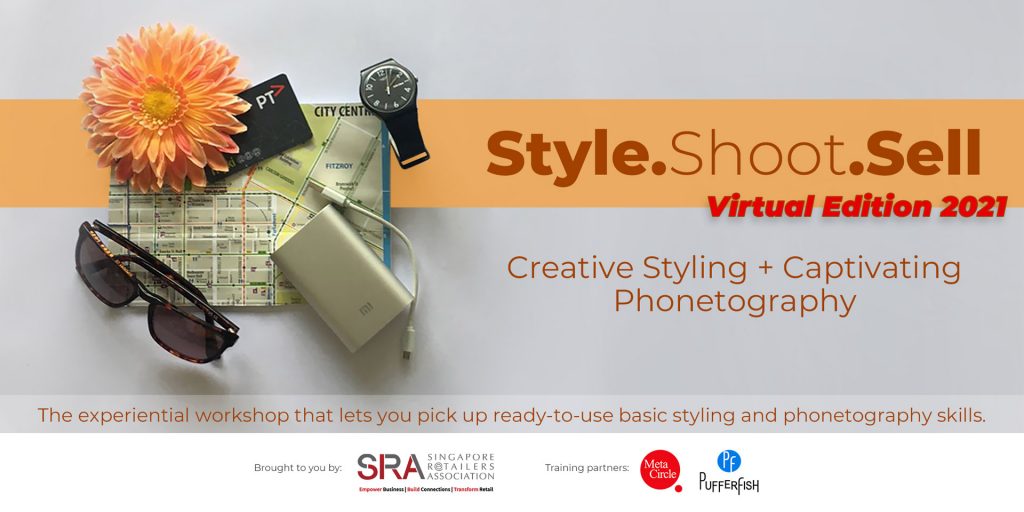 We all know the saying, an image speaks a thousand words.
More so for retailers when the first impression counts for every product image put out there.
While you would prefer unlimited resources to hire professionals to style and shoot your products and services, you know that's unrealistic.
And the times when you want simple and quick shots for social media like IG, Facebook, LinkedIn or Pinterest, but are unsure if you are doing it to the best of your ability?
Is it going to turn out like another cheesy image like your competitors'?
Or simply don't know what is wrong with it?
What if you can learn tips and tricks on DIY styling, shooting and editing, USING YOUR MOBILE PHONE?

Create photos that sell for you, with minimal skills or no photo studio!
If you sell online, this workshop is for you where you turn normal products into great-looking ones even if you don't know how to style or don't have professional gears.
This workshop aims to provide a hand-on experience on basic styling and photography with a smartphone on products/items for marketing of merchandise/service selling and content creation. This is a blended course consisting of eLearning and online workshop.
Workshop Dates and Duration
3 hours Online Workshop via ZOOM and 
Upcoming intakes: 27 Oct, 3 Nov 2021, 12 Jan and 19 Jan 2022, 10am – 1pm
1 hour Complimentary Follow-up Tutorial 
Dates: 2 & 10 Nov 2021, 18 & 25 Jan 2022, 10am – 1pm
Post-Workshop Feedback
● For attendees who are unable to attend the Follow-Up Tutorial, they may submit 2 images via email or e-Learning platform for feedback
● Submission within 1 week after workshop
Workshop Fees
Complimentary for our GRT employers!*
Non-SRA member: $129 per pax (excluding 7% GST)
*Only applicable for GRT employer companies who have not yet attended complimentary training workshop offered by SRA in 2021/2022. Limited to 2 participants per GRT employer company.
Due to the personalised nature of the workshop, each session can only take up to 14 participants for the best learning experience.
Seats are limited. Sign up HERE by 22 Oct 2021. 
Learning Outcomes
The workshop strives to equip participants with skills and knowledge to:
Understand importance and benefits of digital visual merchandising that impacts purchase decisions
Apply components of styling for product/service presentation and content creation
Be equipped with essential photographic skills with use of smartphones
Prepare edited images for uploading to social media
Topics to be covered
a. The Styling Formats
b. Creative Use of Props
c. Visual Storytelling
d. Visa Content Creation
e. Creative Use of Resources
f. Smartphone for Photography
g. Basic Framing and Composition
h. Ambient Lighting
i. Editing Images
j. Readiness to Share on Social Media
Training Methodology
a. Lecture
b. Demonstration
c. Group discussions/activities
d. Hands-on practice session
e. eLearning
Pick up hacks from not one, but 2 practitioners with more than a decade each, in their respective retail, and photography industries.
They will be openly sharing applicable skills and low budget methods you can grab, where you even  repurpose the images for your various marketing collaterals.
Skills tried and tested, using even commonly found items at home or office!
Facilitators
Consultant with Givenchy, FJBenjamin, Triumph, Popular, Bata Regional, Manhattan Fish Market, Wildlife Reserves Group, Fuji Xerox, Orchard Central and more.
Based in Melbourne, Della is an experienced international trainer with more than 20 years of retail experience. Her passion for creativity, floristry and visual merchandising has been recognised as an invited speaker at seminars and invited judge at competitions. Being a transformational coach, she can cheerlead her participants and clients to scale greater heights with breakthroughs. A self-professed serial crafter, she sets aside time contributing back to the community with her creative skills.
She has facilitated classes from Singapore to Australia to being on a UN Mission to Tajikistan and Kyrgyzstan. She was an invited speaker at Shanghai for the Asian Fashion Federation Conference, as well as a workshop presenter at the Asian Fashion Exchange and has been a guest speaker at the Republic Polytechnic, a keynote speaker for the HDB Retail Seminar.
Commercial photographer shooting products for Nike, HP, Sony, BP De Silva, World of Watches, a few ad agencies, cookbook, magazines and many more.
Photography is not merely snapping and producing pictures. Kok Wai creates the images for every client to connect with the audience. His determination to produce that "perfect picture" has given him opportunities to work with CEOs, celebrities, famous homes, luxury watches to architectural structures of various buildings. With more than 15 years of commercial photography experience under his belt, he is always on the look-out for fresh new perspectives and ideas.
His Graphic Design degree from Birmingham Institute of Art and Design (University of Central England) and honed skills in website design have served him well. These allow him to engage with clients with knowledge of executing a photography campaign to creating an image that wows the audience. His deep passion for photography has also spurred him to share his experience with kids and youths in schools, guiding them to develop their talents in photography.
He has trained students from 20 MOE schools, entrepreneurs, marketers, and even staff from Singapore Prison Service.
Complimentary Job Redesign Workshop for SRA GRT Employers (29 Oct & 1 Nov 2021)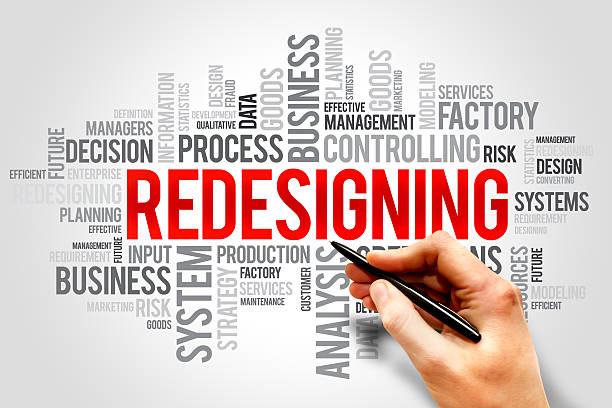 The Job Redesign Framework for Retail aims to help retailers build a future-ready and productive workforce in response to today's growing digital economy, and is often regarded as one of the most effective approaches to increasing productivity for retail companies. 
This half-day workshop provides participants with a high lead overview of job redesign methodology and process, giving them a deeper understanding of what Job Redesign is, and the investment required to reap its benefits. Participants will also be equipped with a job Redesign template to help them kick-start job redesign at the workplace.
Upcoming Intake
Half-Day Job Redesign Workshop
29 Oct 2021 (Fri),  9am – 1pm
Half-Day Job Redesign Clinic Session
1 Nov 2021 (Mon), 9am – 1pm
Participants must attend both workshop and clinic session.
Venue
Singapore Retailers Association
1 Coleman Street, #05-17 The Adelphi, Singapore 179803
Workshop Fees
Complimentary for our GRT employers!*
Non-SRA member: $267.50 per pax (including 7% GST)
*Only applicable for GRT employer companies who have not yet attended complimentary training workshop offered by SRA in 2021. Limited to 2 participants per GRT employer company.
Click HERE to sign up now !
Learning Outcomes
At the end of the workshop, participants will be able to:
Understand the trends impacting the retail sector and the importance of redesign as a means of ensuring long-term competitiveness and sustainability
Appreciate the difference between being 'productive' and 'efficient'
Understand the benefits of job redesign
Understand and know how to apply the Job Redesign Framework (diagnose, redesign, implement)
Know the three levels of redesign and the four models of redesign
Know the eight types of activities that can be applied to redesign
Articulate a business case for redesign
Who Should Attend
Business Owners, Managers and Senior Managers from all job functions who are empowered to implement changes to work processes, or who are tasked to enhance organisation productivity and business outcomes.
Approach
A blended approach incorporating games, individual and small group activities, case studies, scenarios and 'war stories' from successful job redesign projects across multiple industry sectors, peer learning and practical sessions.
Facilitator
Mr Leonard Ling, Principal Consultant, Solutions Plus Pte Ltd
Leonard has over 20 years of experience in People Strategy and Organisation Development in both consulting and corporate environments. His key consulting experiences include process design, job, design, and instructional design. His most recent projects have focused on helping companies be more efficient and productive through the articulation and alignment of business and operational strategy, and through critical reviews of operational processes. Leonard has also been active in helping organisations in the public and private sector manage talent better through improved job design, improved man-machine interfaces, and competency development.
Prior to taking up his current role, Leonard spent several years with the Singapore public service where he played a key role in helping growth industries and individual companies address their short-term manpower and human capital challenges. At a more strategic level, he developed and executed medium- and long-term strategic manpower planning for companies in the healthcare, aerospace, chemicals, process, logistics, marine, pharmaceuticals, transport, and food manufacturing industries to ensure a steady pipeline of talents at the national level for each of these industries.
In addition to consulting and national-level manpower strategy development, Leonard also spent several years as the Global Head of Human Resources for a London-based International Company where he directed the HRD and HRM functions for employees in 11 cities across the globe.
Leonard continues to work with the Singapore public and private sector on industry transformation projects, with special emphasis on raising workforce productivity, leveraging technology, and designing jobs suited for the current and future generation of workers.
Strategic Digital Marketing for the Retail Sector (10-12 Nov 2021 and 11-13 Jan 2022)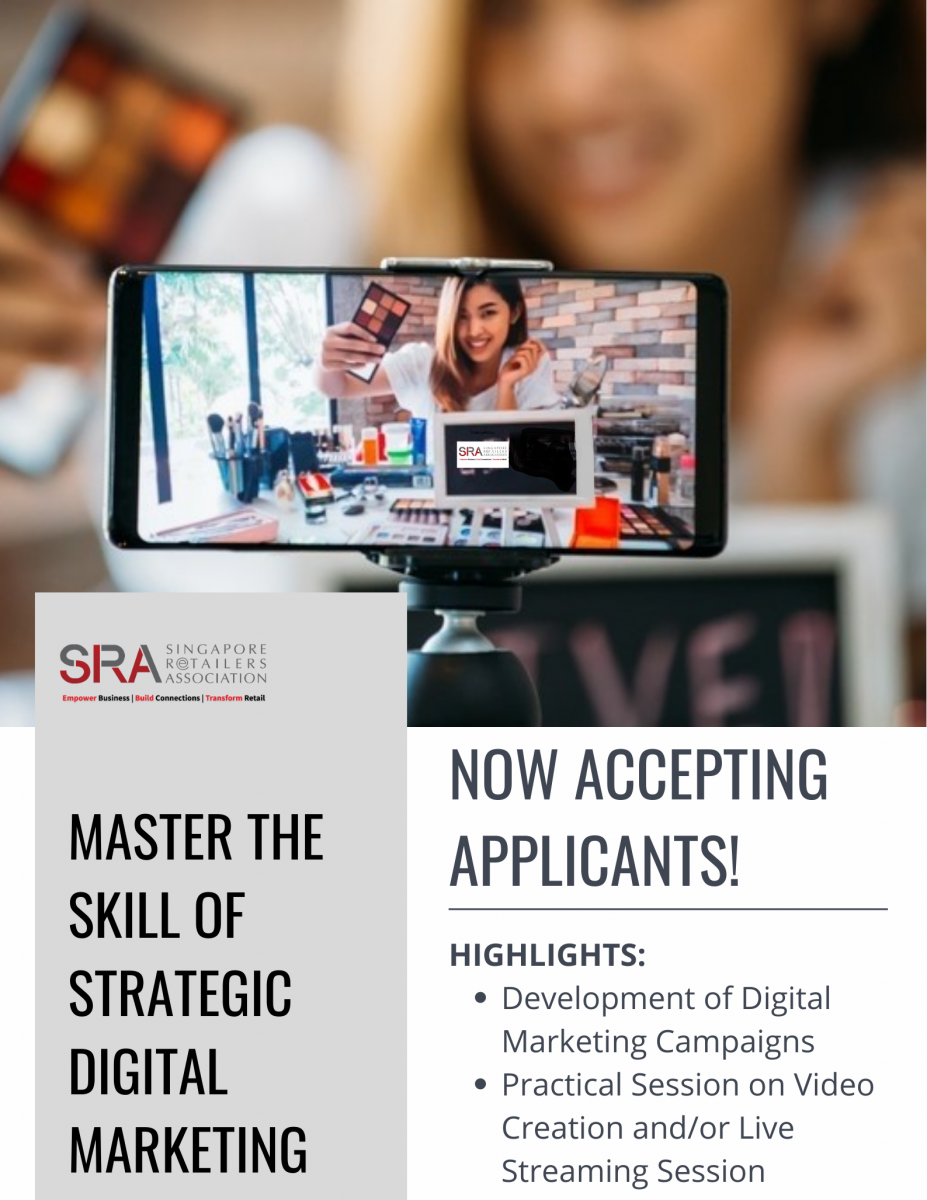 Upcoming Intakes
10 to 12 Nov 2021 (Wed to Fri)
11 to 13 Jan 2022 (Tue to Thu)
Time
9am to 6pm (2 full days) and 9am to 1pm (1 half-day)
Venue
Singapore Retailers Association
1 Coleman Street, #05-17 The Adelphi, Singapore 179803
Workshop Fees
Complimentary for our GRT employers!**
Non-GRT Employer: $400 per pax* (2 to go) / $480 per pax*
Non-SRA Member: $750 per pax*
* Fees are subjected to 7% GST
**Only applicable for GRT employer companies who have not yet attended complimentary training workshop offered by SRA in 2021/2022. Limited to 2 participants per GRT employer company.
Click HERE to sign up now !
This 2-day course is specially-curated to provide a strategic understanding of how digital marketing could enhance your brand and lead to direct sales. It would take a deep dive into different platforms, strategies and marketing tools, and also explore the role of entertainment via videos and live streaming. During the workshop, you will get to develop your digital marketing strategies with advice from our experienced trainer and implement them strategically into your business.
Highlights
Development of Digital Marketing Campaigns
Practical Session on Video Creation and/or Live Streaming Session
How Will You Benefit
At the end of this course you will be able to:
Gain an in-depth understanding of the digital marketing landscape
Learn how to develop a strategic digital marketing campaign
Understand how to turn likes into leads
Create stories for better engagement
Convert leads into sales
Deliver netizen-style videos or live streaming videos for audience
Learn basics of video editing
Develop tools for measuring effectiveness of your digital marketing campaign
What Will You Learn
Digital marketing landscape
Your customer avatars
Business success model
Content creation for social media
Production of video / live-streaming  
SEO and SEM
Campaign development
Facilitator
Ms Sandra Tan, Founder and Director of Esteem Communications and Training Consultancy
Sandra has more than 30 years' experience in retail, corporate and academia work at Nanyang Polytechnic (NYP) and Singapore Management University (SMU). Sandra's clients cut across luxury retail, real estate, hospitality, leisure parks and charities.
Sandra is an emerging voice in LinkedIn on hospitality, tourism, retail and entrepreneurship, and a much sought-after speaker on digital marketing trends and branding in Thailand, Indonesia, Myanmar and was most recently in the Philippines for the Leaping Forward: Philippines 4.0 Conference