We understand companies need flexibility and autonomy in terms of how your retail workers learn, when and how they are assessed. SRA is pleased to organise training programmes customised to your company's training needs content wise where we use relevant case studies and teaching videos whenever necessary to ensure learning is contextualised and anchored in real world experience.
Companies can choose to conduct these training programmes classroom style, online or blended at either your company's premises or at SRA's training rooms.
Contact Ms Choy Sok Jee at 9760 9810 or email sokjee@sra.org.sg for more details. 
Click below to view our upcoming Specialised Training Programmes!
Complimentary Job Redesign Workshop for SRA GRT Employers (Jul 2021)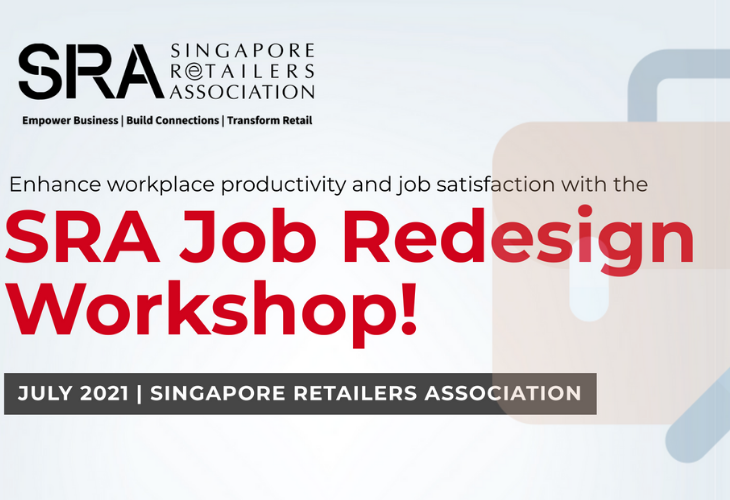 The Job Redesign Framework for Retail aims to help retailers build a future-ready and productive workforce in response to today's growing digital economy, and is often regarded as one of the most effective approaches to increasing productivity for retail companies. 
This half-day workshop provides participants with a high lead overview of job redesign methodology and process, giving them a deeper understanding of what Job Redesign is, and the investment required to reap its benefits. Participants will also be equipped with a job Redesign template to help them kick-start job redesign at the workplace.
Learning Outcomes
At the end of the workshop, participants will be able to:
Understand the trends impacting the retail sector and the importance of redesign as a means of ensuring long-term competitiveness and sustainability
Appreciate the difference between being 'productive' and 'efficient'
Understand the benefits of job redesign
Understand and know how to apply the Job Redesign Framework (diagnose, redesign, implement)
Know the three levels of redesign and the four models of redesign
Know the eight types of activities that can be applied to redesign
Articulate a business case for redesign
Who Should Attend
Business Owners, Managers and Senior Managers from all job functions who are empowered to implement changes to work processes, or who are tasked to enhance organisation productivity and business outcomes.
Approach
A blended approach incorporating games, individual and small group activities, case studies, scenarios and 'war stories' from successful job redesign projects across multiple industry sectors, peer learning and practical sessions.
Course Schedule
Half-Day Job Redesign Workshop
8 Jul 2021 (Thu),  9am – 1pm
Half-Day Job Redesign Clinic Session focusing on the following job roles
16 Jul 2021 (Fri), 9am – 1pm
Sales associate
Visual merchandiser
Cashier
Store manager
Venue
Singapore Retailers Association
1 Coleman Street, #05-17 The Adelphi, Singapore 179803
Click HERE to sign up now !

Strategic Digital Marketing for the Retail Sector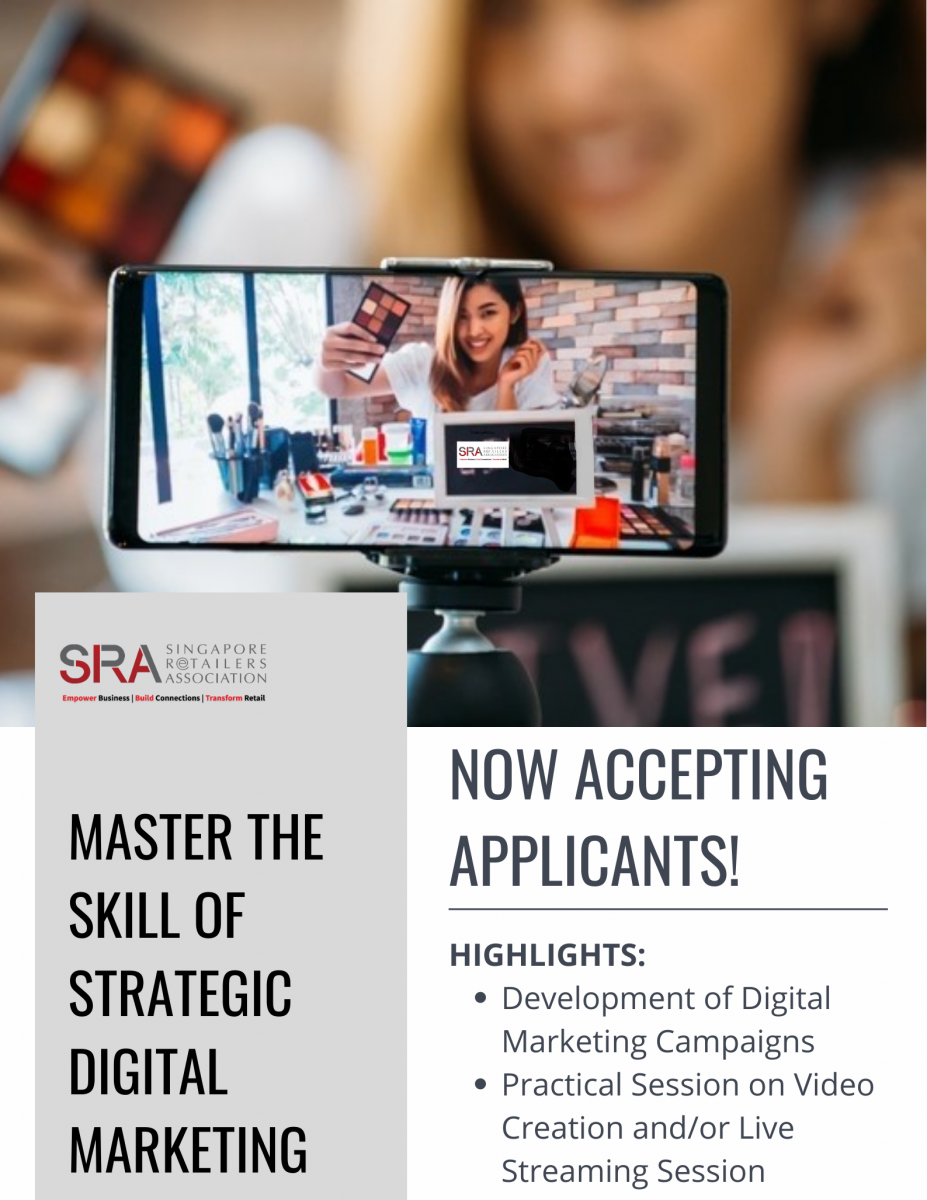 Upcoming intakes:
13 to 15 Sep 2021
11 to 13 Oct 2021
15 to 17 Nov 2021 
This 2-day course is specially-curated to provide a strategic understanding of how digital marketing could enhance your brand and lead to direct sales. It would take a deep dive into different platforms, strategies and marketing tools, and also explore the role of entertainment via videos and live streaming. During the workshop, you will get to develop your digital marketing strategies with advice from our experienced trainer and implement them strategically into your business.
Highlights:
Development of Digital Marketing Campaigns
Practical Session on Video Creation and/or Live Streaming Session
How Will You Benefit:
At the end of this course you will be able to:
Gain an in-depth understanding of the digital marketing landscape
Learn how to develop a strategic digital marketing campaign
Understand how to turn likes into leads
Create stories for better engagement
Convert leads into sales
Deliver netizen-style videos or live streaming videos for audience
Learn basics of video editing
Develop tools for measuring effectiveness of your digital marketing campaign
What Will You Learn:
Digital marketing landscape
Your customer avatars
Business success model
Content creation for social media
Production of video / live-streaming  
SEO and SEM
Campaign development
Course Fees
Eligible companies may apply for a one-time training grant of $500 under SBF RISE Programme
For course fees enquiries or registration, please contact Sok Jee at sokjee@sra.org.sg or 9760 9810. *Course Fees are subjected to 7% GST