Email your enquiries to SRA-CCPRetail@sra.org.sg today!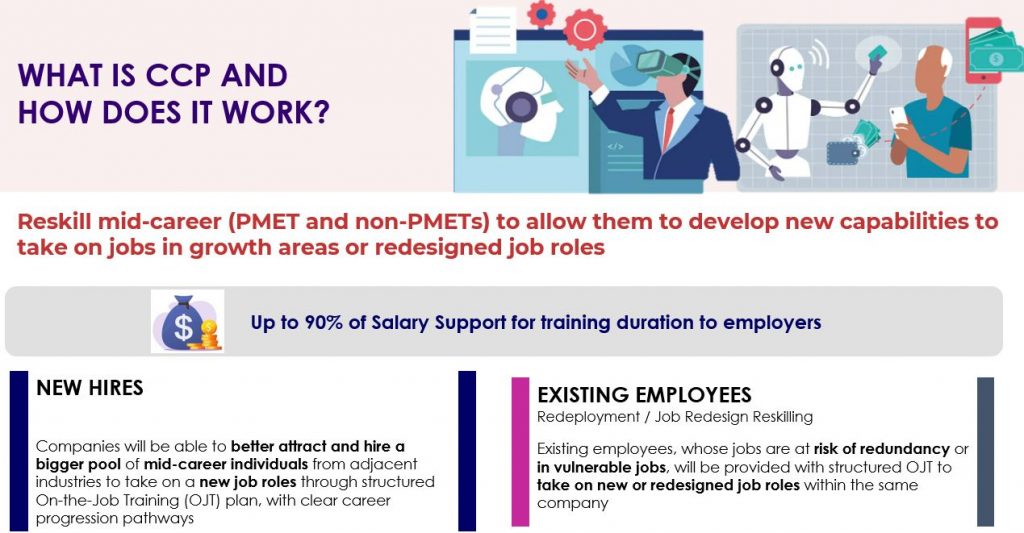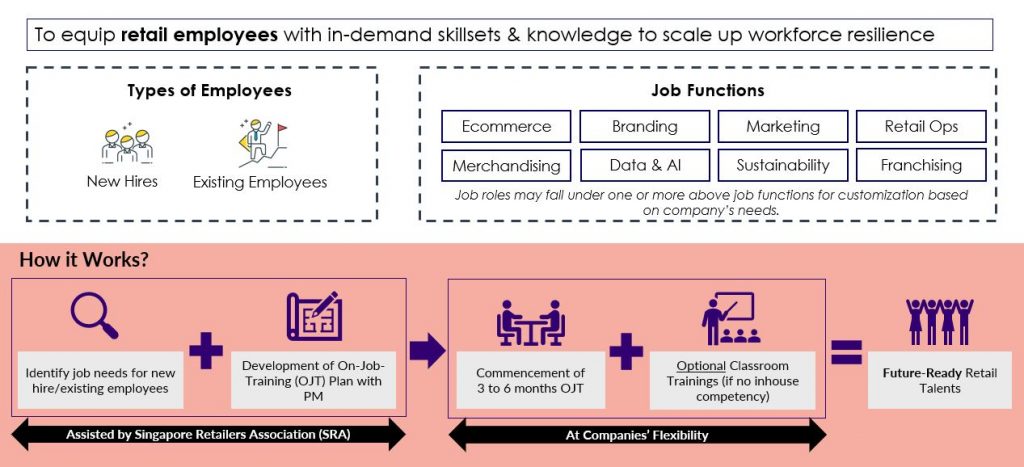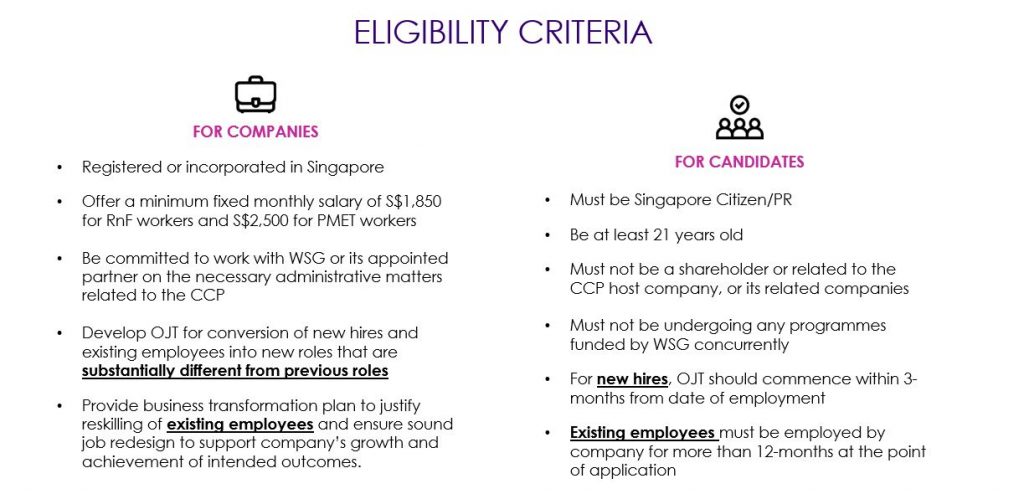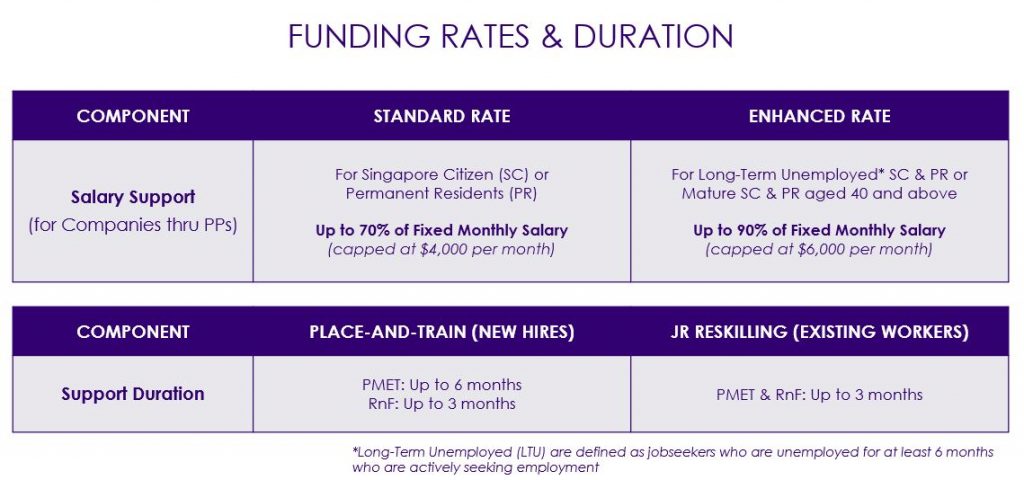 –  Professionals, Managers, Executives and Technicians (PMETs)
–  Rank-and-File (RnF)
Applications end 31 Jul 2024
Applications are subject to review and approval by Workforce Singapore (WSG).
Overview of 8 Job Functions Supported under CCP-RI
Job roles may fall under 1 or more job functions for customisation based on company's needs
| | |
| --- | --- |
| Job Function | Description |
| E-commerce | To grow the business by improving the customer experience, executing customer order fulfilment and maintaining the digital platform; Conduct data analysis to generate data-driven market insights |
| Branding | To implement plans and initiatives relating to the brand, customer experience and loyalty to drive the company's brand equity; Conduct market research activities to forecast emerging market needs |
| Marketing | To support the development and execution of the offline, online and social marketing plans; Evaluate the effectiveness of marketing communication plans and generate data-driven commercial insights |
| Retail Ops | To support activities for the smooth functioning of the store, i.e. staff management, supply chain, store layout, cash operations, physical inventory, master data management, sales, service and order fulfilment |
| Merchandising | To implement merchandising plans and product category strategies as well as managing partner relationships; Contribute to the development and sourcing of products in accordance to allocated budgets. |
| Data & AI | To procure, prepare, cleanse and model data using machine learning models and analytical methods; Design and create data reports to help stakeholders make better decisions |
| Sustainability | To develop corporate sustainability strategies to ensure that business practices, products and services are environmentally friendly and compliant with government regulations; Implement processes and technologies that reduce the company's carbon footprint |
| Franchising | To work with franchisees to ensure stores are running smoothly and meeting all standards set by the parent company; To recruit new franchisees, helping them develop a business plan and providing other support where necessary |
Applications are open now!
Please note that the following documents will be required for processing of all CCP-RI Applications:
ACRA document (dated no earlier than 6 months from date of Application). If there are corporate shareholders, please provide the information for the corporate parents as well.
Copy of NRIC or Singpass authenticated information of the New Hire/Existing Employee.
CV of New Hire (dated no earlier than 3 months of CCP-RI application).
Job Description for New Hire / Current and New Job Description for Existing Employee (whichever applicable).
Business Transformation Plan.
CCP-RI Application Form (Click here to download).
On-The-Job (OJT) Blueprint (Click here to download).
Before and After Job Template (for existing employee) (Click here to download).
You may also download the Whitelisted Job Roles, CCP Employer Guide and FAQs for reference.
You may also register your new and existing employees in the links below to expedite the Application.
New Hires (PMET): https://conversion.mycareersfuture.gov.sg/portal/ProgramDetails.aspx?ProgID=P00002031
New Hires (RnF): https://conversion.mycareersfuture.gov.sg/portal/ProgramDetails.aspx?ProgID=P00002032
Existing Hires (PMET): https://conversion.mycareersfuture.gov.sg/Portal/ProgramDetails.aspx?ProgID=P00002027
Existing Hires (RnF): https://conversion.mycareersfuture.gov.sg/Portal/ProgramDetails.aspx?ProgID=P00002029