SRA Developed its Roadmap 2025 for the Retail Industry which was unveiled at our  21st SRA Retail Awards Gala Dinner 2022 which returned after a 2-year hiatus.  The 3-year roadmap was developed in response to the dynamic changes in the retail industry and in line with the new Retail ITM 2025 with the aim to help and inspire retail organisations to chart a path forward for growth and success. Co-designed by the SRA Council, with over 60 participants from SRA members and their employees from the different management rungs came together over a series of workshops conducted by School of X
SRA Roadmap 2025 for the Retail Industry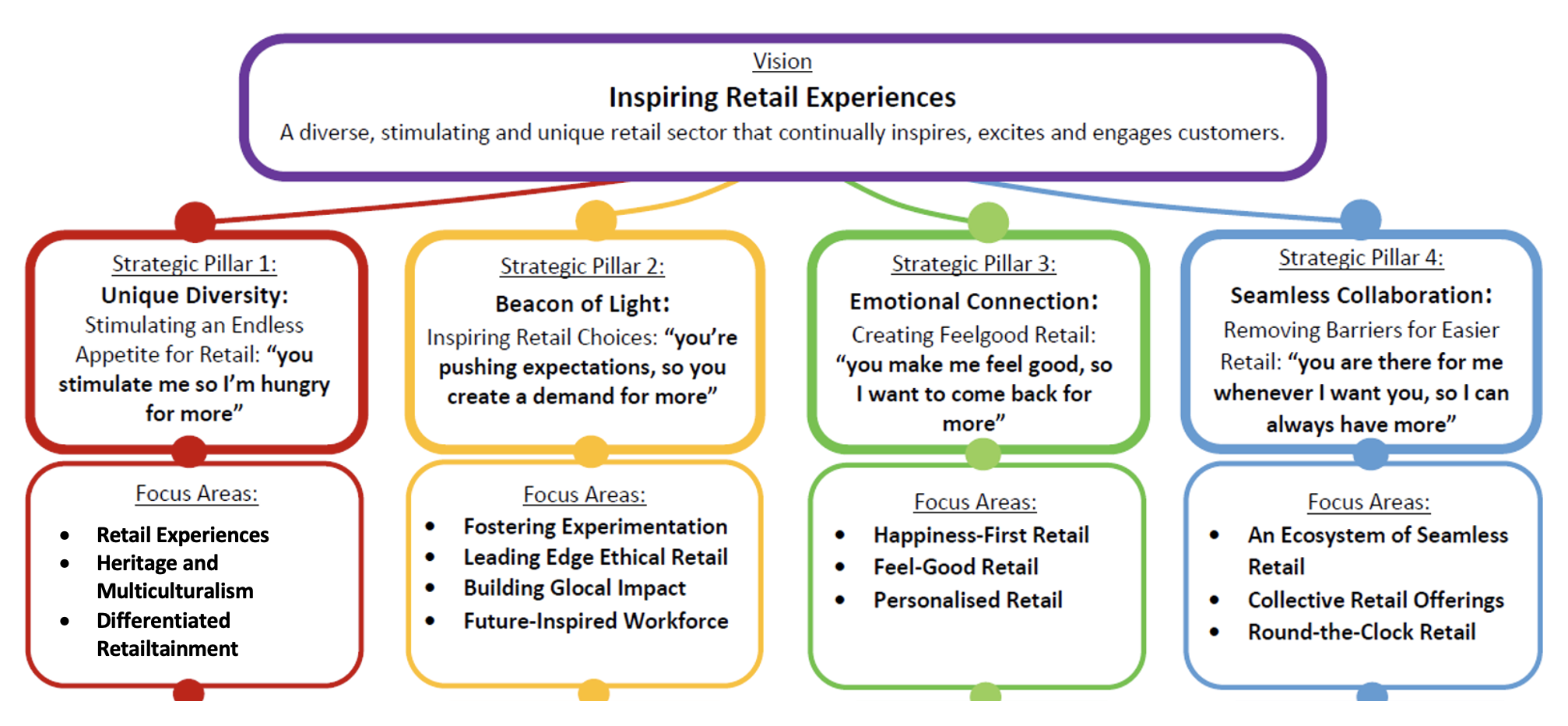 Strategic Pillars of the SRA Retail Roadmap 2025
 Strategic Pillar 1: Unique Diversity
This strategy is designed to stimulate consumer interest and spark fresh excitement in the retail experience to stimulate an endless appetite for retail, by leveraging on the existing multicultural and unique heritage strengths of Singapore to promote the diversity of shopping experiences .
Strategic Pillar 2: Beacon of Light
This strategy aims to support retailers in gaining competitive advantage through experimentation, by challenging assumptions and disrupting expectations to attract shoppers, inspire career journeys, and forge a new pathway for retail experiences to create a globally unique retail value proposition. The strategic pillar will furthermore act as a beacon for the future inspired workforce, to position retail an attractive and inspiring industry within which creative talents might be nurtured and flourish.
Strategic Pillar 3: Emotional Connection
This strategy will look at strengthening the people-centred core of retail, seeking to develop opportunities to build positive emotional experiences and connections both within the workforce and with customers.
Strategic Pillar 4: Seamless Collaboration
This strategy aims to build an ecosystem of shared perspectives, collective design, collaborative learning, and frictionless retail opportunities to create an environment that supports innovation, creative problem-solving, and economies of scale.