The Progressive Wage Model (PWM) for retail workers was developed by the Tripartite Cluster for Retail Industry (TCR).
From 1 September 2022, employers must meet the PWM requirements in order to renew existing work passes or apply for new work passes. Click here for more information.
What is the Progressive Wage Model (PWM) for the Retail Sector?
The PWM aims to build a future-ready workforce, transforming retailers into employers of choice and retail jobs into fulfilling long-term career options for local job seekers. PWM is expanded to more sectors, including Retail, to ensure lower-wage workers' wages close the gap with the median through higher wage growth than median wage growth.
Who does PWM covers?
The PWM requirements apply to Singapore Citizens and Permanent Residents who are full-time or part-time employees in retail job roles on a contract of service and employed by firms which hire foreign workers, regardless of whether the firm is classified under the Retail Sector Singapore Standard Industrial Classification (SSIC) or another SSIC.
The Retail PWM covers the following job roles:
Retail Assistant / Cashier
Senior Retail Assistant / Senior Cashier
Assistant Retail Supervisor
Retail Supervisor
Retail Manager
More details on the coverage of retail jobs and description of duties and responsibilities can be found here.
What does this mean to me as an employer?
Employers must ensure that their Singapore Citizen and Singapore PR retail workers meet the retail PWM training requirements of attaining at least 1 Workforce Skills Qualification (WSQ) Statement of Attainment, out of the list of approved WSQ training modules.
Alternatively, if employers have in-house WSQ training modules that have the prefix "RET" in the accompanying Technical Skills & Competencies (TSC) code, these training modules can be used to meet the training requirement as well.
Employers will be given a grace period to comply with the retail PWM training requirements:
For new hires: six months from the new hire's date of employment.
For existing employees: till 31 August 2023 (one year from the retail PWM implementation on 1 September 2022).
Through proper training, retail workers will be able to increase their productivity and offer good retail experiences to customers.
What do I need to do as an employer?
These are the key recommendations and implementation details of the Retail PWM set out by the Tripartite Cluster for Retail Industry (TCR):
A clear progression pathway comprising frontline operational and supervisory positions is mapped out to highlight the career opportunities in the sector and to encourage more jobseekers to join the retail industry
To ensure retail workers have the necessary competencies to carry out their work, a minimum training requirement of one (1) Workforce Skills Qualification (WSQ) training module is recommended as a start
A set of PWM Baseline Gross Wages is recommended that would take effect from 1 September 2022
The PWM Baseline Gross Wages will also be adjusted upwards from 1 September 2023 and 1 September 2024 to ensure retail employees continue to see sustained wage increases.
The Tripartite Cluster for Retail Industry (TCR) released its recommendations for the introduction of Progressive Wage Model (PWM) for the retail sector on 15 August 2022. The recommendations outline the wage and career progression as well as training for retail assistants, cashiers and assistant retail supervisors.
Key Recommendations of the Retail Progressive Wage Model
Sustainable wage increases: Compound Annual Growth Rate of between 8.4% and 8.5% for baseline gross wages from 1 September 2022 to 31 August 2025
Better skills: minimum training requirements for all Retail PWM job roles
Better work prospects: a clear career progression pathway
The PWM for Retail industry, will take effect from 1 September 2022, and cover 46,000 full-time and part-time resident retail employees.
Sustainable Wage Increases: Compound Annual Growth Rate of between 8.4% and 8.5% for PWM Baseline Gross Wages
Taking guidance from the Tripartite Workgroup on Lower-Wage Workers' (TWG-LWW) recommendation for wages to be expressed in gross terms (Total Monthly Gross Wages2), the TCR tripartite members recommend the following for the retail sector:
Annual wage increments to the PWM Baseline Gross Wages (before overtime) at a CAGR between 4% and 8.5% for the next three years for three lowest job rungs, from 1 September 2022 to 31 August 2025;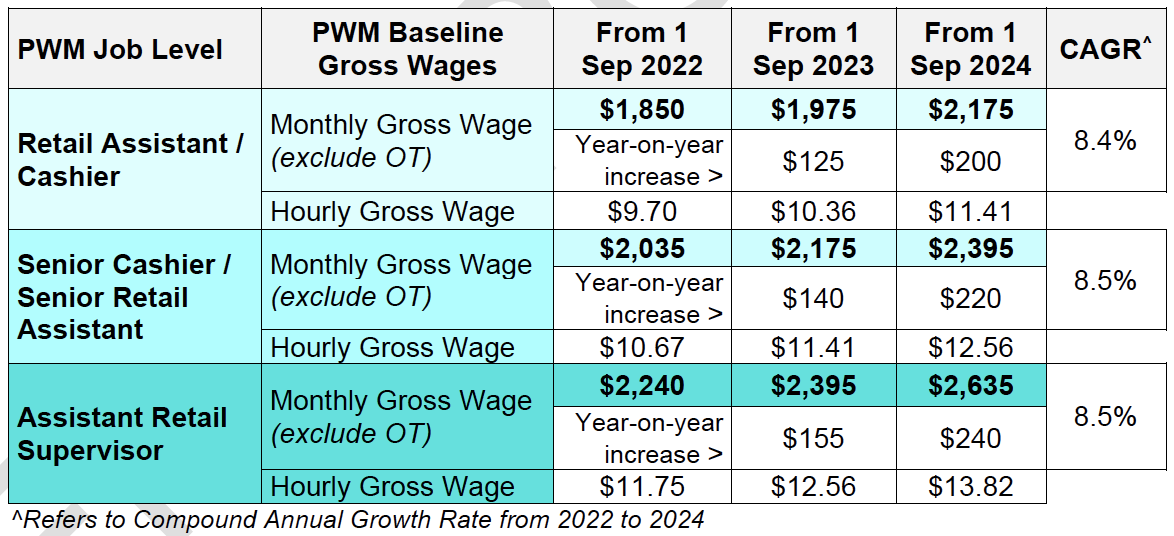 2 Total Monthly Gross Wage refers to the sum of the Monthly Basic Wage, allowances (including travel, food, housing), productivity incentive payments, and overtime pay, and is before deduction of employee CPF. It excludes bonuses (e.g. Annual Wage Supplement), stock options, reimbursement of special expenses incurred in the course of employment and payments-in-kind as well as employer CPF contributions.
2. Three-month averaging of PWM Baseline Gross Wages to give employers some flexibility in meeting PWM requirements due to seasonality fluctuations and yet ensuring fair wages for the retail workers;
3. Six months of implementation "run-in period" to allow employers to understand and adhere to the PWM requirements, from 1 September 2022 to 28 February 2023, applicable to retail firms that hire foreign manpower;
4. PWM Wages are expressed in gross terms which allow employers to incorporate all variable wage components (e.g. allowances, performance incentives/commissions) to meet the stipulated gross wages;
5. Safeguarding workers' overtime pay by setting higher gross wage thresholds (i.e. Gross Wage Requirements) for PWM compliance.
Better Skills: Setting Minimum Training Requirements
It is important for retail workers to continously upgrade and upskill to equip themselves with the necessary skillsets that will enable them to take on higher value job roles with higher productivity for sustainable wage increases.
As a start, the TCR recommendations include one Workforce Skills Qualifications (WSQ) training module as the minimum PWM training requirements for all PWM job roles.
Read more on the Recommendations of the Tripartite Cluster for Retail Industry here.