The Tripartite Cluster for Retail Industry (TCR) released its recommendations for the introduction of Progressive Wage Model (PWM) for the retail sector on 15 August 2022. The recommendations outline the wage and career progression as well as training for retail assistants, cashiers and assistant retail supervisors.
Key Recommendations of the Retail Progressive Wage Model
Sustainable wage increases: Compound Annual Growth Rate of between 8.4% and 8.5% for baseline gross wages from 1 September 2022 to 31 August 2025
Better skills: minimum training requirements for all Retail PWM job roles
Better work prospects: a clear career progression pathway
The PWM for Retail industry, will take effect from 1 September 2022, and cover 46,000 full-time and part-time resident retail employees.
Sustainable Wage Increases: Compound Annual Growth Rate of between 8.4% and 8.5% for PWM Baseline Gross Wages
Taking guidance from the Tripartite Workgroup on Lower-Wage Workers' (TWG-LWW) recommendation for wages to be expressed in gross terms (Total Monthly Gross Wages2), the TCR tripartite members recommend the following for the retail sector:
Annual wage increments to the PWM Baseline Gross Wages (before overtime) at a CAGR between 4% and 8.5% for the next three years for three lowest job rungs, from 1 September 2022 to 31 August 2025;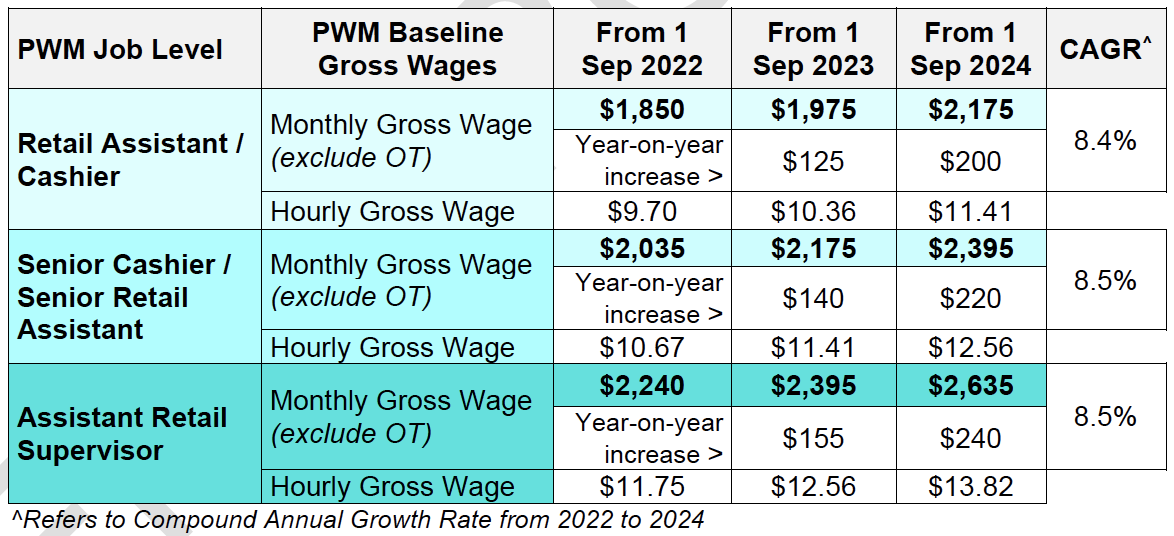 2 Total Monthly Gross Wage refers to the sum of the Monthly Basic Wage, allowances (including travel, food, housing), productivity incentive payments, and overtime pay, and is before deduction of employee CPF. It excludes bonuses (e.g. Annual Wage Supplement), stock options, reimbursement of special expenses incurred in the course of employment and payments-in-kind as well as employer CPF contributions.
2. Three-month averaging of PWM Baseline Gross Wages to give employers some flexibility in meeting PWM requirements due to seasonality fluctuations and yet ensuring fair wages for the retail workers;
3. Six months of implementation "run-in period" to allow employers to understand and adhere to the PWM requirements, from 1 September 2022 to 28 February 2023, applicable to retail firms that hire foreign manpower;
4. PWM Wages are expressed in gross terms which allow employers to incorporate all variable wage components (e.g. allowances, performance incentives/commissions) to meet the stipulated gross wages;
5. Safeguarding workers' overtime pay by setting higher gross wage thresholds (i.e. Gross Wage Requirements) for PWM compliance.
Better Skills: Setting Minimum Training Requirements
It is important for retail workers to continously upgrade and upskill to equip themselves with the necessary skillsets that will enable them to take on higher value job roles with higher productivity for sustainable wage increases.
As a start, the TCR recommendations include one Workforce Skills Qualifications (WSQ) training module as the minimum PWM training requirements for all PWM job roles.
Read more on the Recommendations of the Tripartite Cluster for Retail Industry here.