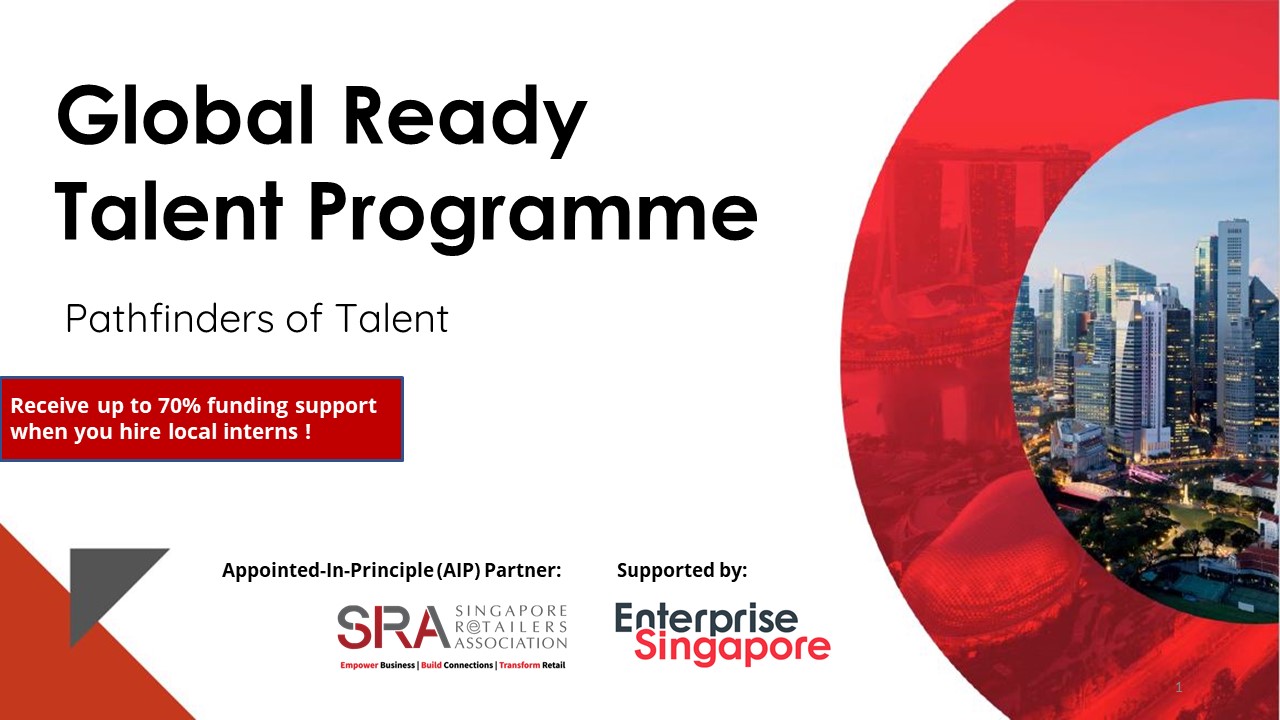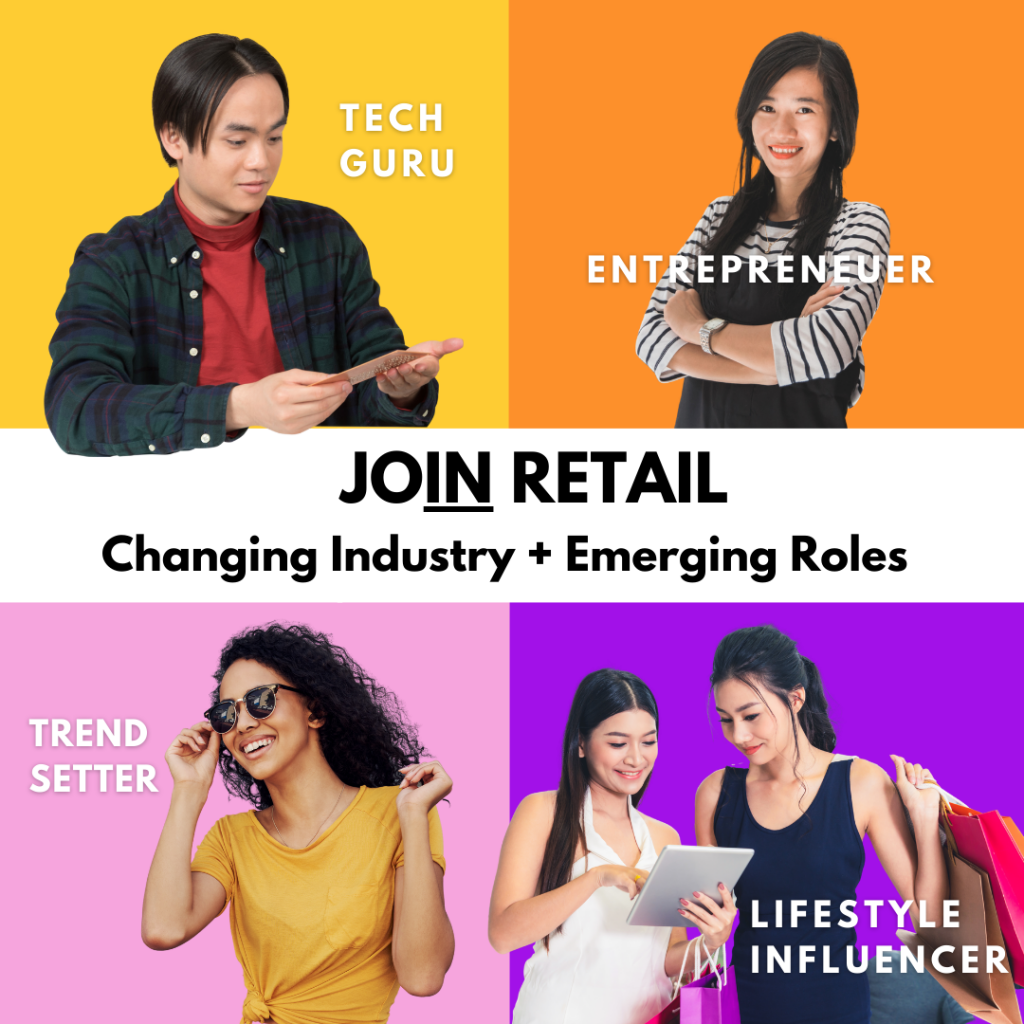 SRA is proud to be ESG's appointed Approved-in-Principle (AIP) partner Global Ready Talent Programme (GRT) for the retail sector. This programme aims to build a pipeline of global-ready talent for Singapore enterprises through exposing more Singaporeans to internships and overseas work opportunities, to support companies' talent development efforts and helps local talents develop skills to take on global responsibilities in their careers. Under GRT, Singapore enterprises offering student internships or management associate programmes are eligible for up to 70% funding support on qualifying costs. More than 550 retailers have benefitted from the programme since its launch in 2019. As the appointed Approved-in-Principle (AIP) partner, SRA serves as your main point of contact for the following GRT components.
Local internships

Secure funded interns for your company's manpower needs

Overseas internships

Secure funded interns for your company's business needs for overseas markets in Southeast Asia, China and India

Hybrid internships

Secure funded interns where companies have the flexibility of providing internship opportunities in Singapore and in overseas markets for the entire internship duration

Management Associate Programme

Secure funded support for Singapore enterprises to train and invest in overseas work exposure for young Singaporeans to deepen in-market knowledge.
Check out these videos for more information!
Introduction of GRT Programme
The Retail Industry FA

Qs

Retail Career Personality Profile

Get Ahead with Retail – What the new PWM Means for Retail Sector

CTA for Interns – Register your interest in a retail internship
CTA for Companies – Sign up for GRT Programme
Retail Insights Sharing by Mr Pang Fu Wei, Managing Director of Mothercare
My Retail Journey by Mr Lloyd Lam Cheng, Business Development Manager of Mothercare
SRA EXSA (Retail) Introduction – One of the key milestones in your retail career

SRA EXSA 2021 (Retail) Overview – Want to discover and nurture the next EXSA (Retail) Service SuperStar? Join the GRT programme  now
Through SRA's GRT programme, more than 900 students have been placed with companies in fashion apparel, jewelry, home & decor, and more!
Style, Shoot & Sell Workshop (12 Jan & 19 Jan 2022)
Strategic Digital Marketing Workshop (11 to 13 Jan 2022)
Job Redesign Workshop (10 & 15 Feb 2022)
Application Timeline and Internship Period
Here's an overview of when GRT employers should approach the IHLs and hunt for suitable interns!

ITEs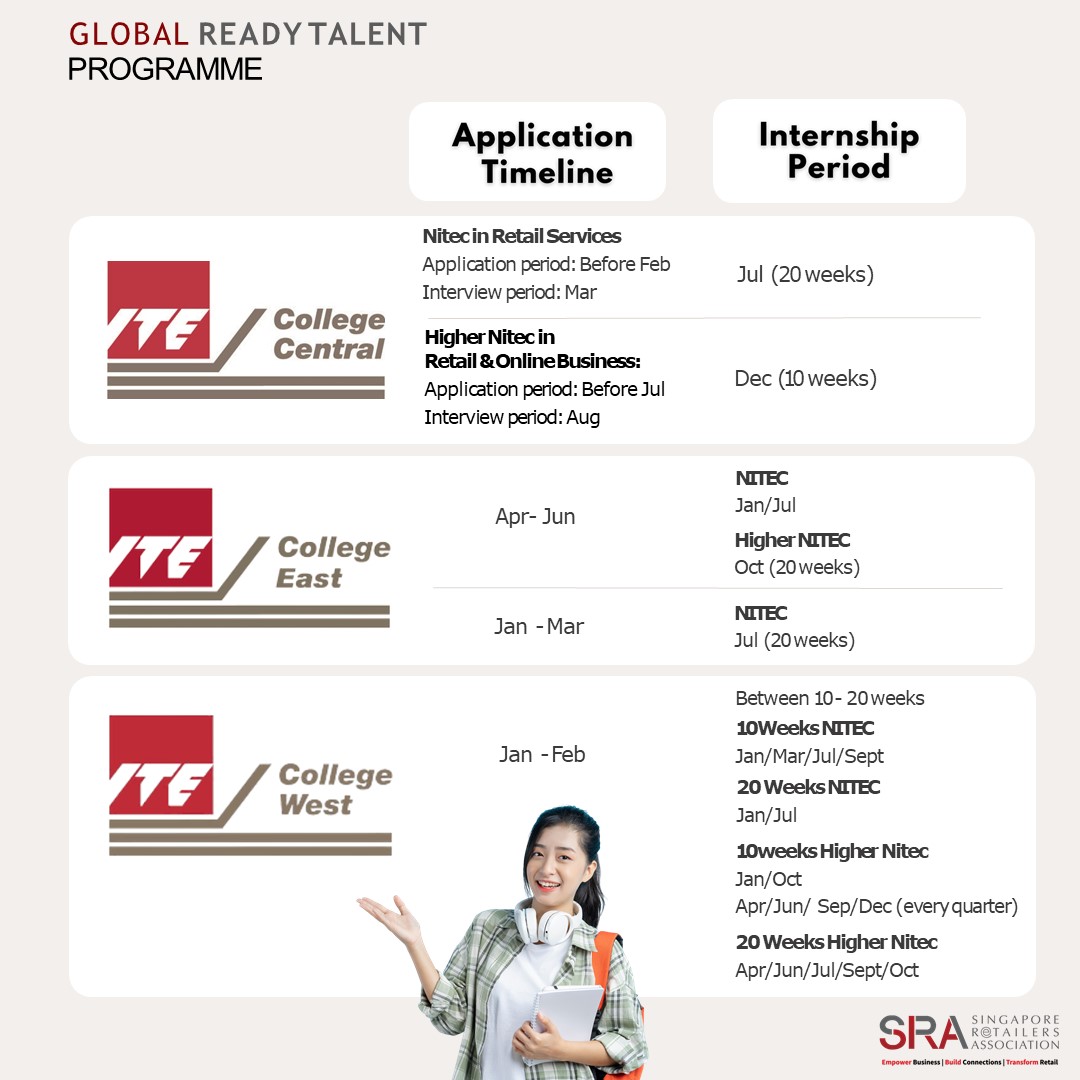 Polytechnics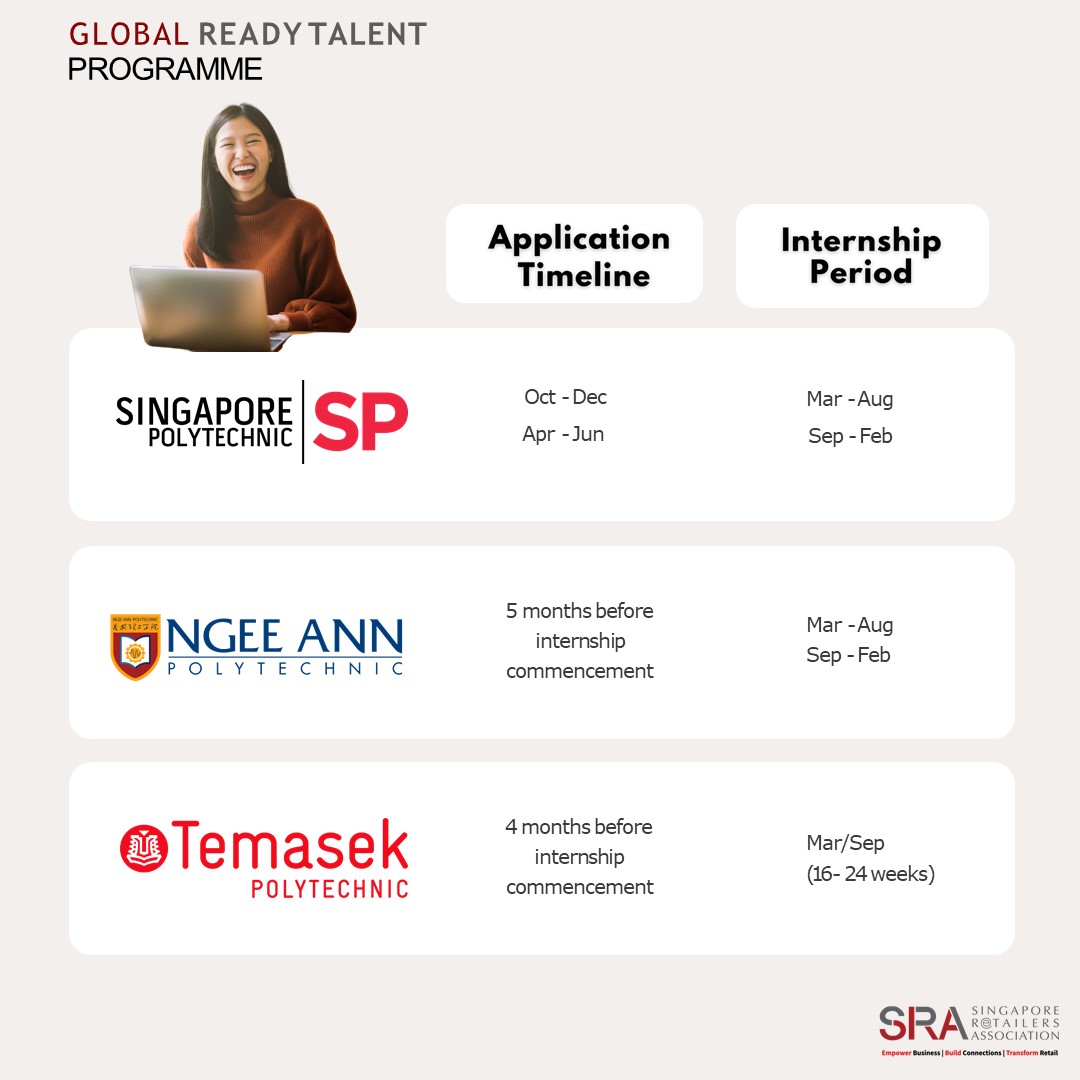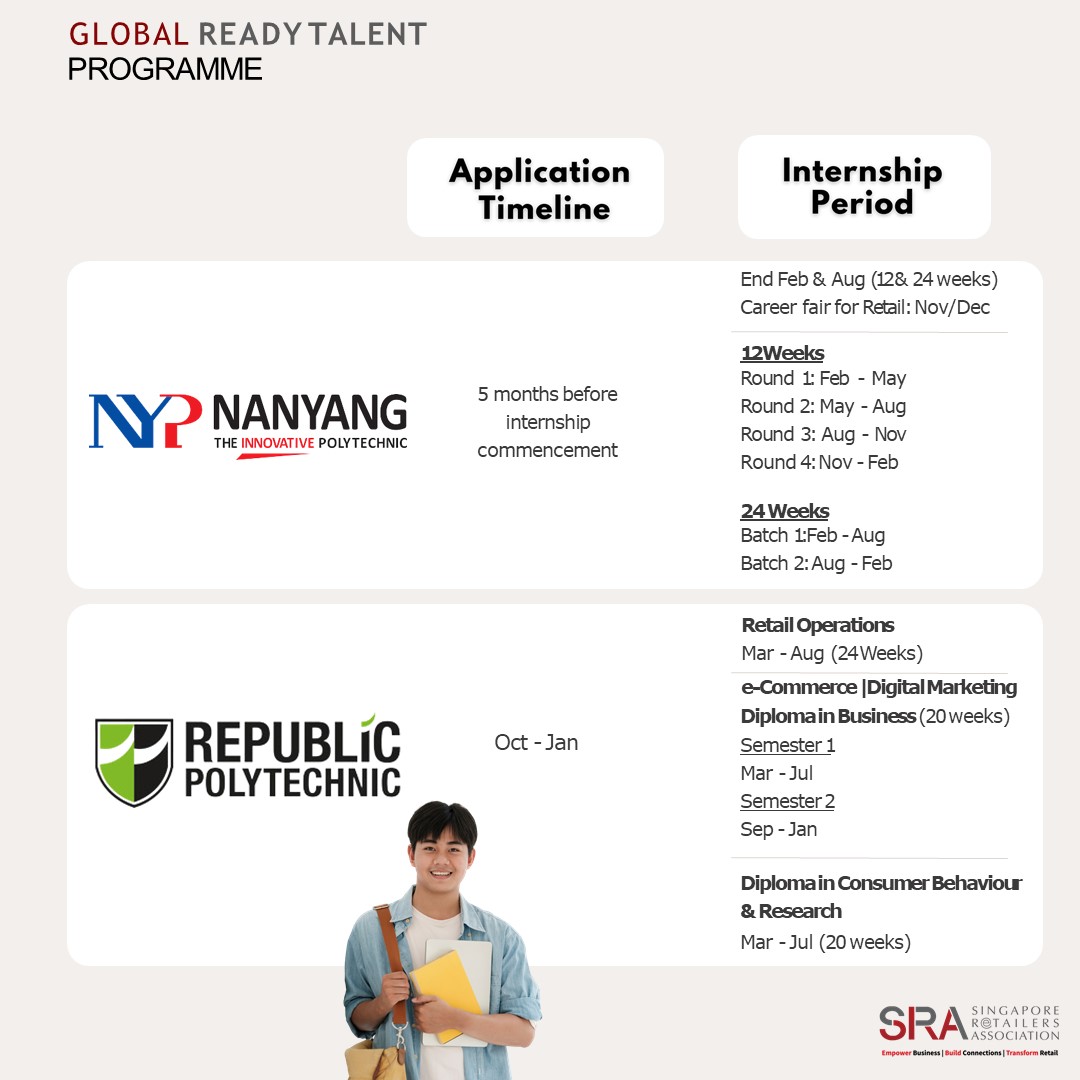 Universities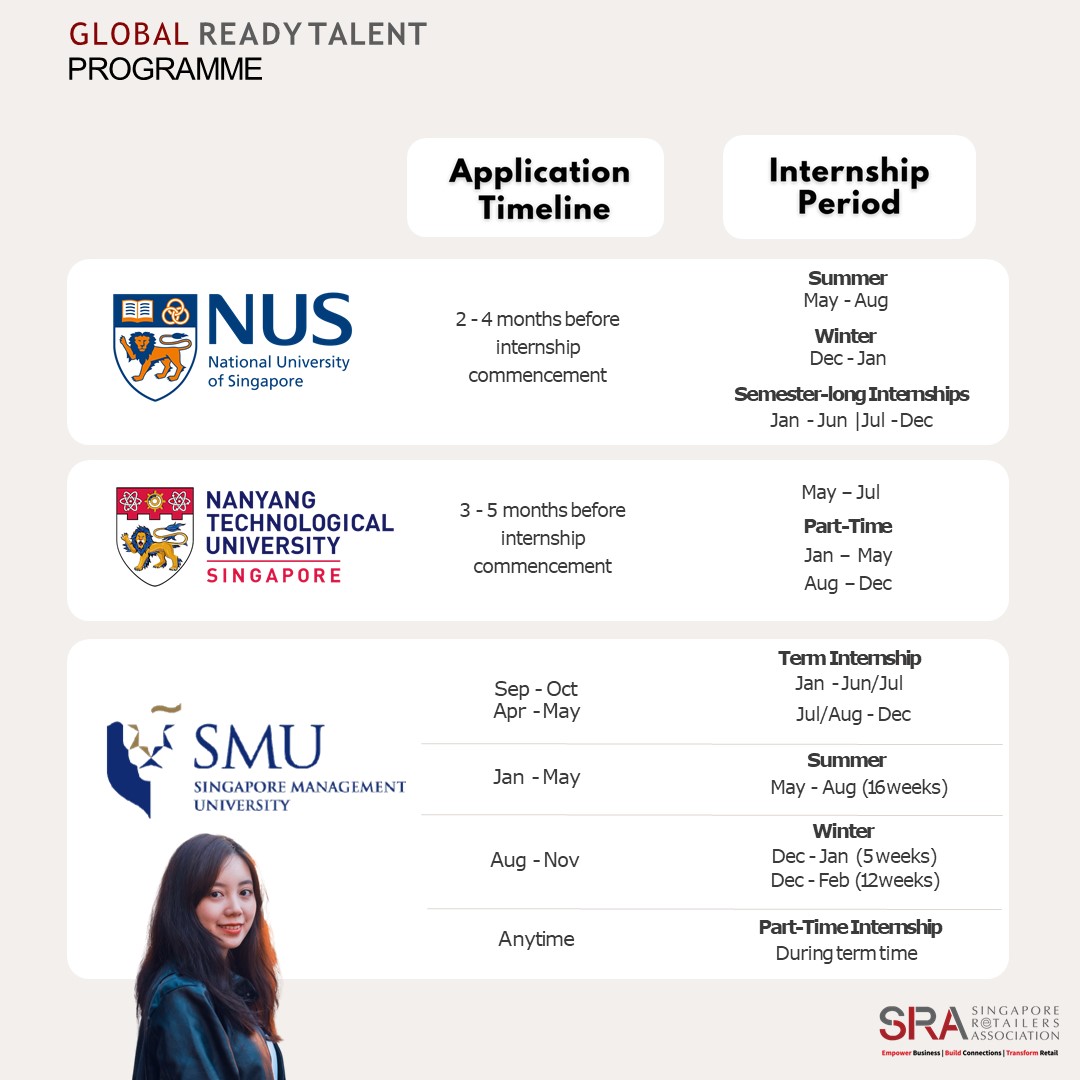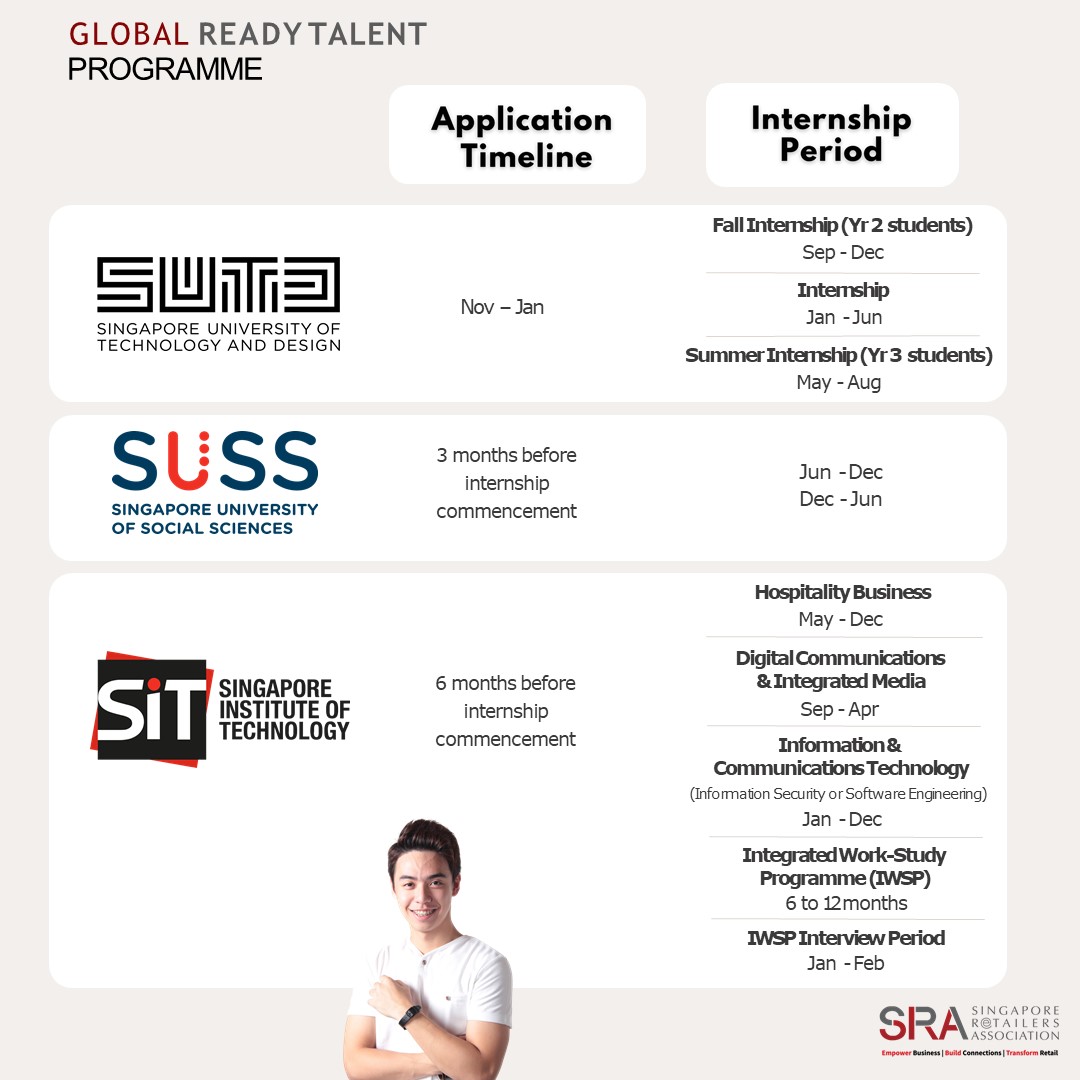 Eligibility Criteria
For Companies
Company must be registered and incorporated in Singapore
Have at least 30% local (Singaporean or Singaporean Permanent Resident) group shareholdings
Be in a financially viable position to start and complete the internship
Possess sound Human Resource processes and be committed towards talent development, able to provide a mentorship and a structured internship for meaningful experience
(For enterprises offering overseas internships) – Have existing overseas operations, positive business outlook and definite growth plans
Provide a minimum monthly internship stipend of $800 to ITE and Polytechnic students and $1,000 to University students
Company shall adhere to the Internship job scope and learning deliverables stated in the application throughout the Internship and constantly review it to ensure a meaningful internship experience
Companies which have received approval to be placed under the GRT  Programme will be approved for a Qualifying Period of 3 years. Company shall submit a new application and re-apply to be placed under the GRT after the initial 3-year qualifying period. Approval will be subject to ESG's evaluation of the company based on the eligibility criteria at the point of application submission.
For Students (Local/Remote Overseas/Hybrid Internships)
Be a Singapore Citizen or Singapore Permanent Resident
Full-time degree student of National University of Singapore (NUS), Nanyang Technological University (NTU), Singapore Management University (SMU), Singapore University of Technology and Design (SUTD), Singapore Institute of Technology (SIT), Singapore University of Social Sciences (SUSS); OR
Full-time diploma student of Nanyang Polytechnic (NYP), Ngee Ann Polytechnic (NP), Republic Polytechnic (RP), Singapore Polytechnic (SP), Temasek Polytechnic (TP); OR
Full-time student of Nanyang Academy of Fine Arts (NAFA) or LASALLE College of the Arts (Only eligible for local internships); OR
Full-time NITEC/Higher NITEC student of Institute of Technical Education College Central, East or West.
Should not be an immediate family member (i.e. child) of any key shareholder in the company.
Only applicable for full-time internships, where the intern is required to work up to 44 hours per week.
For Management Associates 
Management associates must:
Be a Singapore Citizen
Be a fresh graduate, or a young employee with up to 3 years of working experience
Posting offered to associate must:
Be for a minimum of 1 year, and
In key overseas markets e.g. Southeast Asia, China and India.
Funding Support
For Local Internships
70% of internship stipend for SMEs and 50% of internship stipend for Non-SMEs
Minimum amount paid to interns:

ITE and Polytechnic students: ≥ S$800/month
University students: ≥ S$1,000/month
For Remote & Hybrid Overseas Internships
Introduction of Remote Overseas Internships under GRT Programme
The remote overseas internship was introduced as a temporary alternative for physical overseas internships, for young talent to gain regional exposure and knowledge (in ASEAN, China, and India) despite their inability to be physically present overseas.
Student will be based in Singapore, but he/she will be reporting to the overseas office of the company and be working on overseas projects or tasks on a full-time basis
Duration of internship should be minimum 2 weeks.
Work scope should allow for student to have exposure/ interaction with their overseas colleagues/ supervisor
70% of internship stipend for SMEs and 50% of internship stipend for Non-SMEs
Additional monthly subsistence allowance and lump sum travel allowance will be provided to the students via their IHLs (Institutes of Higher Learning)
Minimum amount paid to interns:

ITE and Polytechnic students: ≥ S$800/month
University students: ≥ S$1,000/month
For Management Associates
70% for both SMEs and Non-SMEs, for both salary and overseas package capped at $50,000/year.
*All amounts stated are before funding support. All applications are subject to final approval by Enterprise Singapore
GRT Application Process for GRT Employers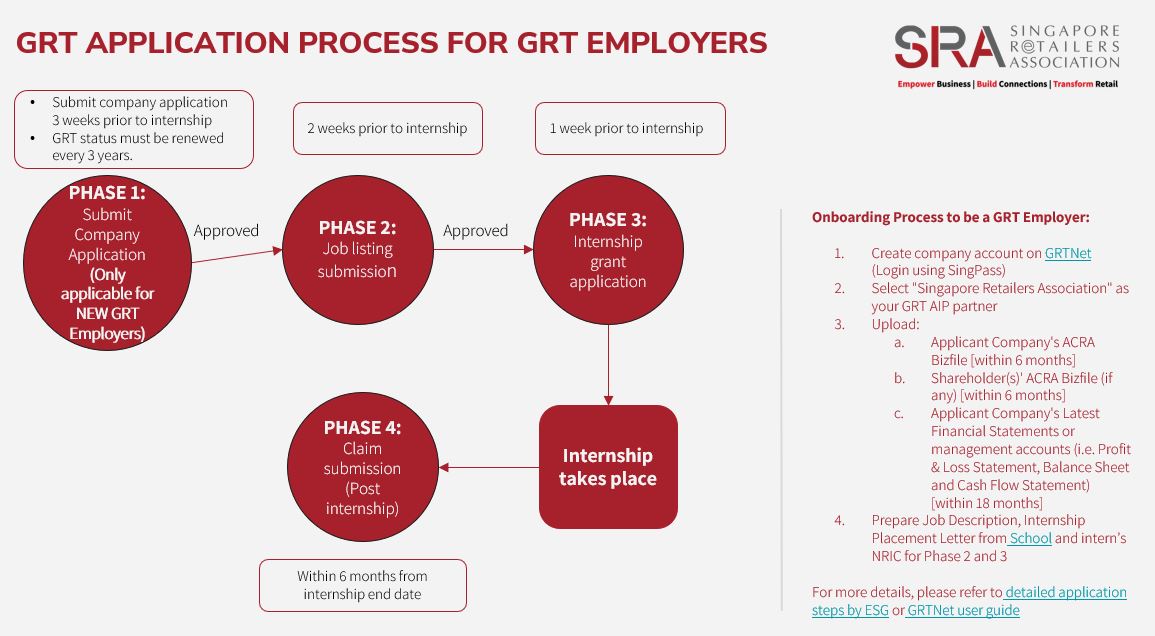 GRT Employers Profiling
With the support of retailers and Institutes of Higher Learning (IHLs), we are pleased to share the successful local internship placements of over 900 students with SRA members since the launch of the Global Ready Talent (GRT) Programme on 1 October 2019. Students from the different Polytechnics and Universities can choose from about 150 companies onboard this programme, 92% of which are SMEs companies from Fashion/Apparel, Jewellery & Watches and Furniture & Fittings and more. We are delighted to see both Retailers and our local young talents benefit from the GRT programme. We will continue to work closely with industry partners to build and channel young talent to local retailers to create a vibrant workplace learning opportunities for students to gain insights and experience working in the retail industry.
List of SRA GRT-Approved Employers (as of 14 Dec 2021)
Profiling of GRT Employers 2021
Profiling of GRT Employers 2020