Nominations for Excellent Service Award (EXSA) 2023 (Retail)
Nominate your Employees for SRA Excellent Service Award (EXSA) by 31 May 2023!
Contact us for Nomination Forms, QR Code for SRA EXSA Compliments Form or enquiries:
Ms Elise Lee at M: 9768 6981 | E: elise@sra.org.sg or Ms Michele Ng at M: 9186 7938 | E: michele.ng@sra.org.sg
ABOUT EXSA
Launched in 1994, the Excellent Service Award or EXSA is a national award that recognises individuals who have delivered quality service. It seeks to develop service models for staff to emulate and to create service champions. Organisations with EXSA staff are committed to achieving service excellence. They seek to deliver superior service through service champions in their organisations.
Award Objectives
Inspire service staff to scale new heights
Identify service role models
Encourage service champions
Recognise the efforts of service staff
Award Categories
The Excellent Service Award is conferred at three levels:
Silver Award
Gold Award
Star Award
Companies may nominate both front- and back-end employees for any of the three categories ­­- Silver, Gold and Star Award. The nomination may be made across two different levels, namely Managerial/Supervisory/Executive or Non-Managerial/Non-Supervisory/Non-Executive.
Eligibility Criteria
The Excellent Service Award is open to all individuals from all levels in the organisation.
Nominees must meet the following criteria.
EXSA 2023 qualifying period is from 1 Apr 2022 to 31 Mar 2023. 
All qualified nominees for the Silver, Gold and Star awards will be required to attend a 4-hour EXSA Development Workshop which serves to reinforce and sustain a consistent level of service after receiving the awards. Attendance at this EXSA Development Workshop is COMPULSORY to qualify for the awards. The workshops are available in both English and Mandarin and will be conducted from July to September every year.
EXSA Development Workshop fee is S$70.00 per nominee for SRA members and S$90.00 per nominee for non-SRA members, subject to 8% GST.
All EXSA recipients will receive a certificate of recognition and an exclusive Excellent Service Award badge. Additionally, they will receive an invitation to the EXSA Ceremony in celebration of their merits.
A framed certificate will also be presented to companies in recognition of their remarkable efforts in elevating the service excellence in their organisation.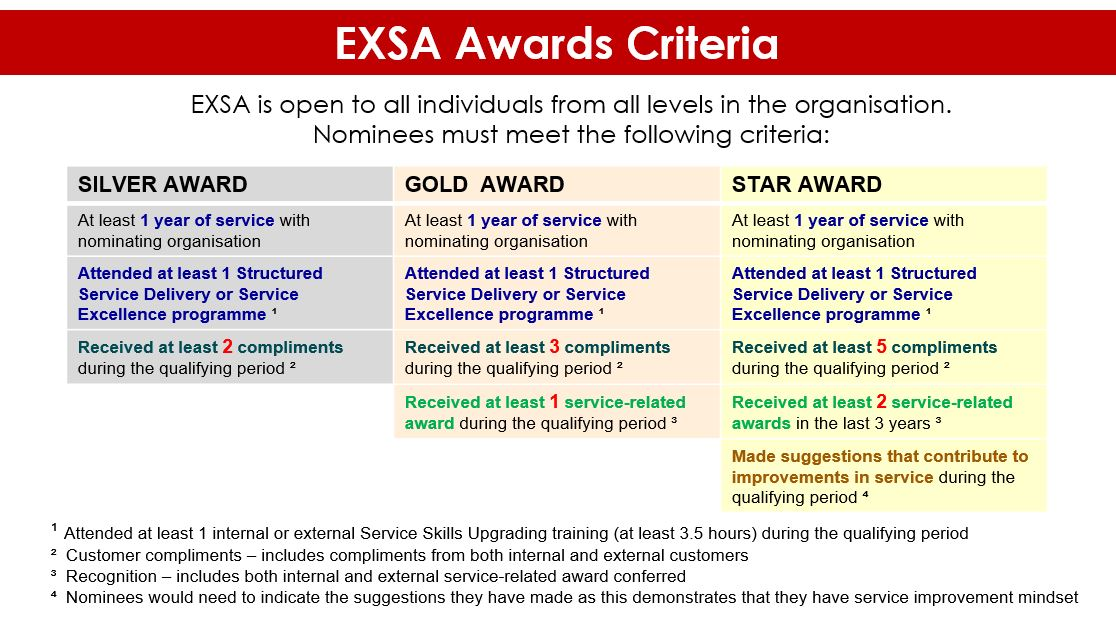 Please click here to find out more information.