Manage Service Operations for Service Excellence
Service Planning and Implementation (RET-CEX-3016-1.1) (Synchronous e-learning)
SSG Course Reference Number:  TGS-2019503167
Effective management of service operations is essential for providing excellent customer service. It is important to understand the service needs of your target market, plan and manage the processes involved in service delivery, ensure service standards are met and improve the operational efficiency of the organisation.
Key Takeaways
Recognise, deploy and monitor resources for service operations
Implement service operations to achieve service excellence
Resolve service challenges
Review service operations
Details
Course Duration: 2 full days
Time : 9am to 6pm
Delivery Mode: Online via ZOOM
Participants are required to prepare a laptop or PC with webcam, or Tablets to view training materials and complete compulsory assessments.
Course Dates in Year 2022
Mar (24 & 25); Apr (21 & 22); May (19 & 20); Jun (23 & 24); Jul (21 & 22); Aug (25 & 26); Sep (22 & 23); Oct (20 & 21); Nov (24 & 25); Dec (15 & 16)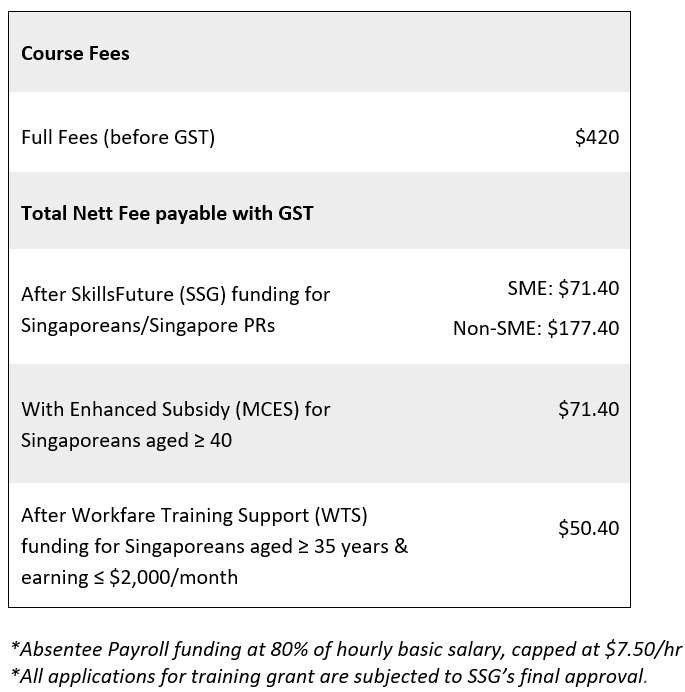 WEF 1 Jan 2022, Singaporean and Singapore PR are eligible for up to 50% Course Fee Funding and Absentee Payroll funding capped at $4.50 per hour*
Eligible Singaporeans who are self-sponsored applicants may use SkillsFuture Credit (SFC) to pay or offset the course fees.
Entry Requirements:
The applicant should have at least 5 GCE "N" Level passes (including English) or a minimum Level 6 for English Employability Skills WSQ-WPL (Comprehensive) and at least 2 years of working experience in the retail industry or holding an assistant supervisor position in the retail industry.  In exceptional circumstances, applicants with extensive retail experience may also be considered.
A Statement of Attainment (SOA) issued by SkillsFuture Singapore will be awarded to the individual when he/she successfully completed each module and assessed to be competent.
*All applications for training grant are subjected to SSG's final approval.
SSG funding is applicable till 20-05-2023