Held our 21st SRA Retail Awards Gala Dinner on Friday 11 November 2022 after a 2-year hiatus !! It was a night of fun, celebration, and networking where over 600 retailers together with their staff, landlords and their supportive tenants as well as business partners decked out in their best to celebrate the industry.
Mr Ernie Koh, President SRA launched our 3-Year Roadmap for the retail industry which will guide us in establishing foundations for new ways of thinking and delivering impact, whilst enabling innovative new possibilities to be explored, and in line with the recently announced Retail Industry Transformation Map 2025 (click here to view the Roadmap 2025 video)
The winners of the refreshed SRA Retail Awards 2022 were announced where over sixteen of Singapore's best in the retail industry were honoured for the outstanding impact they have each made in the Singapore Retail Industry through innovation, creativity, passion, and resilience. The winners are:-
The Workforce Resilience Award by Workforce Singapore were also presented during the evening to Decathlon Singapore and Seager Inc, who have each taken bold steps by participating in the first iteration of Career Conversion Programme (CCP) to transform their business and jobs between 2020 to 2021.
Special thanks to our Guest of Honour, Ms Low Yen Ling, Minister of State, Ministry of Trade and Industry & Ministry of Culture, Community and Youth for gracing the event, our Valued Retail Industry Partners CapitaLand NTUC FairPrice OSIM Singtel Singapore Pools UOB Workforce Singapore VE Capital Asia Dotdigital Lexer table/lucky draw/prize sponsors for your support in making the event a resounding success !
See you again next year at our SRA Retail Awards Gala Dinner 2023 as we come back even bigger and better !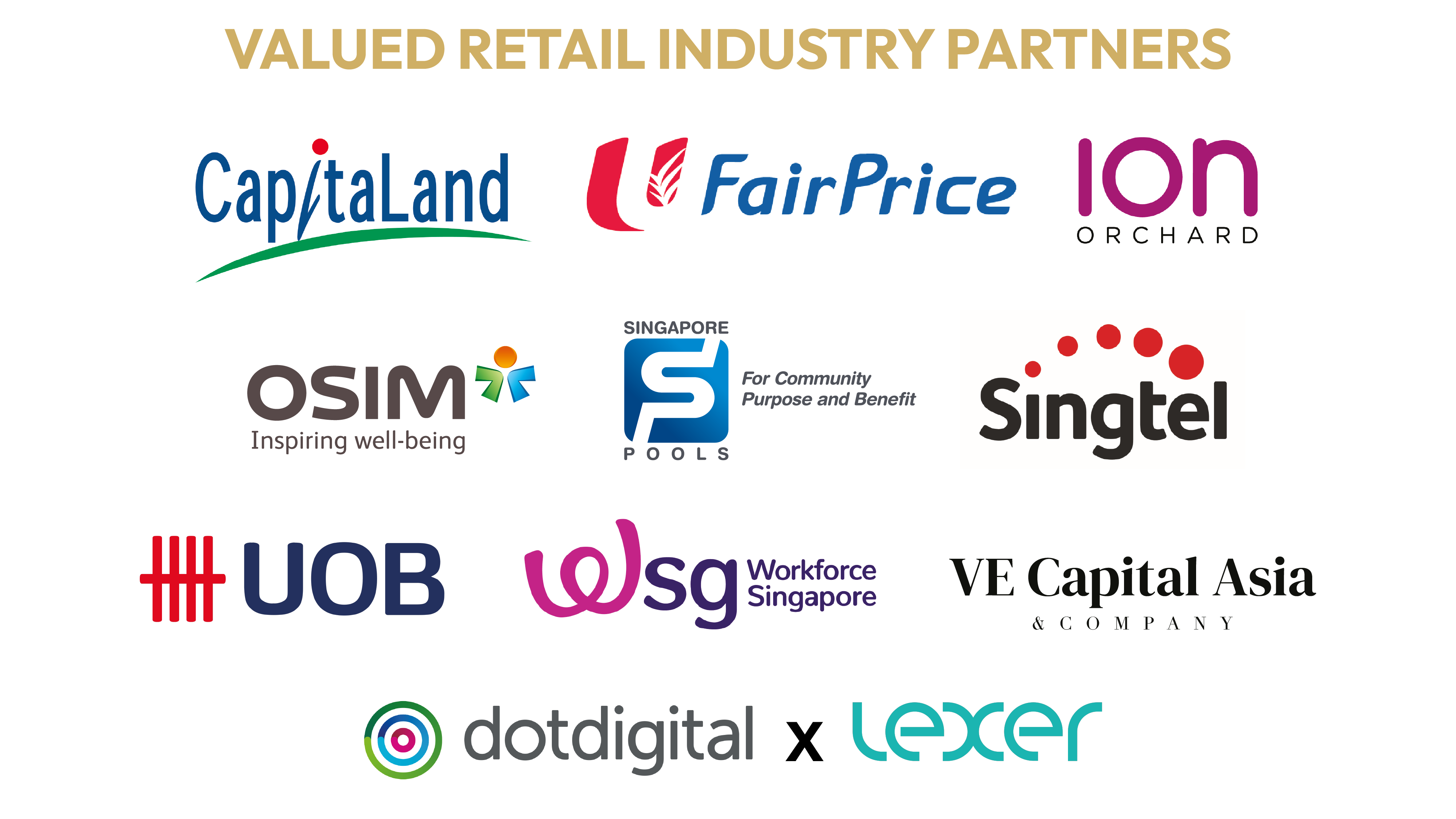 Winners of the SRA Retail Awards 2022:
SRA Retail Awards 2022 winners received their awards from Guest-of-Honour, Ms Ms Low Yen Ling, Minister of State, Ministry of Trade and Industry & Ministry of Culture, Community and Youth and Mr Ernie Koh, President, Singapore Retailers Association (SRA) at the SRA Retail Awards Gala Dinner 2022 on Friday 11 November 2022, held at Sands Grand Ballroom, L5, Sands Expo and Convention Centre, Marina Bay Sands.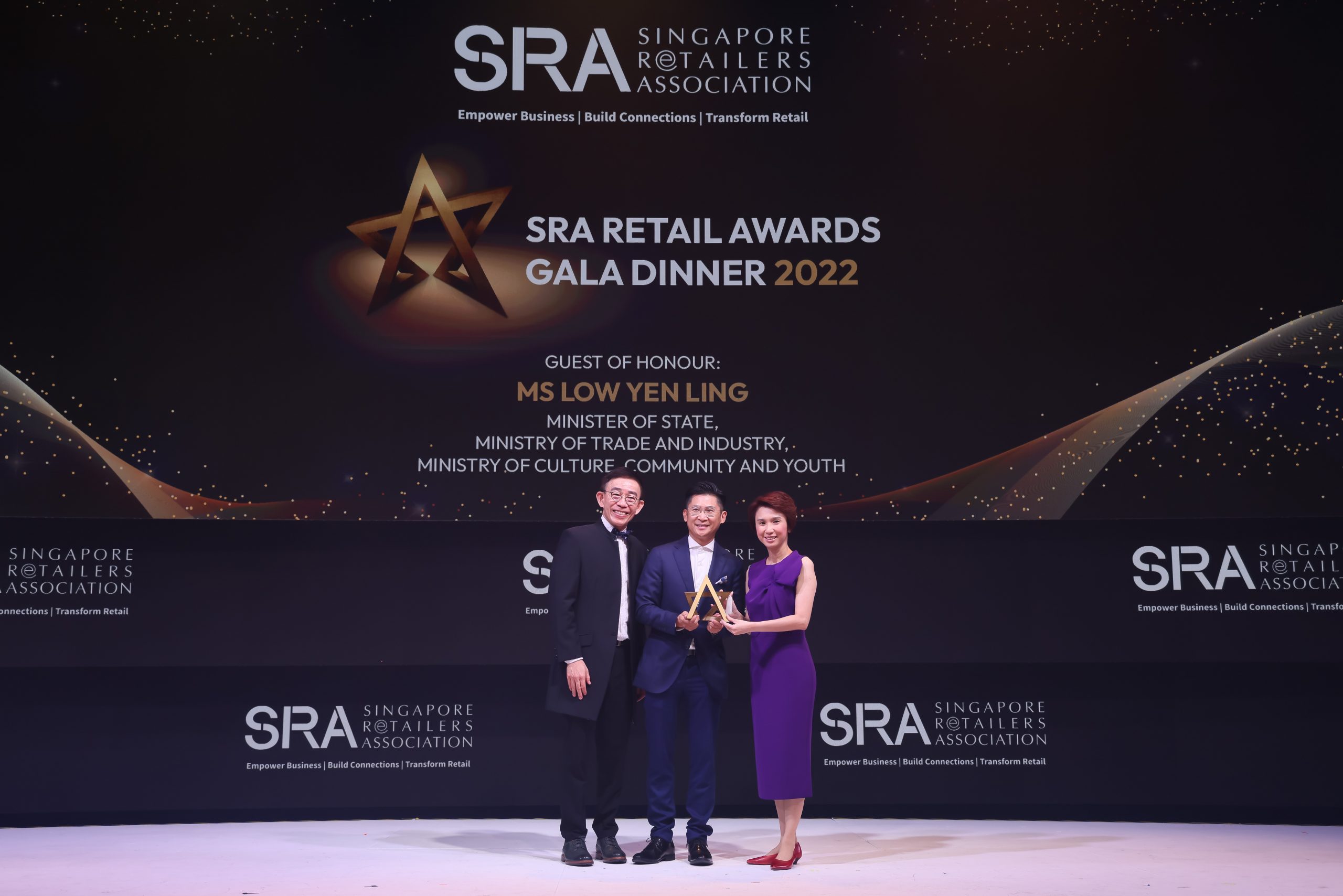 Best New Retail Store: BLAXK BY ACTIONCITY
"BLAXK by ActionCity is a pop culture, design, and retail concept space in Singapore that creates an immersive hybrid environment. BLAXK by ActionCity unite artists, audiences, and the art toy community by showcasing the top up-and-coming national and international artists through themed exhibitions. The immersive arts installation specially made figurines and works of art, and the style and presentation of objects at BLAXK by ActionCity are all done in physical form using abstract, poetic, and thought- provoking visual stylistics.
The BLAXK Visual Merchandising Team deconstructs its space and in-store presentation and populates the area with new artworks incorporated with immersive arts installation and props, much like an art museum would cycle its shows. The shop closes for two days in preparation for a new thematic exhibition every seven to eight weeks"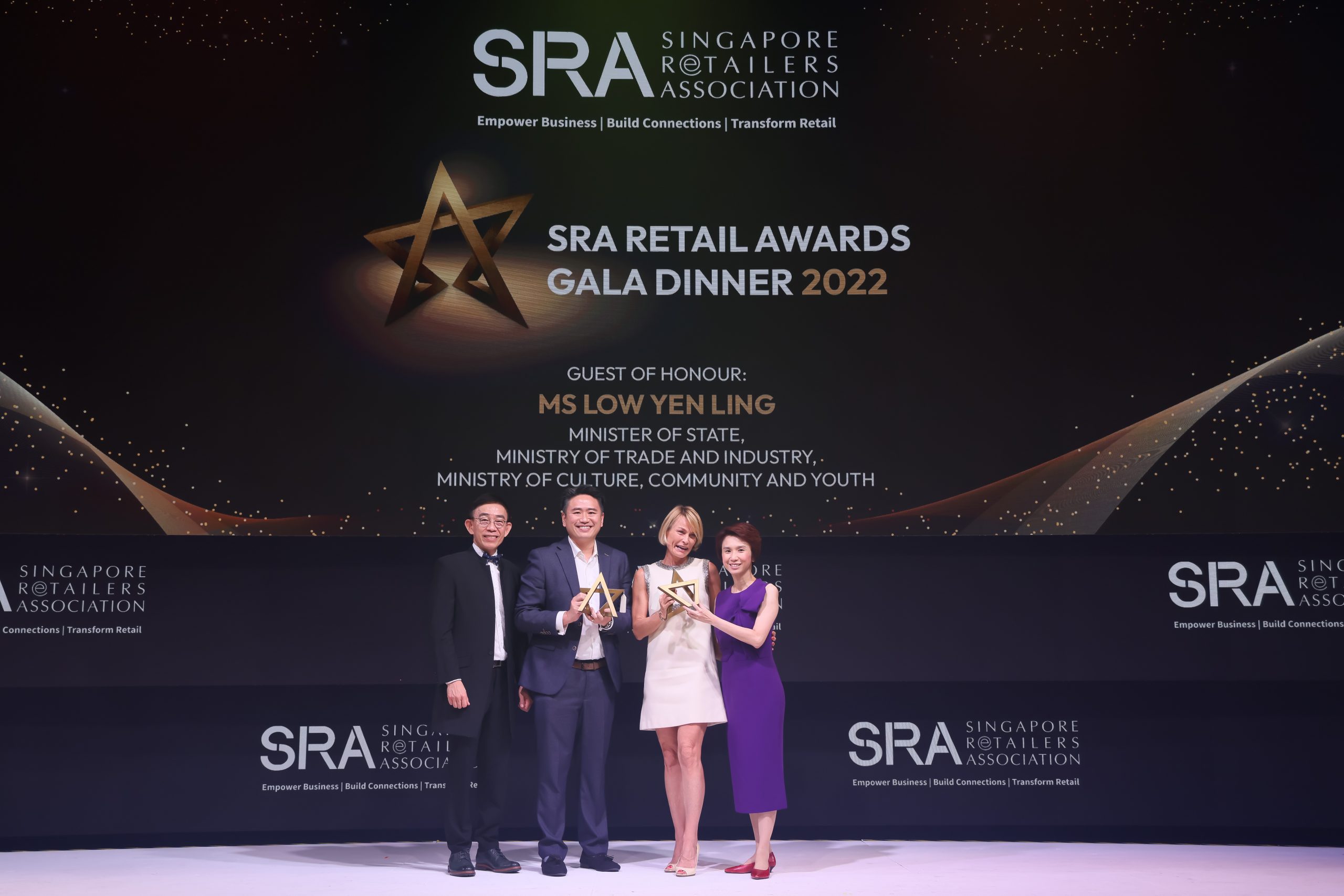 Best Experiential Retail Store: Commune & Maison 21G
"Commune have always looked at their customer needs when designing its retail experience as well as product offerings. They constantly use design thinking mindset and methods when it comes to solutioning as they believe that they exist only because of their customers and that it is paramount for them that they understand customers' needs.
Commune conducts customer interviews, focus group discussions as well as ethnographic research by observing how they live and work in order to come up with a solutioning. The feedback that was gathered shaped the way they designed their omni-channel retail experience, by addressing the pain points of the disconnection between online vs offline experience and the problem with visualisation."
"Maison 21G have built, through various activations, online campaigns, direct marketing and via our concept stores, a dedicated inclusive, engaged, and active community of scent designers.
It has been a source of considerable and consistent pride to the entire team at Maison 21G that their core customer base mainly millennials and Gen Z consumers that seek personalised products with an experiential edge have taken the brand, its ethos, values and approach to heart with such enthusiasm.
Today's perfume fans have grown tired of the off-the-shelf scents aimed at the lowest common denominator and have leapt at the chance to craft their own scents from sustainable and high-quality ingredients. Maison 21 brand promise of natural, clean, and ethically sourced essences has resonated strongly, and repeat custom, recommendations and word-of-mouth marketing has been stronger and more supportive with each given month.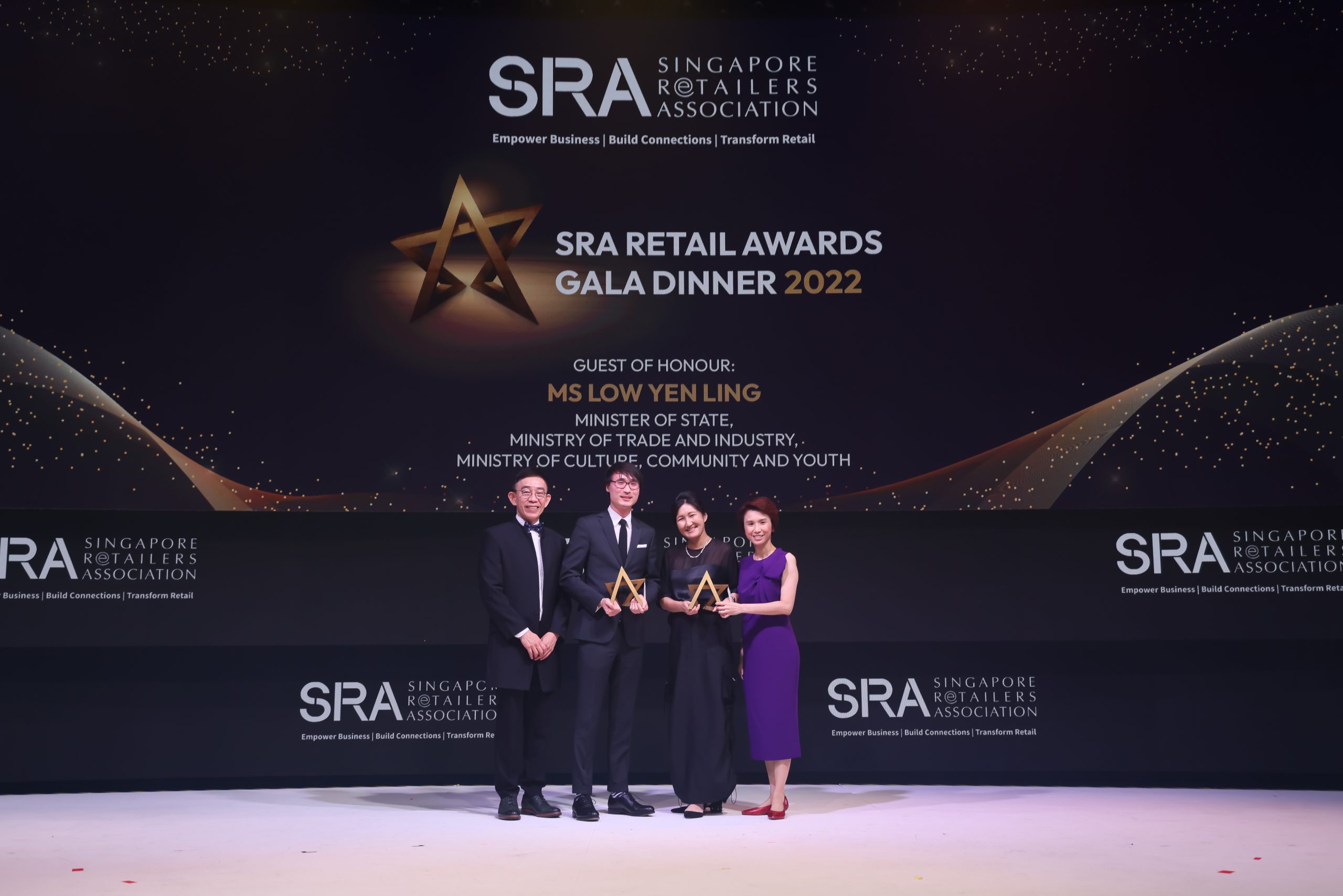 Best Experiential Retail Store: Mothercare (Nursery Advisory Programme) and Frasers Property Singapore (A Christmas Eggs-perience)
"Frasers Property Singapore is the retail-focused platform of Frasers Property Singapore, which manages 12 shopping malls in Singapore. All of which are part of the Frasers Experience (FRx) digital ecosystem which comprises a loyalty and rewards programme, an F&B marketplace known as Makan Master as well as a retail eCommerce platform, Frasers eStore which was launched at the height of the COVID-19 pandemic.
Frasers drew customers back to the malls during the third quarter of 2021, when the retail outlook was bleak through an entertaining and rewarding year-end campaign powered by gamification. Frasers leveraged on Gudetama, an iconic Sanrio character, which appeals to both young and old audiences, to offer customers a digital, contactless, and Covid-safe gamification that complies with the constantly evolving Safe Management Measures. The initiative has proved to be successful as traffic in the mall increased by 24% year-on-year, shoppers drove 70% of total festive Christmas sales turnover which led to a 40% year-on-year increase in sales."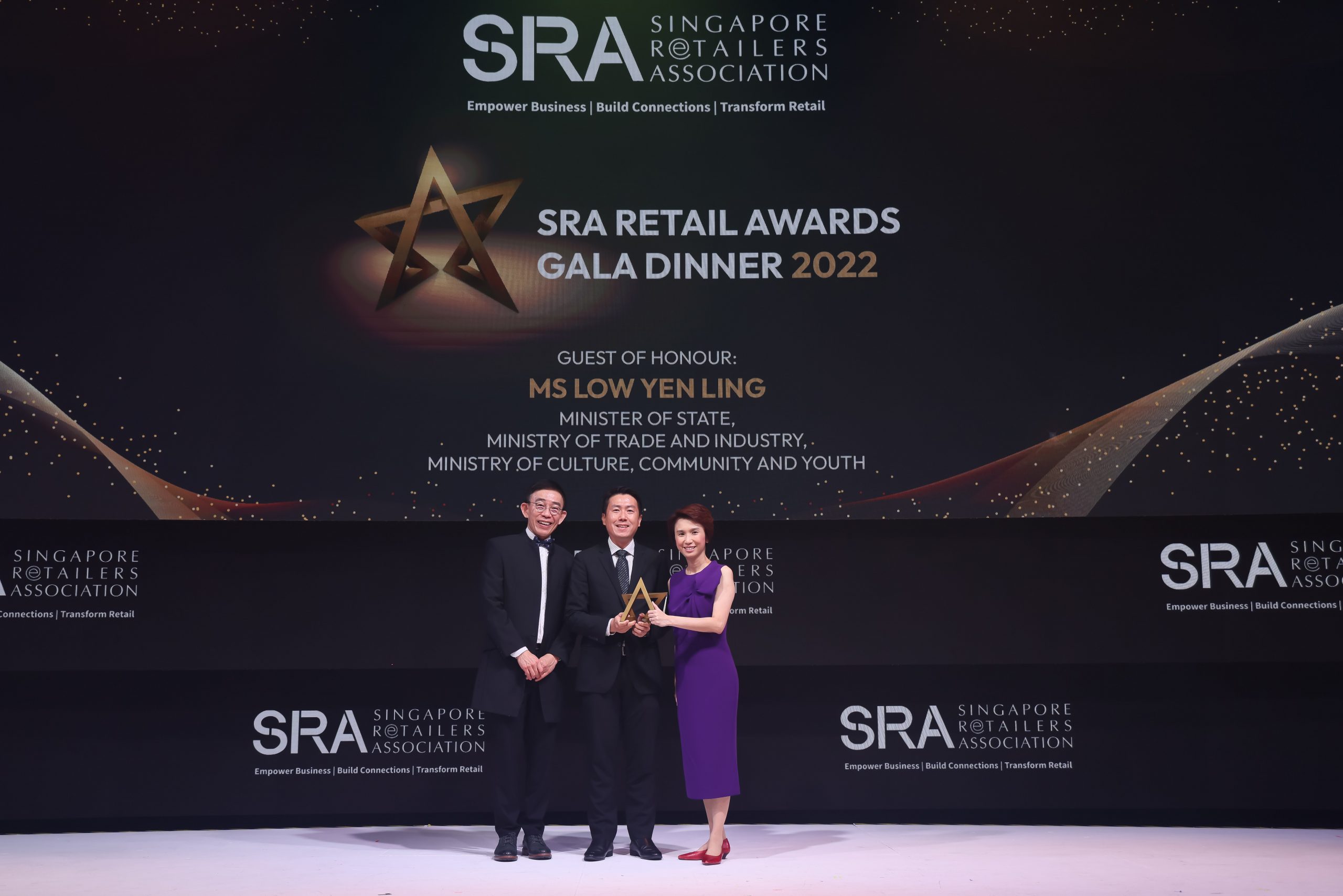 Best Retail Business Transformation Strategy: Far East Flora Pte Ltd
"Although Far East Flora was founded in 1980, it has continually changed its strategy to fulfill the needs and expectations of its clients. To increase workforce productivity and offer a seamless customer experience across all channels, Far East Flora has embraced omnichannel retailing. Far East Flora launched an online webstore that unites its physical and online stores to provide 24 hours a day access to its merchandise. Higher sales per customer, more consumer traffic, and increased business productivity were all benefits of the new online store."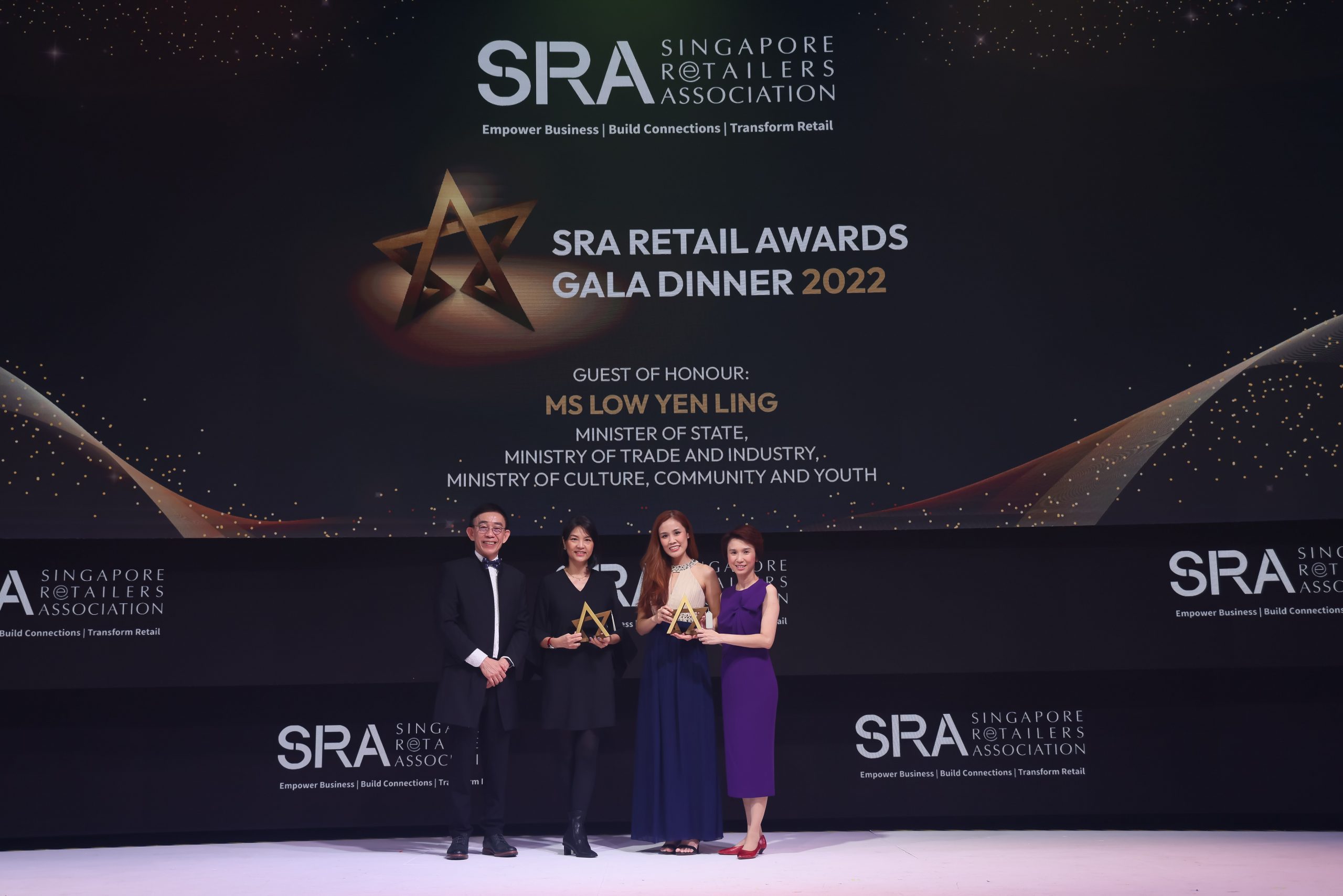 Best Retail Sustainability Initiative: Metro and ION Orchard
"Over the years as Metro continues to expand strategically and sustainably, through implementation of different strategies. Metro has been driving the message 'Metro For A Better Future' since April 2021 in store campaigns through highlighting sustainable products, for example, products which use less water, fewer chemicals, are energy efficient or made from sustainable or recycled materials. This also ensures active participation from the suppliers to practise environmentalism and sustainability. Metro work closely with Industry Partners to re-design Packaging to reduce need for extra packaging material. Metro also heavily encourages shoppers to bring back clean and empty cosmetic bottles to reuse and recycle."
"With Singapore accelerating its focus on sustainable development with targets outlines in the Green Plan 2030, ION Orchard took a brave step forward to pilot a change and promote sustainability at its malls. ION Orchard launched its first mall-wide eco-conscious campaign, the Green Points programme, to reward customers when they shopped sustainably through using their own reusable shopping bags, mugs and food containers or purchase of "green" collections or sustainable items at ION Orchard. In addition to the Green Points programme, ION Orchard lunched the Sustainability Trail organised in partnership with tenant brands to run a variety of tours, events, and workshops."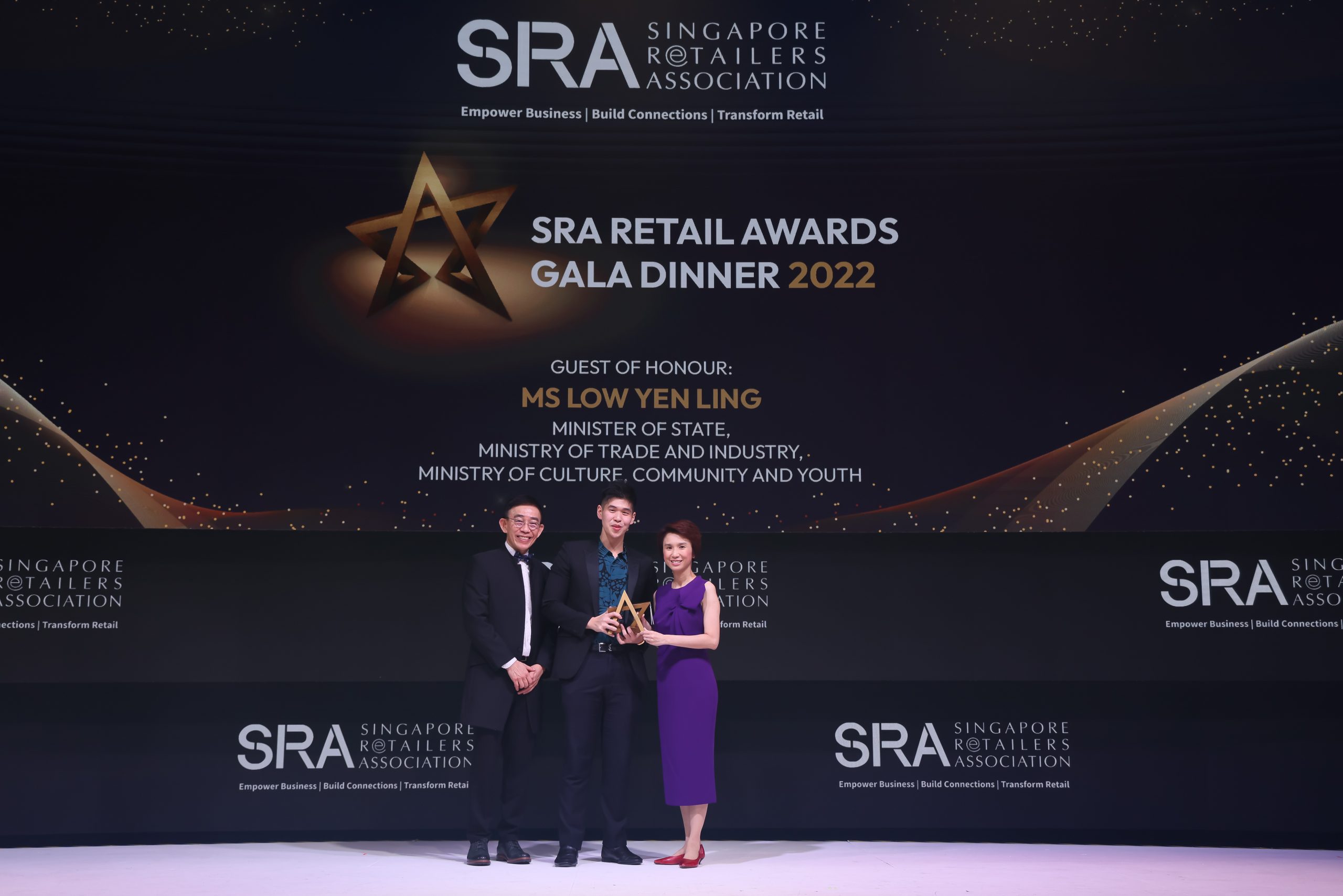 Best Efforts in Corporate Social Responsibility (Retail): Baker X @ Orchard Central
"To help home bakers gain brick-and-mortar presence, Far East Organization reevaluated the function of retail locations and created Baker X, driven by the conviction that it can inspire better lives. Baker X is launched with the intention of assisting home-based bakers test their operations in a retail environment first before expandng into full-fledged establishments. Home-based bakers can apply for a two- to six-week residency at Baker X. The only expenses for bakers are the cost of their own ingredients and packaging and they will also keep all sales revenue. Far East Organization also handled media and PR in order to promote each home baker through bakeries at the mall and online via social media platforms by hosting media tasting sessions, media drops and influencers. The media's and influencers' reactions have been proven constructive and favorable, with Baker X amassing up to $4 million in PR value within its first seven months of existence through print news articles, radio interviews, internet news sites, and influencers."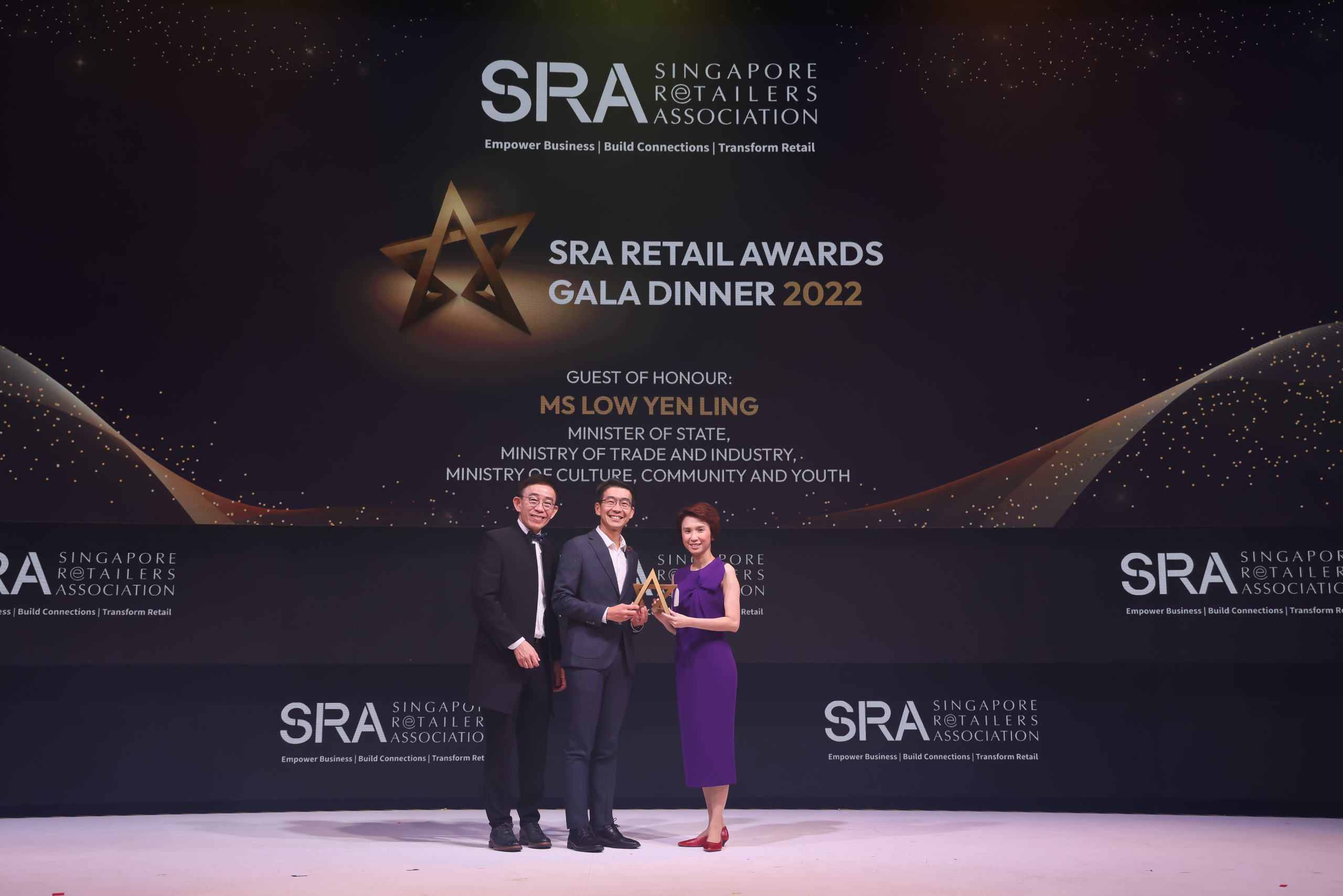 Best Efforts in Centre Management (Shopping Centre): Jewel Changi Airport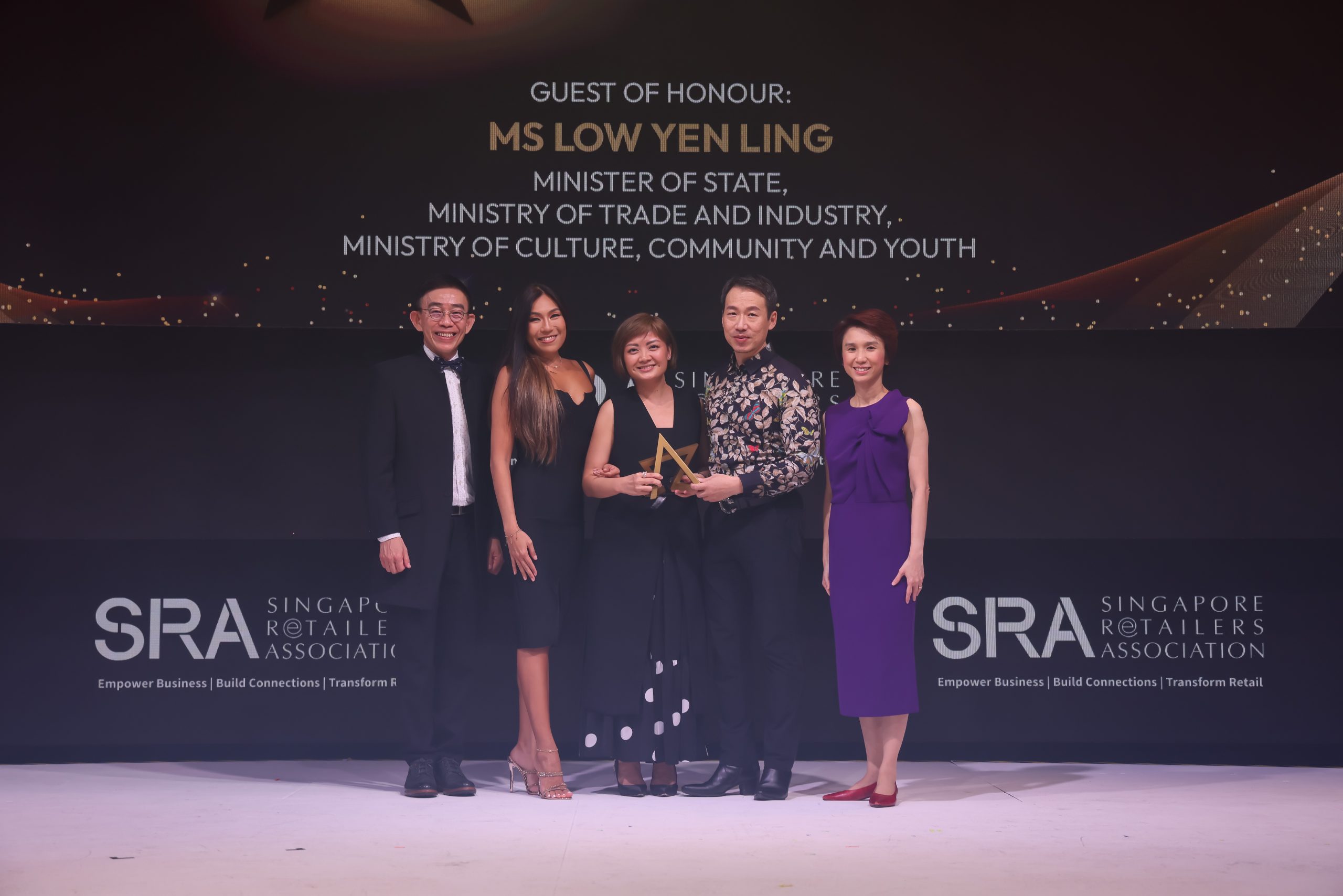 Best Efforts in Advertising & Promotions (Shopping Centre): Funan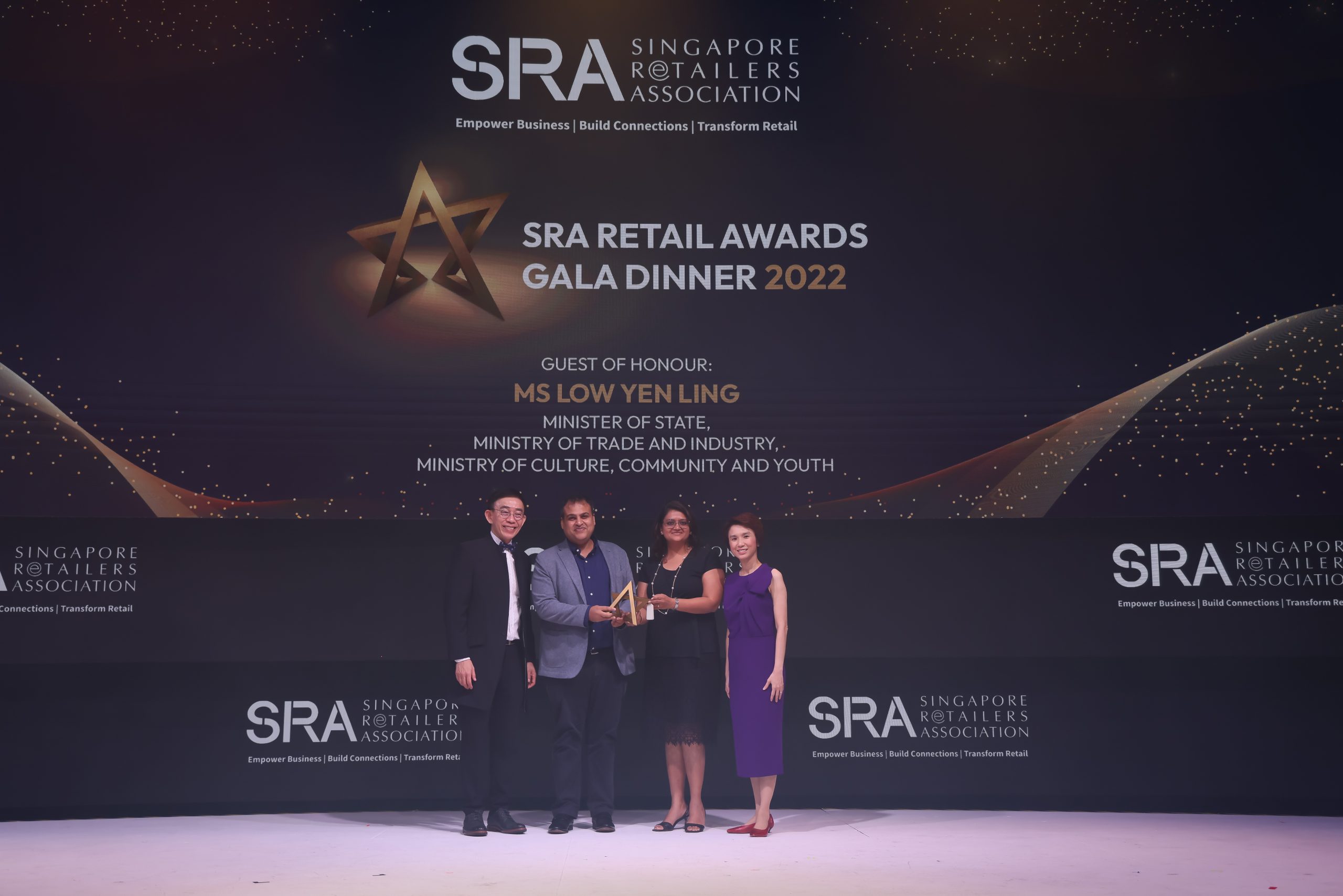 Most Promising Local Retail Brand: Sam & Sara's ipse ipsa ipsum
Sam & Sara's ipse ipsa ipsum brand reflects a tapestry of individuals, artisans and designers who collaborate across various disciplines to create individualised pieces that transform ordinary living spaces into extraordinary places. Sustainability, Customisation & Uniqueness are Sam & Sara Ipse Ipsa Ipsum's Value Proposition as they engage in responsible manufacturing and are committed to protecting the welfare of the artisans they work with.
They have collaborated with the whole graduating class of La Salle to come up with a collection based on vernacular materials using renewable energy. Keeping traditions alive-Collaboration with the Peranakan Museum and Brand Performance retail business grew over a 100%. They have satisfied our customers looking for a tasteful balance between function and style in products designed with warmth and through these programs we have achieved 62% of returning clients.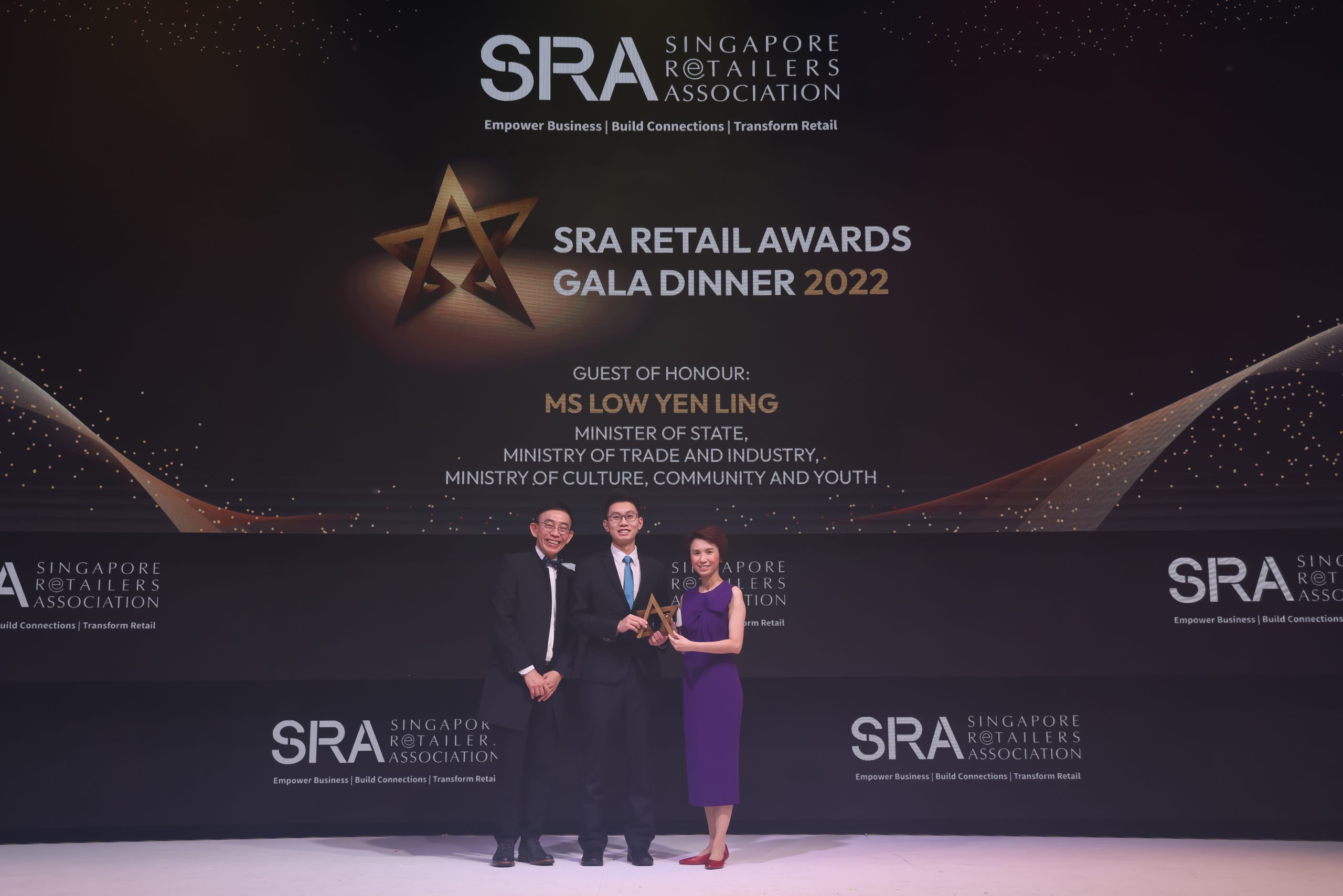 Retail Executive of the Year: Calvin Ng Zhao Yong, Branch Supervisor, Chow Tai Fook Singapore Pte Ltd
"Life is about relationships" says Calvin. He is always intrigued and loves his interactions with his customers and his team at work. And operating under the Changi Airport Group setting including Jewel Changi Airport and Changi Airport Terminal 1, Calvin has proved his ability to collaborate intimately with all airport partners to deliver exceptional service to worldwide customers.
When the organisation had the first Covid 19 case, Calvin took the initiative to display care and empathy for fellow Covid 19 colleagues by calling the patient during his/her period of isolation serving as a pillar of strength and support during patient's recovery period. This act of gesture promoted a supportive policy environment and a sense of belonging within the organisation.
Incorporating Chow Tai Fook's long-held core values of "Sincerity • Eternity" with the Changi Service DNA of Personalised, Stress-Free and Positively Surprising, Calvin exemplifies the key thrust of providing excellent sales and customer service: Being Customer-centric in every sales touchpoint.
Retail Manager of the Year: Mr Yeo Eng Liang, Branch Supervisor, NTUC FairPrice Co-Operative Ltd
"Eng Liang had worked with NTUC for a very long time. He is very dedicated and passionate in his work and aspires that Fairprice be the 'Go-To-Grocery retailer in Singapore, where families can come together and enjoy the shopping experience in stores'.
He believes in lifelong learning and wishes to impart his experience to his junior staff and identify future leaders for his organisation. Eng Liang played a pivotal role in the Super Service project, which aims to improve customer service. He took charge of the monthly service bulletins by providing a summary of customer ratings, stores in which customers have given compliments, and staff who had gone the extra mile in customer service. Through this project, there was an overall improvement in customer satisfaction.
Through Eng Liang's leadership in the store operations and dedication to improving customer service, it created a positive image for FPG and the retail industry."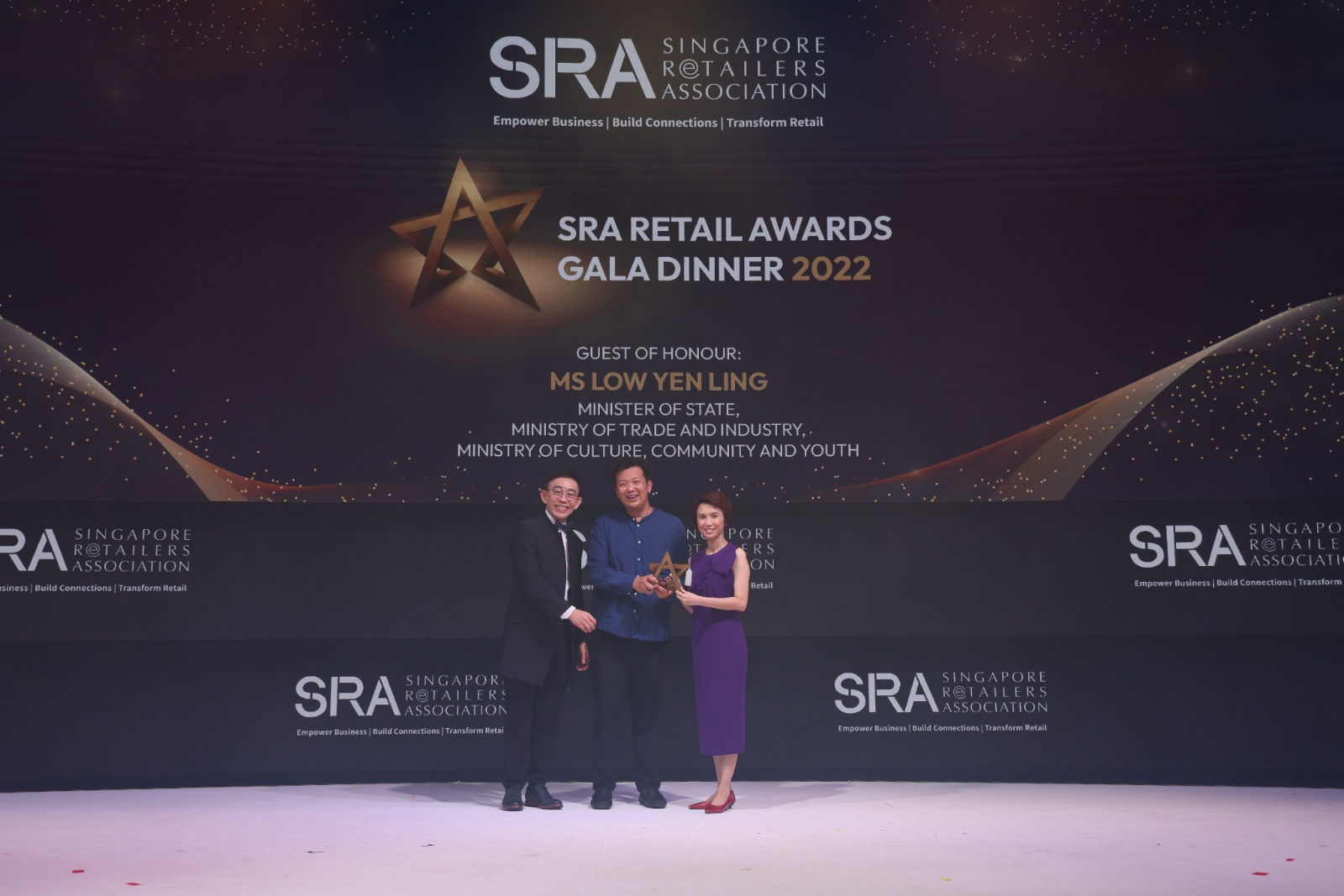 Retail Leader of the Year: Mr Brien Chua, Managing Director, Houze
"Mr Brien Chua, a gentleman who gave up stability to chase his entrepreneurial dreams. Houze and Table Matters, being one of newest establish companies created by Brian Chua, top 5 rankings for Shopee and Lazada which makes the only local Singapore Brand to be Top amongst the international brands.
He also founded EcoHouse a branch of the brand but dedicated to Sustainability and tech savvy. Certainly an "All Rounder" who is determined to succeed."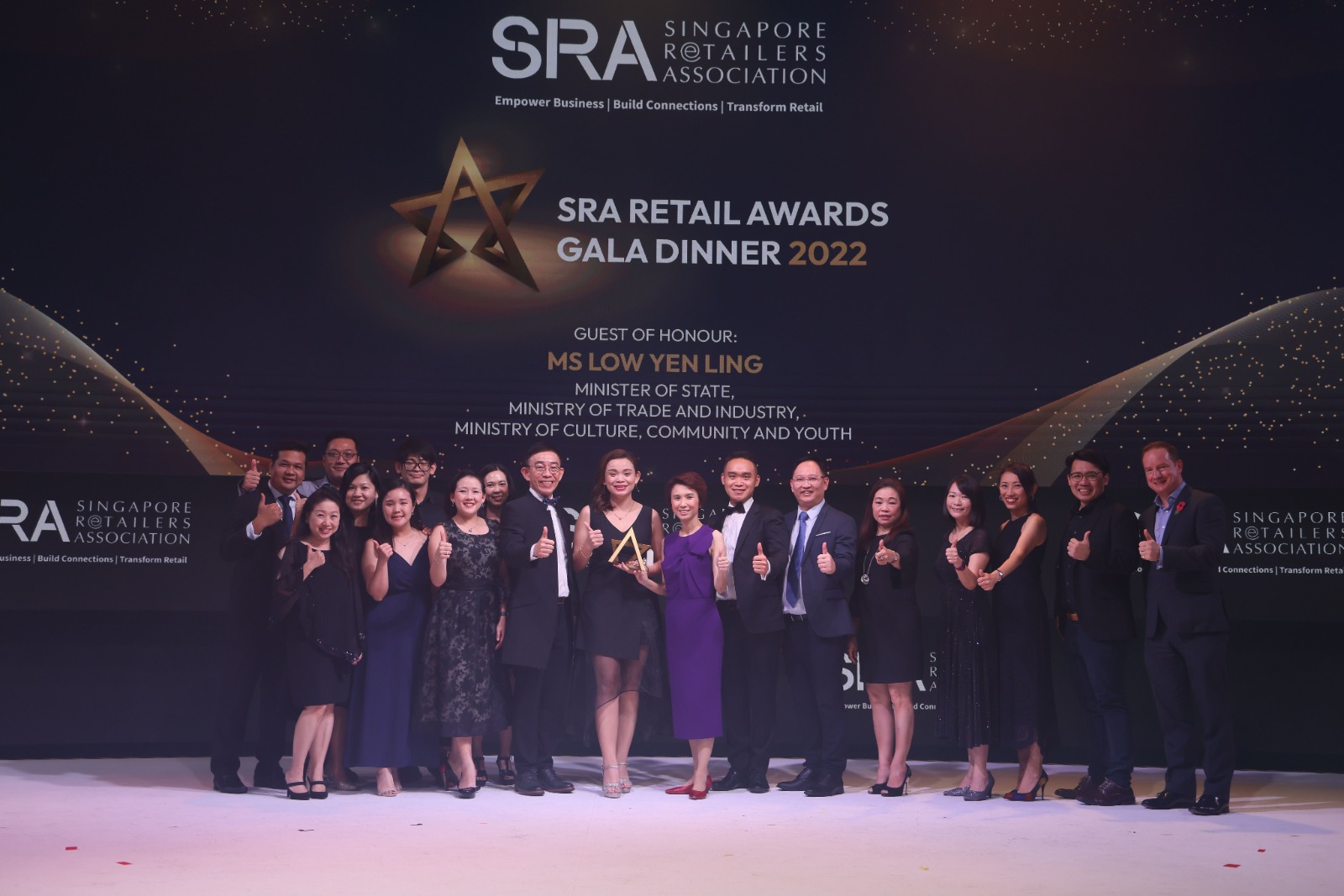 Retailer Of the Year 2022: Guardian
Guardian Health & Beauty's mission is to help customers afford a healthy and beautiful life every day. With more than 50 years of experience in Health & Beauty, Guardian has become the go-to destination for customers' health and beauty needs
Established in 1972, Guardian is Singapore's Number 1 Health and Beauty retailer. With more than 120 stores nation-wide, it retails a comprehensive range of health & beauty products. Guardian has evolved from its pharmacy roots into a holistic one-stop solution for customers' health and beauty needs. It continues to expand its product and service range to meet the redefinition of beauty by today's customers – where health meets beauty.
Wide range of health and beauty products _ With more than 200 beauty brands and keeping up to latest beauty trends, Guardian is a leading retailer in Derma Skincare Trusted health brands that serves high quality family needs at affordable prices
Guardian encourages customers to live a healthy beauty life through offering expert and trusted health advice by award-winning pharmacists. Guardian also offers daily great value, Low Prices Locked, to Stay Low initiative where hundreds of prices are kept low on daily essentials so customers can shop with confidence at Guardian every day.