SBF National Business Survey (NBS) 2021/2022
August 6, 2021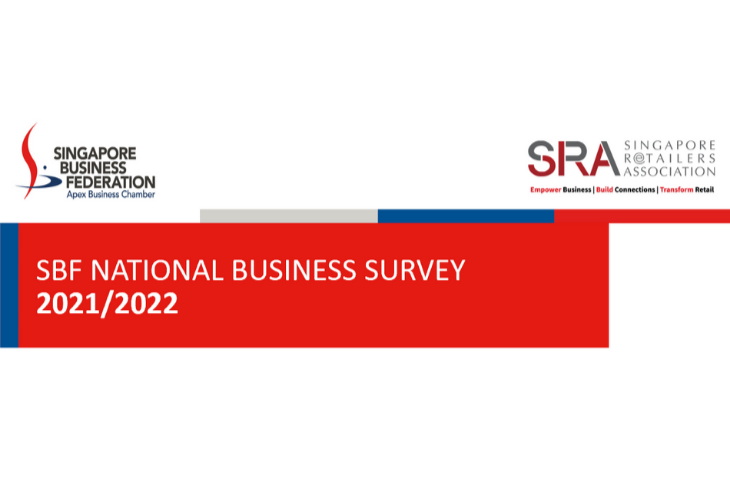 The Singapore Business Federation (SBF) and Singapore Retailers Association (SRA) would like to invite you to make your voice heard in this year's 
SBF National Business Survey (NBS) 2021/2022
. The NBS is an important annual survey that is closely read by our Government, its agencies, and our various stakeholders. This year, as Singapore continues to manage the business and economic impact of COVID-19, we seek to gather feedback from our member companies on the prevailing state of affairs, understand their unique business challenges and how they think we can emerge stronger together.
In the past, we have used the findings of the NBS to make recommendations to our Government on its national Budget, policies and programmes, as well as work with various stakeholders, including our business community, to develop our own programmes for the benefit of the wider community.
We would like to cordially invite you to participate in this year's survey, which should take about 30 minutes to complete. Your participation is critical in helping us understand the priorities and challenges that you face in the current economic environment, and it will be a good opportunity for you to lend your voice via the Trade Associations and Chambers.
Your feedback will remain strictly confidential and only aggregated information will be released in any published form. We appreciate your response latest by Friday,27th August 2021.
If you have any questions or need any assistance, please contact:
Ms Runan Sui (Blackbox Research) at email: runan.sui@blackbox.com.sg [telephone no. 6958 7641]
Mr Edwin Heng (SBF) [Tel No.: 6827 0252]
Ms Jeanette Lee (SBF) [Tel No.: 6827 0257]
Ms Wang Jia Yu (SBF) [Tel No.: 6827 0259]; Email: research@sbf.org.sg.
This survey is also available in print. You can download a printable version of the survey by clicking 
here
.
Upon completion, please scan the survey and email it back to runan.sui@blackbox.com.sg.
We thank you for your time and value your frank feedback.