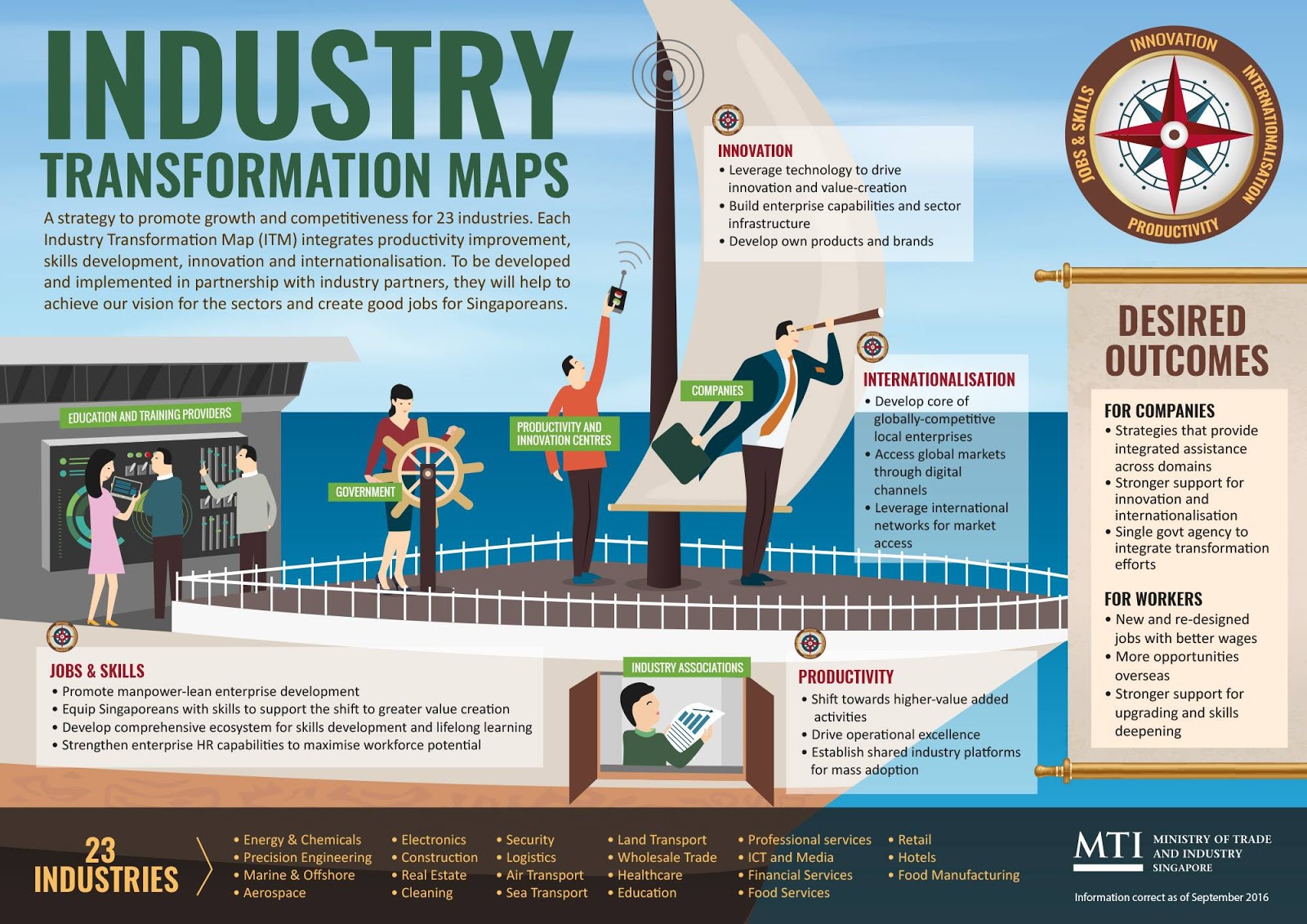 The S$4.5b Industry Transformation Programme announced at Budget 2016 was developed to achieve maximum synergies in our industry transformation over the next few years. The programme is designed to integrate different restructuring efforts, taking a targeted and industry-focused approach to address issues and deepen partnerships between Government, firms, industries, trade associations and chambers to address challenging economic conditions, rising competition, and disruption from technological advances. Domestically, land and manpower constraints grow more pressing. An industry-centred strategy is needed to yield results in a more systematic and co-ordinated way.
Under the programme, Industry Transformation Maps (ITMs) were developed for 23 industries under 6 clusters including Manufacturing , Built Environment, Trade & Connectivity, Essential Domestic Services, Professional Services and Lifestyle .  The Future Economy Council (FEC) takes overall responsibility for the implementation of the ITMs.
Refreshed Retail Industry Transformation (ITM) Map 2025
To ready the retail industry for global competition, the Retail Industry Transformation Map (ITM) was launched in 2016 to encourage retailers to adapt and innovate to remain relevant. In 2022, the refreshed Retail ITM was launched to strengthen Singapore as a global lifestyle and retail hub, anchored with new experiential concepts and innovative products. The Retail ITM will also focus on building a core of global Singapore brands, and uplifting the quality of jobs in the sector.
The sector faces several near term challenges – intensified competition and a need to undergo structural shifts from brick-and-mortar outlets to e-commerce. The sector has to evolve and adapt to major trends like the omni-channel approach, as well as tap new growth opportunities and remain internationally competitive.