SRA x SNEF – Profession Conversion Programme (PCP) for Professional Executives (Retail Track)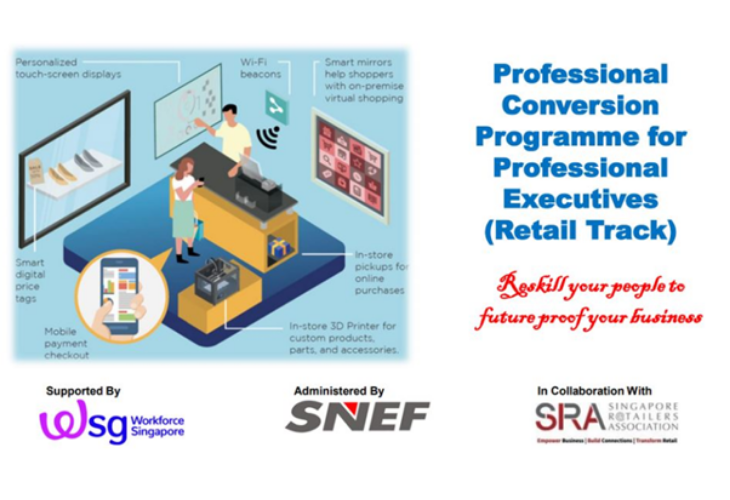 Are you looking to build a team of employees to establish your social media or eCommerce presence and execute digital marketing strategies to improve online engagement and increase brand awareness?
Send your NEW HIRES for this 3-month programme administered by Singapore National Employers Federation (SNEF) in partnership with Singapore Retailers Association (SRA) which will comprise facilitated classroom training with customised structured on-the-job training to help new hires understand new retail trends in the retail economy and equip them with the necessary competencies and skills such as data analytics, omni-channel marketing, service innovation to support your company's digital transformation and innovation development.
Funded by Workforce Singapore (WSG), this programme provides support for companies to hire and train career switchers to take on new job roles such as Retail Digital Executives, Supervisors or Junior Managers.
Join us in this webinar to find our more on what is PCP and how it will be beneficial for your company!
Date: 8 April 2021
Time: 11am – 12.30pm
PCP candidates will be equipped with the skills and knowledge to:
Gain and measure customers' insights and purchasing behaviour through analysis of data.
Develop overall digital strategy across omnichannel to improve and personalise customers' journey experience
Drive and improve customers' engagement within the retail store
Perform research on competitors' products/services and to enhance customer experience for targeted customers
Develop and work with cross functional teams to evolve ideas, increase brand awareness and meet company's objectives
Singapore Retailers Association (SRA) is pleased to be the retail training partner for this PCP programme. All approved eligible PCP candidates will attend 4 non-WSQ Retail Modules taught by SRA as follows.
By participating in this PCP programme, your new hires could acquire the following knowledge and skills.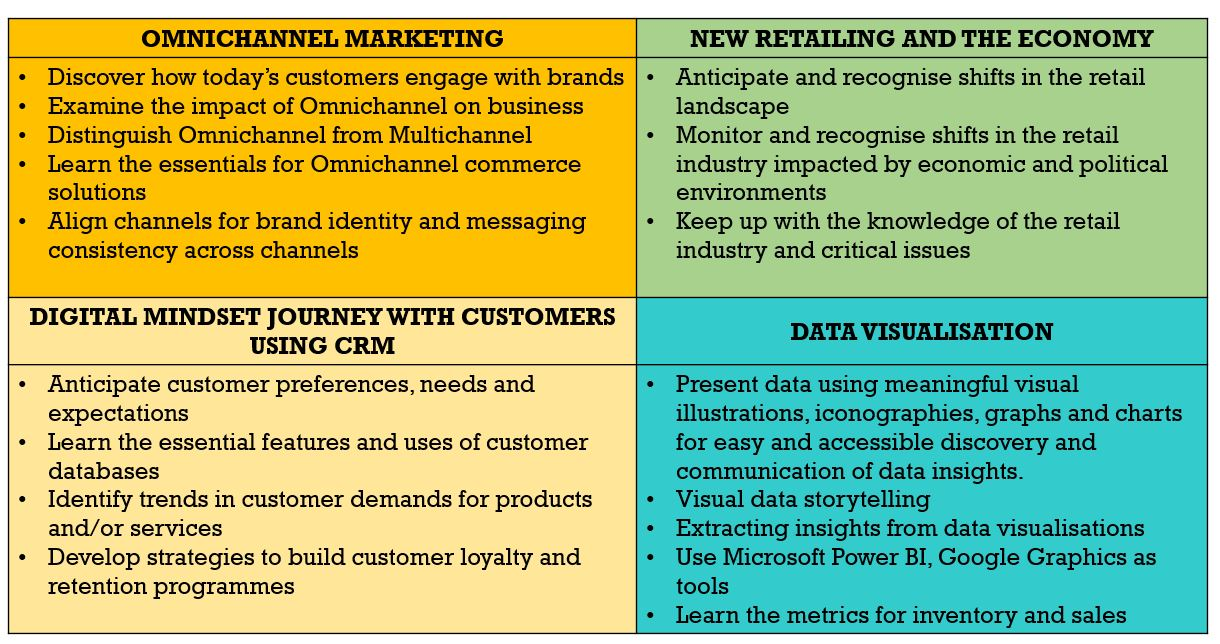 Qualifying Criteria for Participating Companies:
Registered or incorporated in Singapore with a valid Unique Entity Number (UEN) with Accounting and Corporate Regulatory Authority (ACRA)
Offer a full-time PMET position, with a minimum monthly gross salary of $2,500, and of at least a 12-month employment contract
Offer employment directly related to the job which the PCP is for, with remuneration that is aligned to the market rate
Must have the knowledge and capacity to provide structured on-the-job training for the candidate
Qualifying Criteria for PCP Candidates (Applicable ONLY for NEW HIRES):
Be a Singapore Citizen or Singapore Permanent Resident aged 21 years old and above
New hires must have graduated or completed NS, whichever is later, for at least two years prior at the point of application
New hires must not have prior working experience or in a similar job role in previous employment
Must be a newly hired PMET for not more than one month, and nominated by an eligible company for PCP
New hires must not be a shareholder of the PCP company, or its related companies
New hires must not be immediate ex-staff of PCP company or its related companies
New hires must not be related to the owner(s) of the PCP company
Participating companies could enjoy salary support of up to 90% of trainee's fixed salary, capped at $6,000 monthly for Singapore Citizens (SC) who are unemployed and actively seeking employment for 6 months or more and /or those who are 40 years and above in the year of commencement of the PCP.
Companies with NEW HIRES who register for this PCP programme BEFORE 30 Sep 2021 could benefit from both the JGI Incentive AND programme salary support + up to 90% course fees grant.

1st intake commences 13 Jul 2021. Applications are open now!
For more information, please contact Elise at elise@sra.org.sg l 9768 6981 or click here to download the PCP Retail Track briefing deck.