SRA x SIT Customer Service Standards Webinar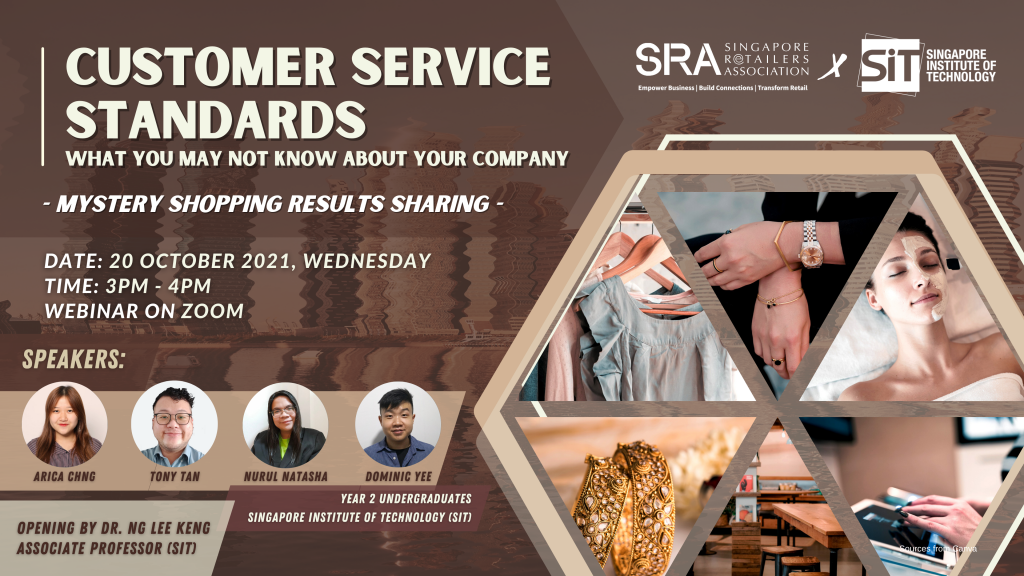 Customer Service Standards – what you may not know about your company
Customer experience is the bedrock of any service encounter. For any organisation to affirm its own strengths and improve its blind spots, mystery shopping is one valuable research method that can gather authentic and revealing data.
In June to July 2021, a group of 79 undergraduates from Singapore Institute of Technology (SIT) conducted 20 mystery shopping assessments. The evaluations were done on 11 retail companies that had volunteered for the academic project.
Do you know that the standard of email reply is within 2 days? Is your company's standard the same?
Are you aware that customers do pay attention to scent, even if it's not very perceptible?
Are your staff in different stores consistent in product knowledge?
Join us for the webinar on 20 Oct to find out more! Sign up HERE by 15 Oct 2021.
The student representatives will highlight their research outcome during the webinar.
What you can expect to learn:
The usual positive aspects of service standards (physical and online stores) across retailers in different categories.
The common areas that could be improved.
Examples of the best practices / recommendations on how to improve your service standards.
The project was led by Dr Ng Lee Keng, Associate Professor, SIT.
Dr Ng Lee Keng has five university degrees (bachelor's, master's and doctorate) in subject areas such as Philosophy, Management Research and Business Administration from NUS, NTU as well as University of Western Australia.
She has received a total of seven teaching excellence awards at two educational institutions. She has been an external examiner for two polytechnics' diploma programmes.
Prior to joining the academia, she was a director at a statutory board. She has more than 20 years of work experience in diverse service roles and management positions across sectors such as healthcare, airline, hotel and education.