SRA X SFA: BNPL Code Of Conduct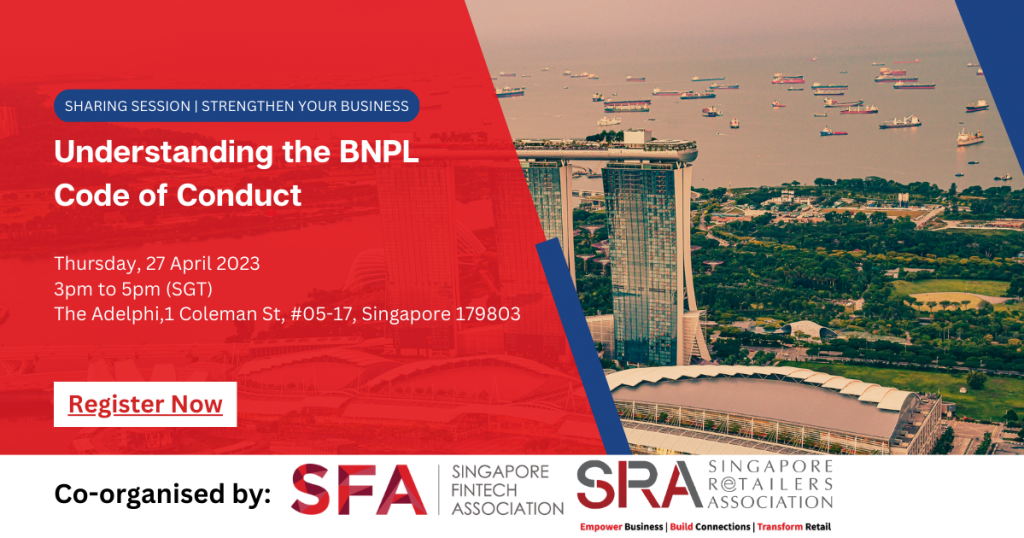 Singapore Retailers Association (SRA) & Singapore Fintech Association (SFA) invite you to an in-person sharing session on Buy Now, Pay Later (BNPL) Code of Conduct that sets out guidance for BNPL service providers and the industry in Singapore to protect consumers and ensure that BNPL offerings will continue to benefit the ecosystem.
In this session, you will learn:
the salient features of the BNPL Code of Conduct
who is an accredited BNPL service provider
how it will impact retailers
how you can use the service responsibly
You will also get to meet the BNPL service providers, who are part of the SFA BNPL Working Group, subjected to attendance. They include:
Atome
Grab
ShopBack
Ablr
Latitude Pay
Pace
SeaMoney
Registrations close on 20 April 2023.
Here are the event details:
Date: Thursday, 27 April 2023
Time: 3pm to 5pm
Location: The Adelphi, 1 Coleman St, #05-17, Singapore 179803