SRA Retail Reimagined Innovation Challenge Information Session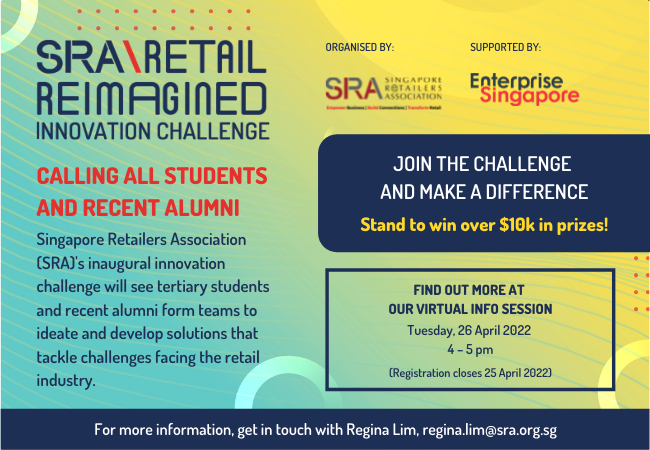 We are launching our inaugural innovation challenge, which will see tertiary students and recent alumni form teams to ideate and develop solutions that tackle challenges facing the retail industry. While the retail sector has been facing multiple headwinds in the past few years, there have also been strong efforts to convert these problems into opportunities from developing omnichannel user experiences to new business models to stronger emphasis on sustainability.
Our challenge is titled "Retail Reimagined" because we want to work with the next generation of shoppers and retail talent to get their creative ideas in developing game-changing solutions.
Details of the SRRIC
Participants:
Open to all students of Singapore IHLs as well as recent alumni (graduates up to 3 years)
Participants form teams of 2 – 5 and we encourage forming cross-discipline teams
Timeline
Information session (virtual), 20 April 2022
Challenge Day: 12 July 2022
We will be hosting a virtual information session on 26 April, 4pm, where we share more information, discuss the problem statements, and answer questions.
Information session agenda
Introduction to SRA, the Innovation Challenge, and our goals
Who is eligible, dates, prizes, and judging criteria
Problem statements
Q&A
For enquiries, please reach out to our Challenge Team:
Tay Kae Fong <kaefong@binomial.com.sg>
Regina Lim <regina.lim@sra.org.sg>