SRA – NRF New York Study Mission 2020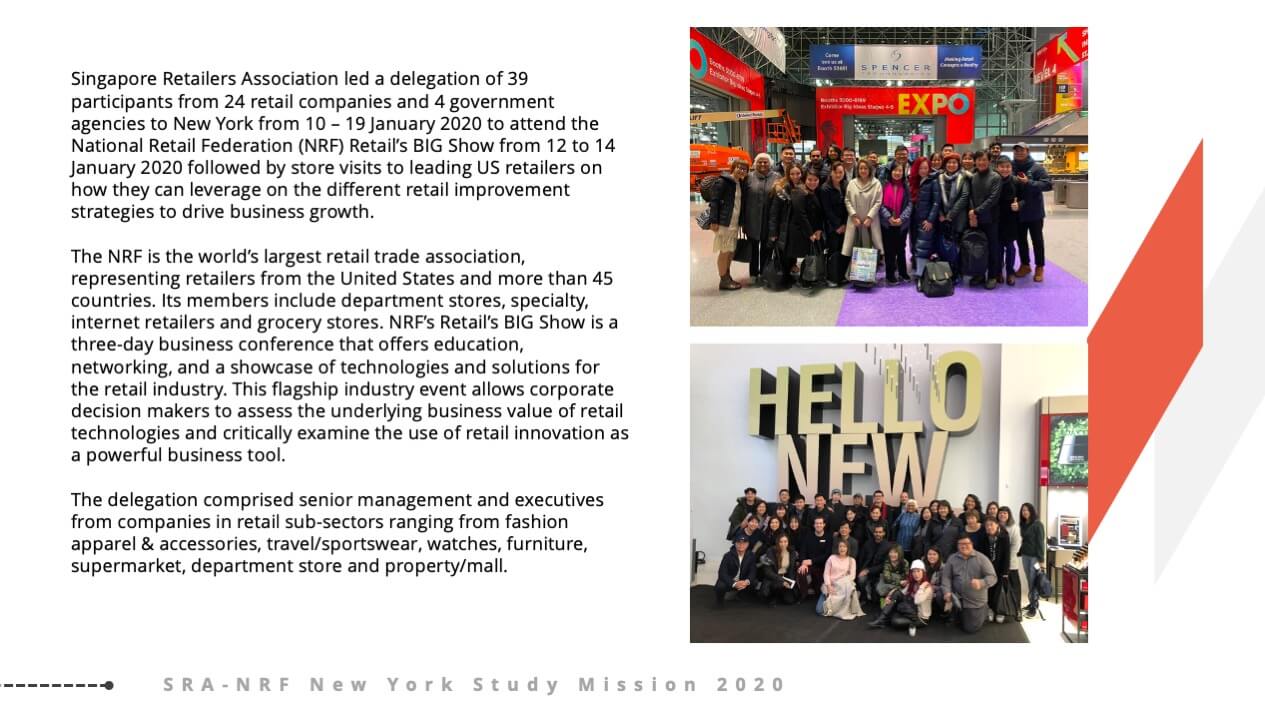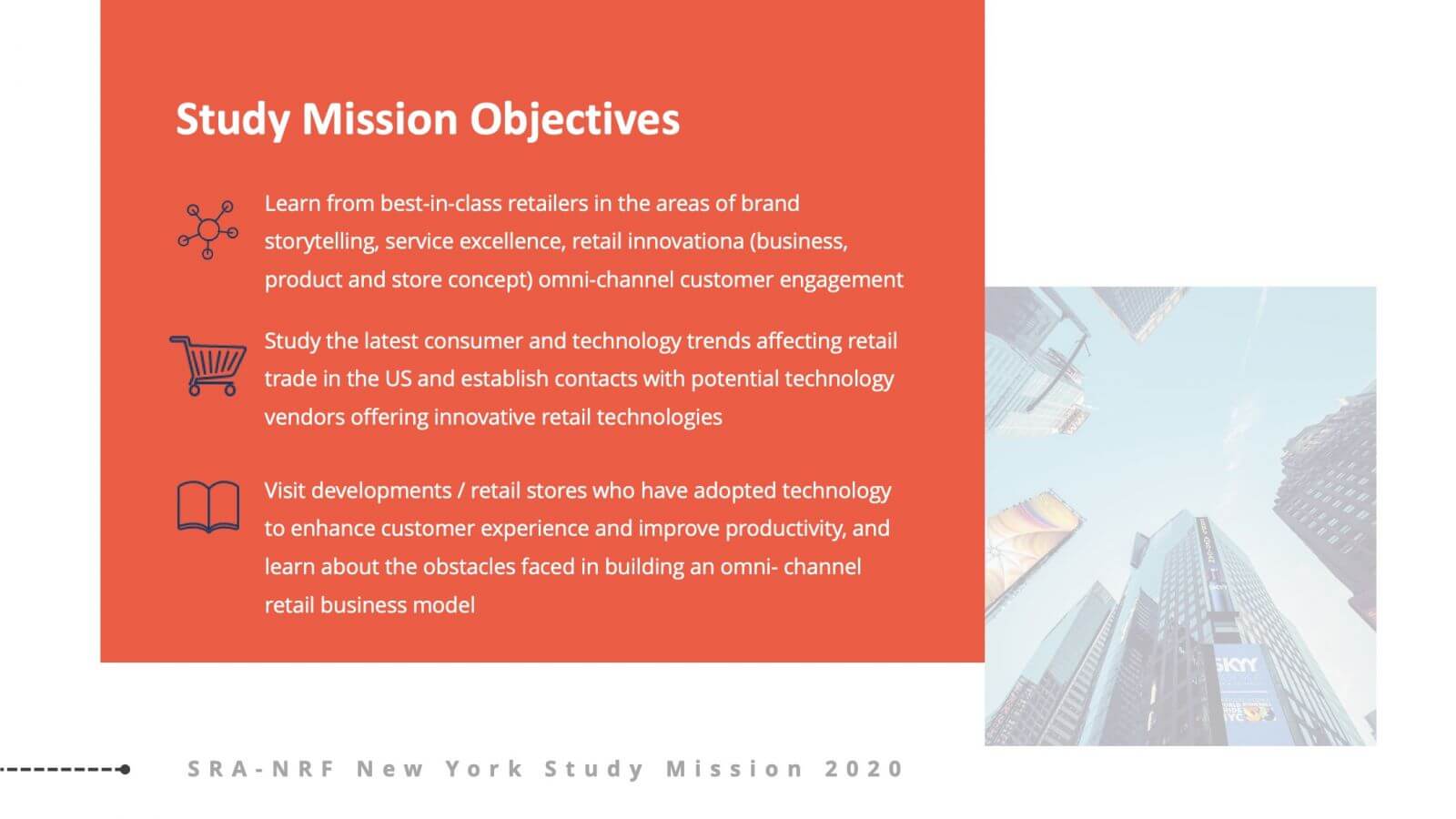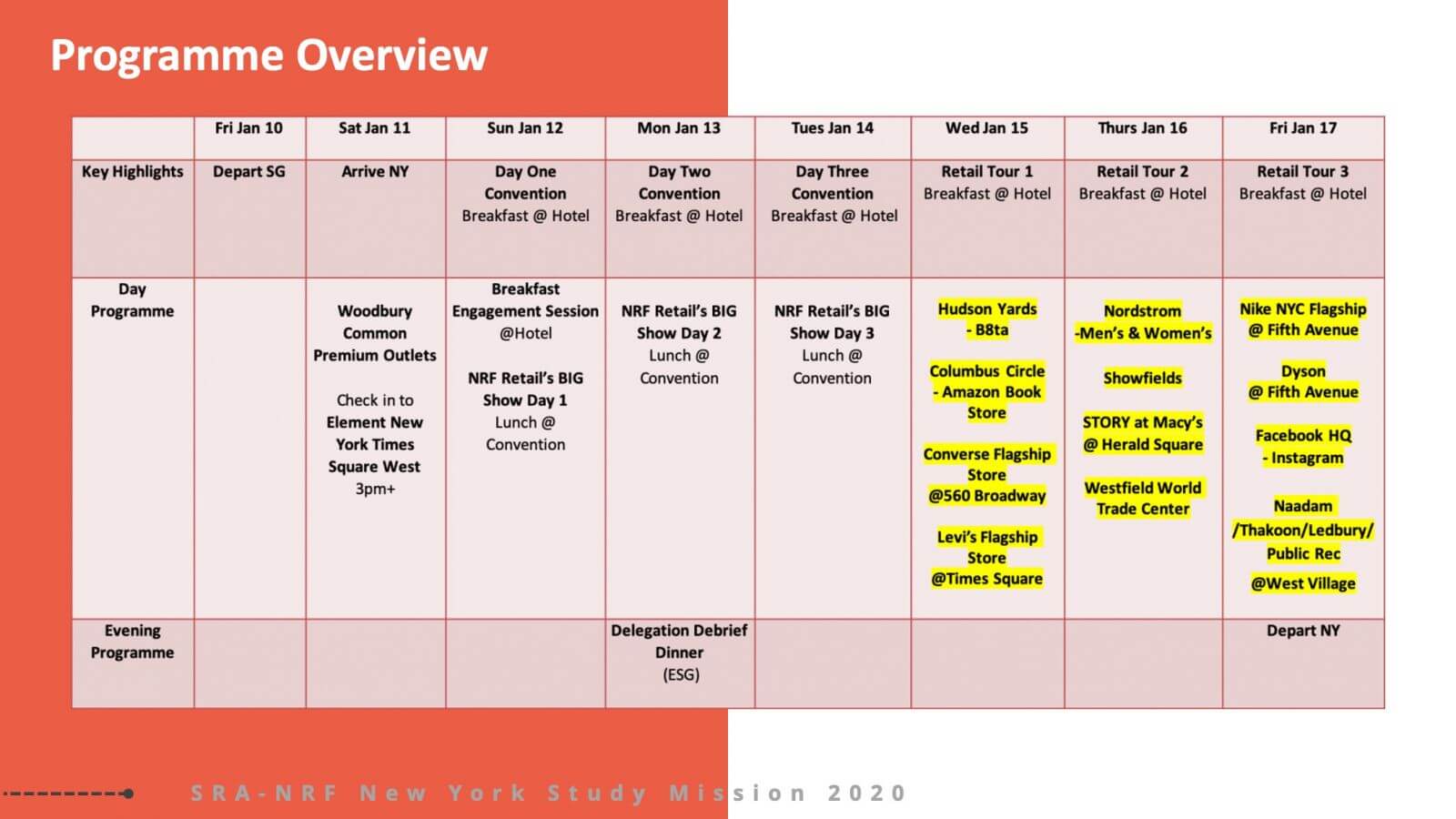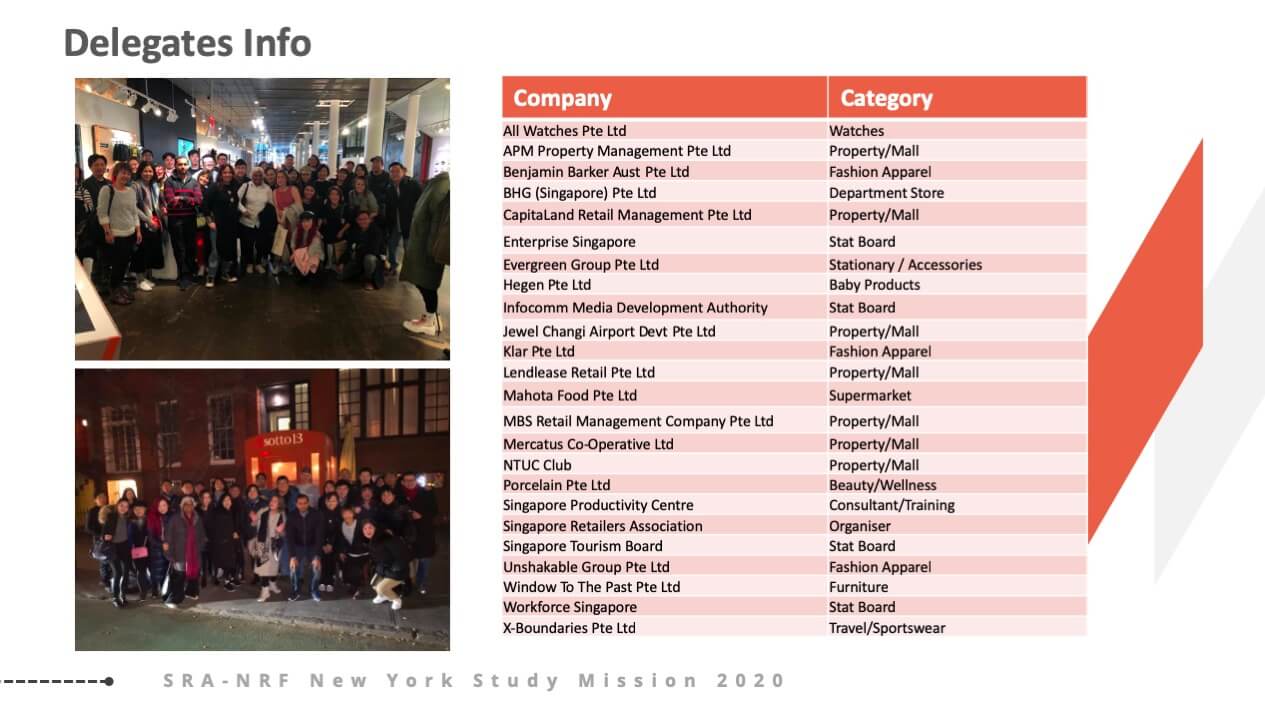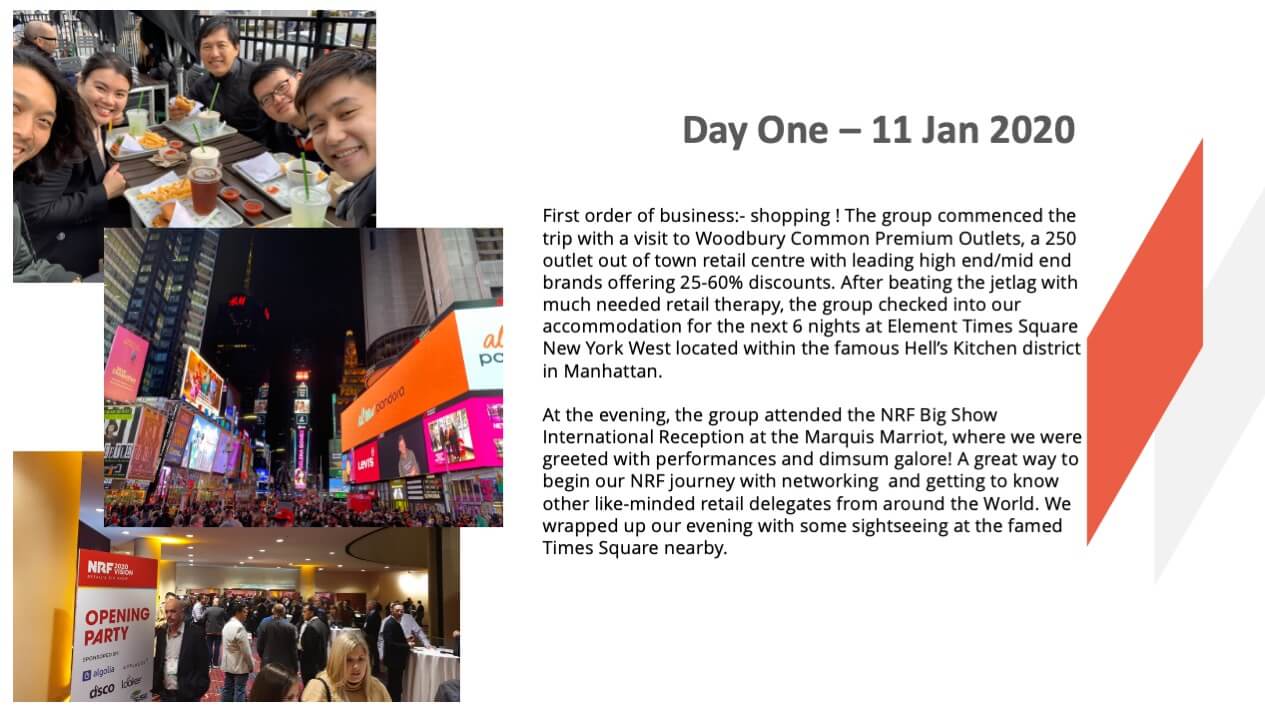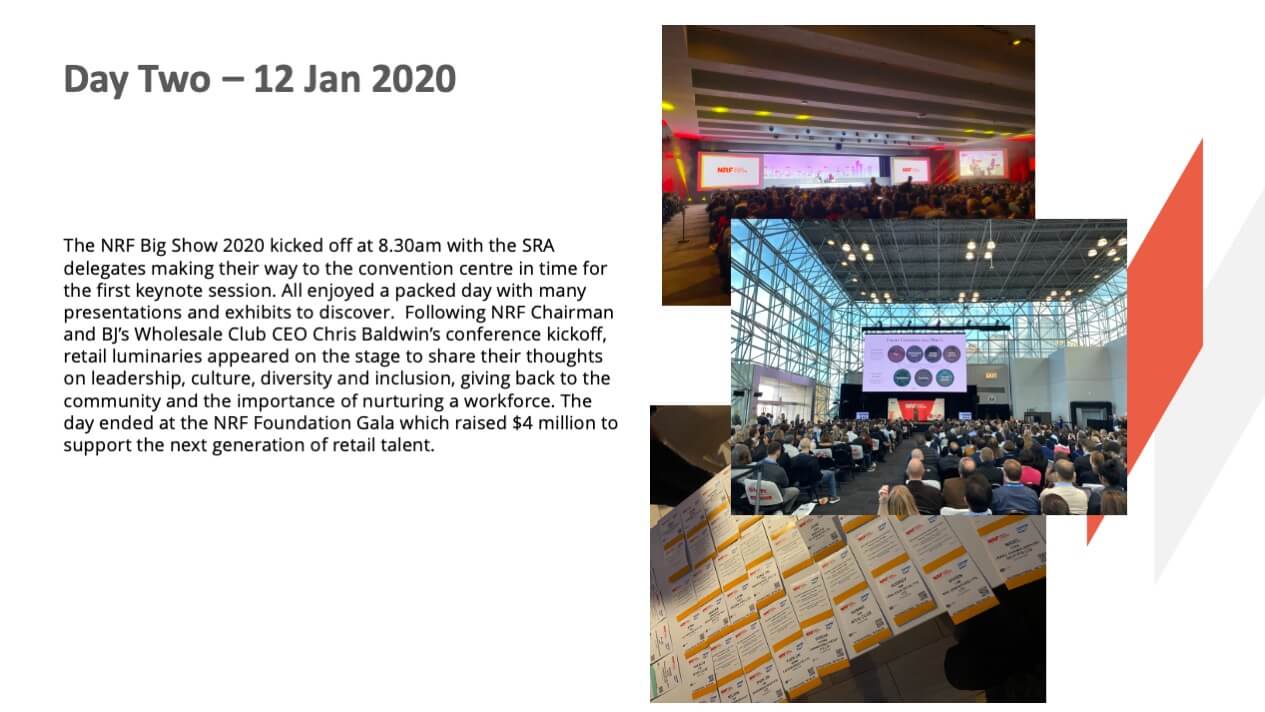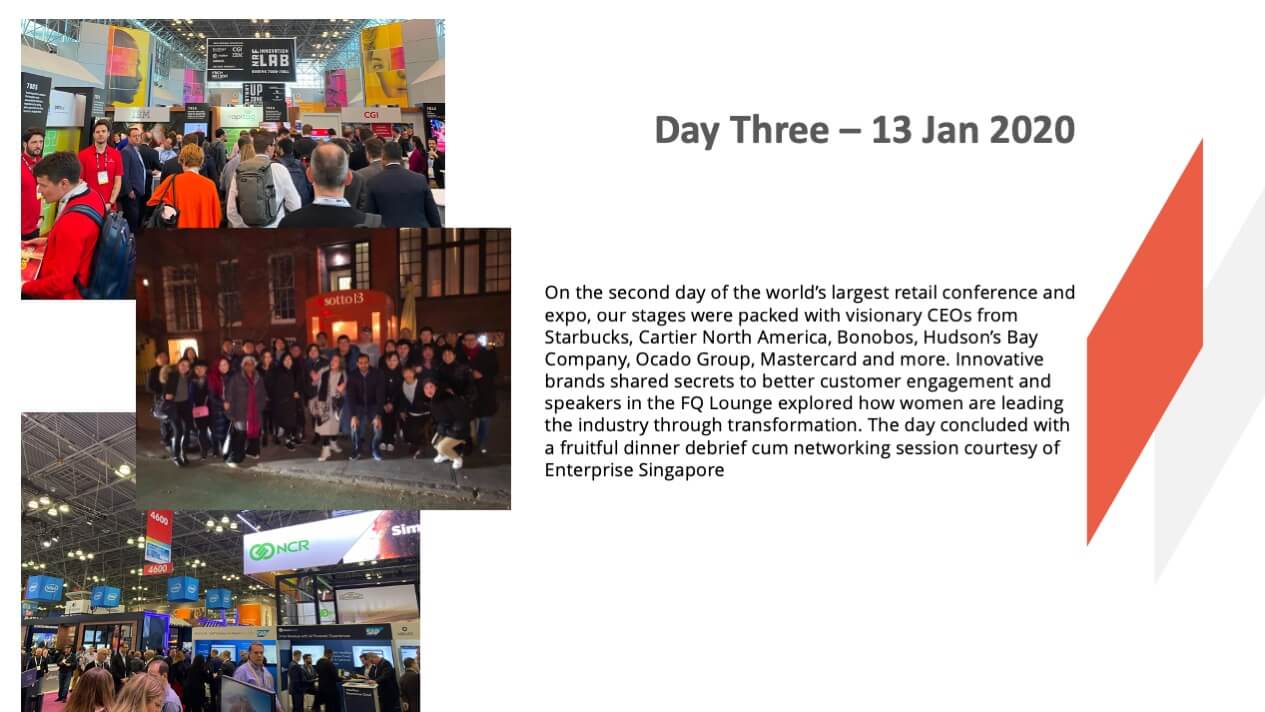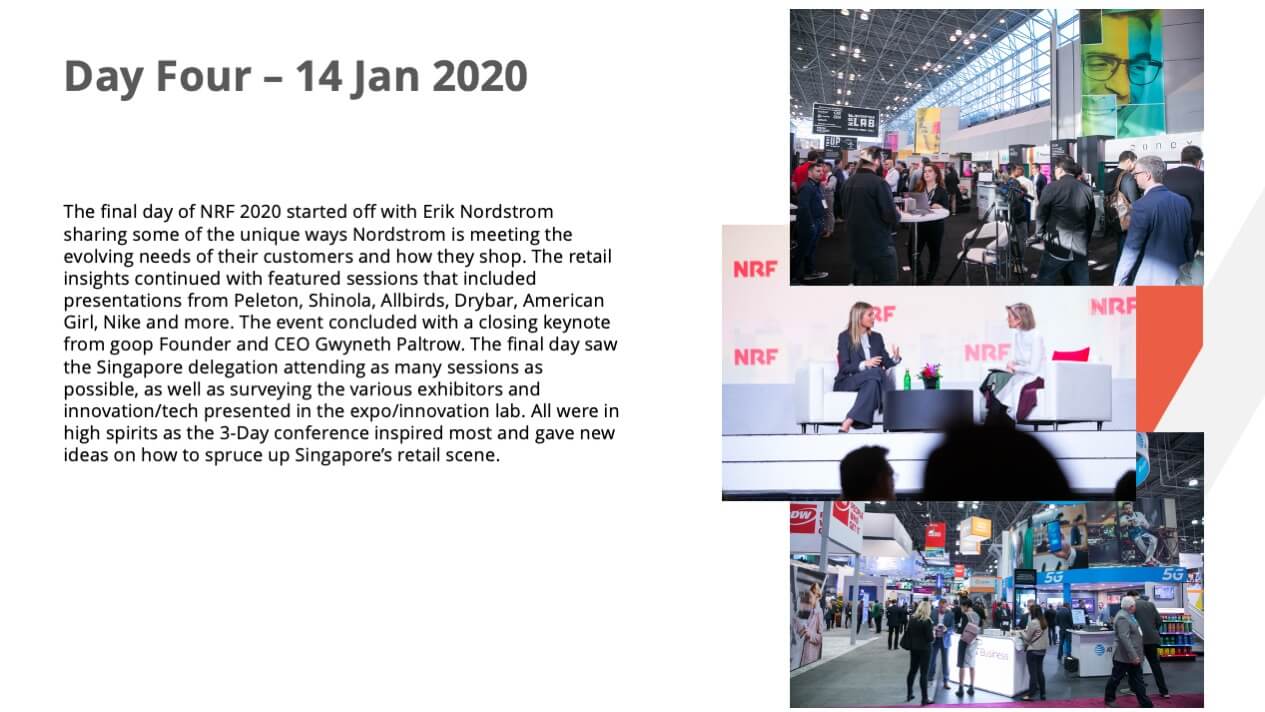 The retail study mission progressed on to hosted store tours from 15th to 17th January, with a multitude of innovative stores visited.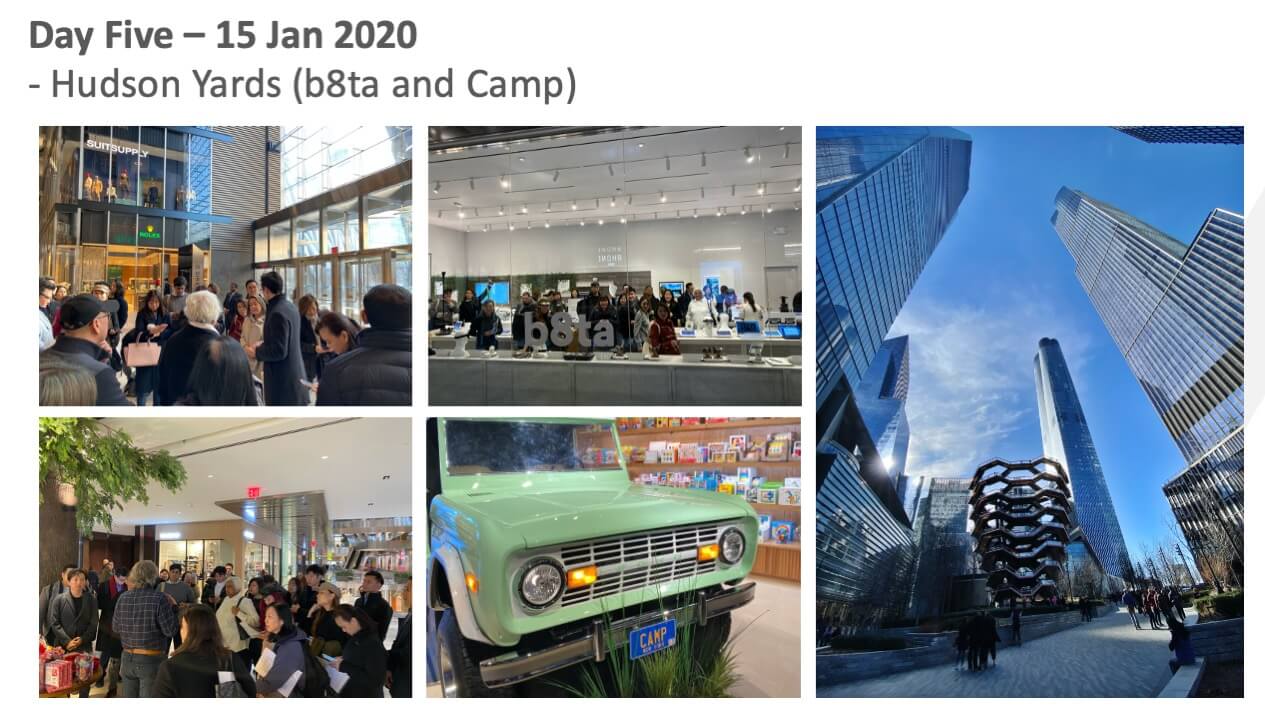 First stop is Hudson Yards, located in a new neighbourhood on Manhattan's Westside with over 100 shops and restaurants. This Includes the only Neiman Marcus in NYC, experiential and online retailers, and leading brands in every category from luxury to fast fashion. Within Hudson Yards, we also visited b8ta, a software powered retailer with an in-person, retail experience designed for electronics companies that do not have the bricks-and-mortar stores to provide consumers the opportunity to touch feel and try items pre-purchase.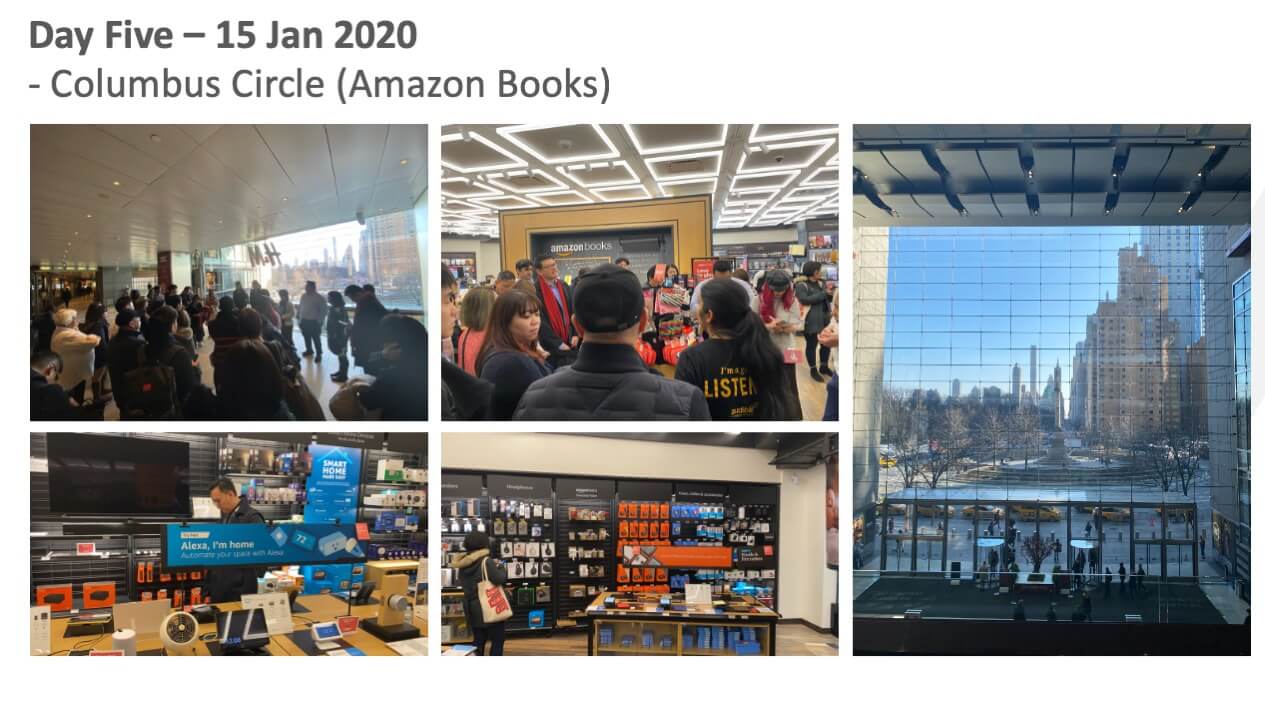 Next up on the tour was Columbus Circle, The first vertically built Mall in the US in an area with huge high end sales potential given the prime location and immediate catchment area around Central park. Within Columbus Circle, we toured Amazon books, a physical extension of Amazon.com located on 3rd floor of the mall to provide a communal area for customers to sit and read books they have purchased. The store offers only 5 star rated books; thus product is defined via data from Amazon.com. US customers see shopping via Amazon as seamless, and most use an Amazon pay account when purchasing.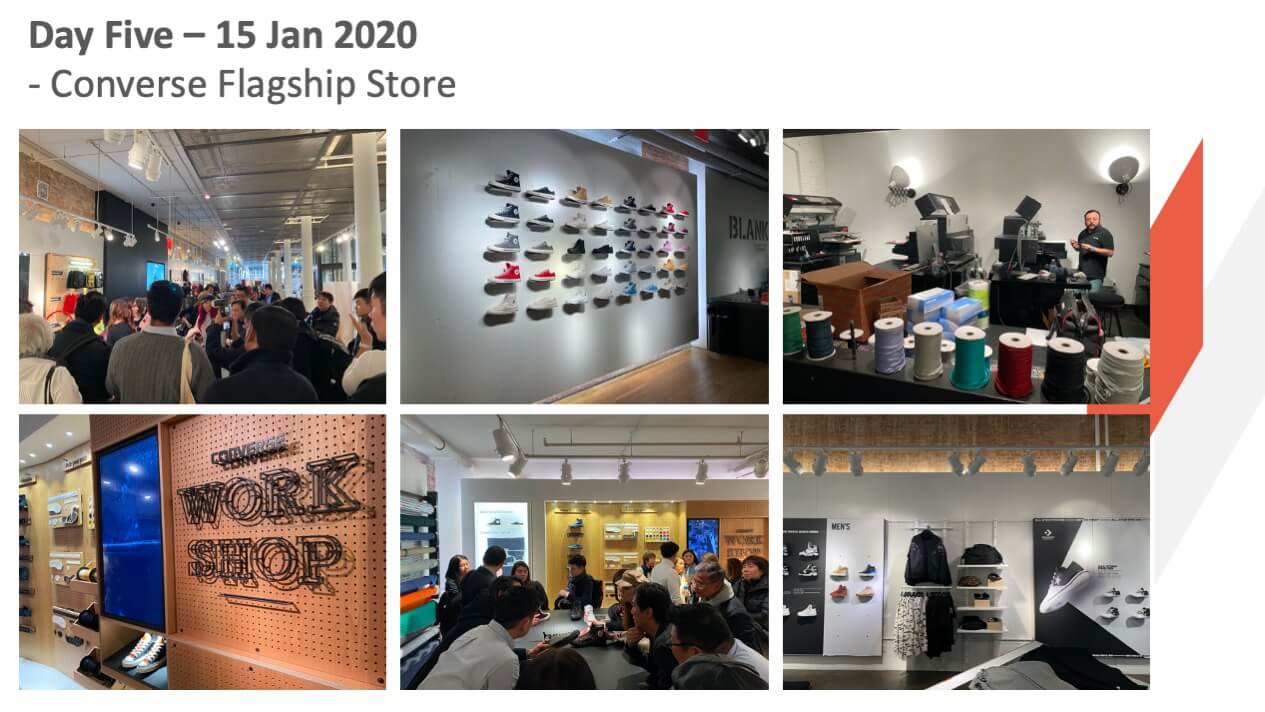 We also visited the Converse Flagship Store, Flagship store, the largest Converse store in the world, representing the pinnacle of brand expression, offers customers the largest Converse assortment, plus limited editions and collectables and in store customization. Taking customization to the next level, customers can personalize their old converse shoes, choose from the current range and print anything on them – product being ready within 24 hours.
Last up was Levi's Flagship Store at Time Square. The denim giant, cruising toward its highest sales in a decade, opened its biggest store in Times Square, packed with customisation options and heritage products that have fueled the jeans brand's resurgence. An ethos on good customer service, brand heritage, brand experience and brand personalization make the store a destination for Levi's lovers.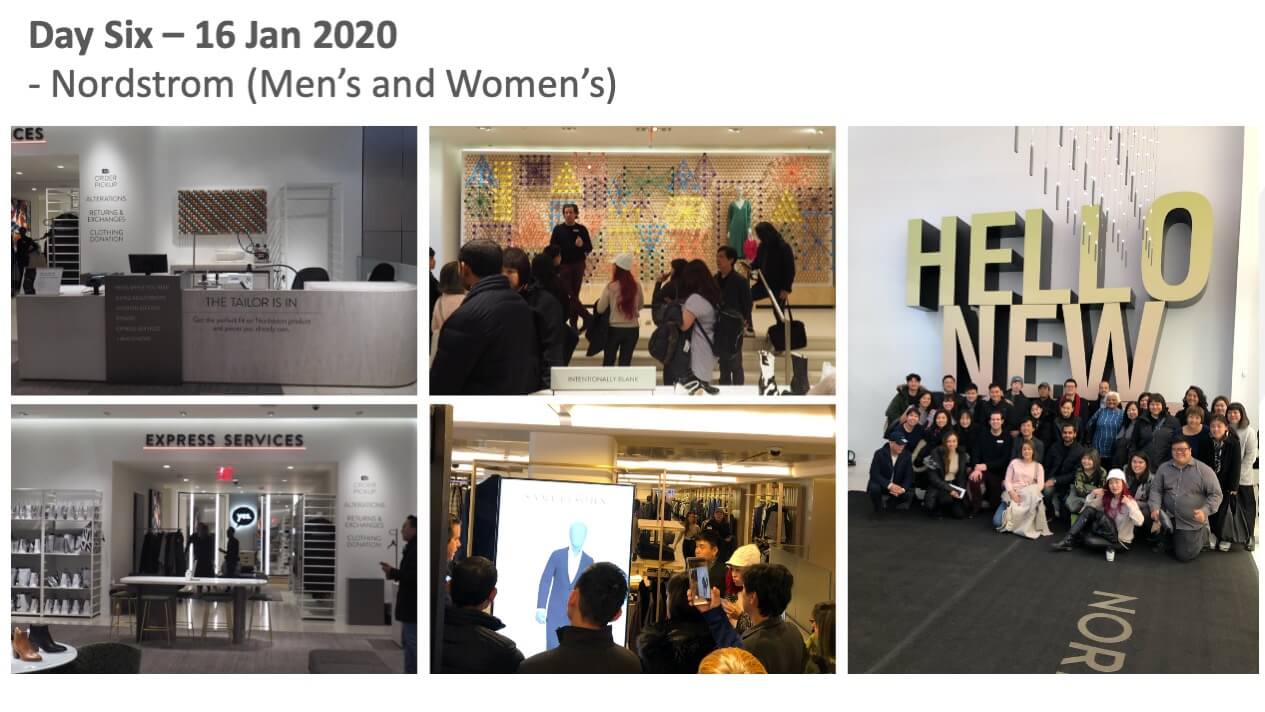 The store visit's continue on Thursday, with a visit to Nordstrom, one of the top Department Stores in the United States. Nordstrom's new seven-story flagship is pitched as a retail heaven for all. Designed to help explore new brands, it features classic and up-coming designers, as well as D2C brands. Nordstrom is raising the stakes for department stores, with seven different eateries, a cocktail bar, face gym and innovative experiences. There are seven levels of curated retail product offerings, including clothing, accessories, shoes, beauty, children's and home products highlighting exclusive, limited distribution and emerging brands. Key features of Nordstrom includes exceptional service and going the extra mile for customers with innovative in store tech such as their virtual mannequin and self-service return of goods.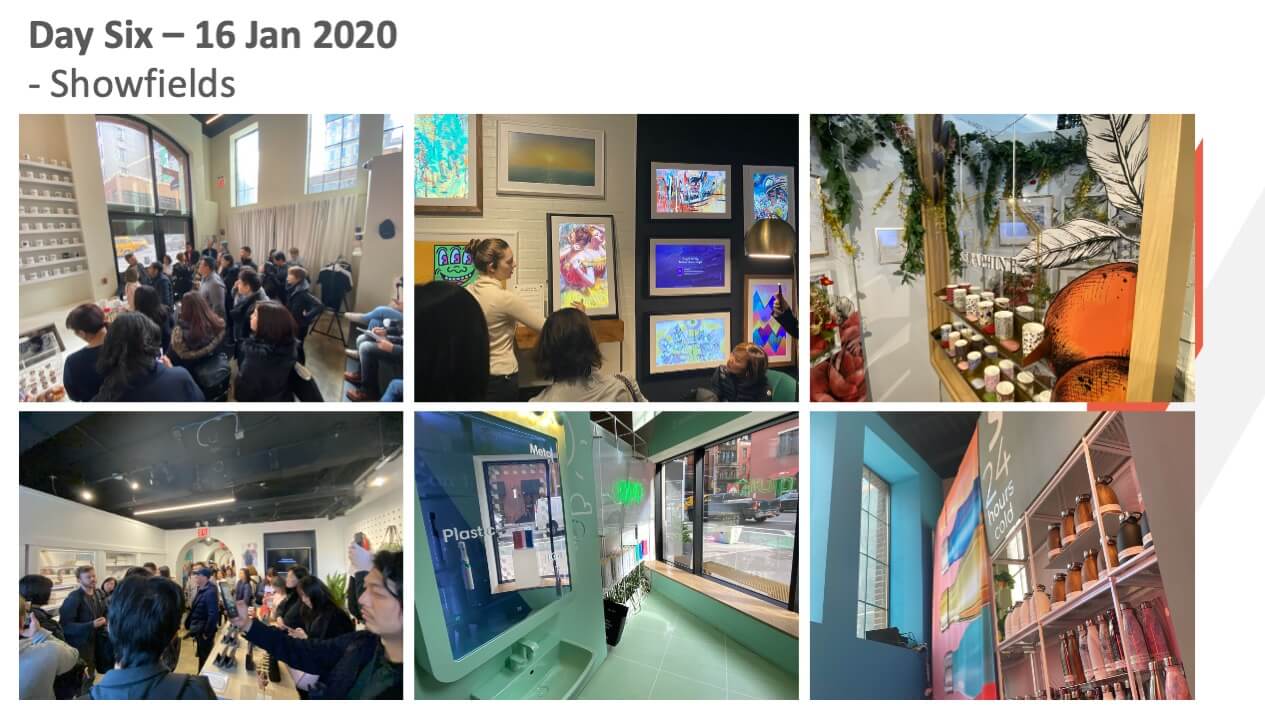 Next up, the group headed to Showfields. Newly opened in 2019, Showfields is an immersive retail experience with a combination of art exhibitions, community events, food-drink hospitality and theatrical experiences, all with the objective of creating a story. Online consumer brands are presented in a physical brick and mortar space. The whole retail space is curated to be "instagammable", allowing for heightened customer engagement as the products are being displayed in an exciting artistic way. Each space is well curated and unique, creating a journey of brand discovery. via digital screens, further allowing customers to make an on the spot purchase. Each brand is monitored for real time data with heat zone sensors, and a live dashboard provides data to the brands on customer interest and engagement. Data analysis plays an important role in the curation of brands.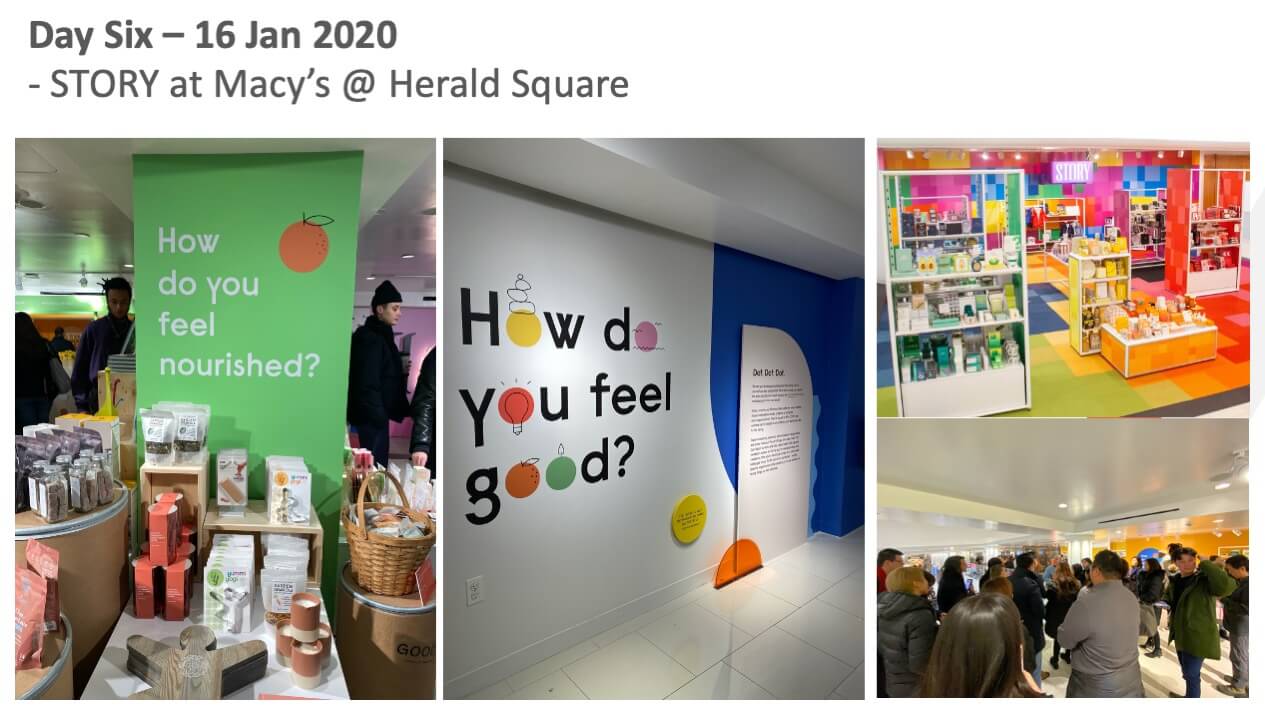 A discovery concept within Macy's stores that changes every few months, a new narrative constantly giving shoppers a fresh reason to visit. A concept which grew exponentially over several years, Story was bought over by Macy's, with Story embracing smaller brands than Macy's was accustomed to. Over 5,000 businesses have been partnered with over 500 events at their stores across the US. All spaces are focused around a community centred mission and ever-changing customer DNA, whilst continually introducing enthusiasm to their customers.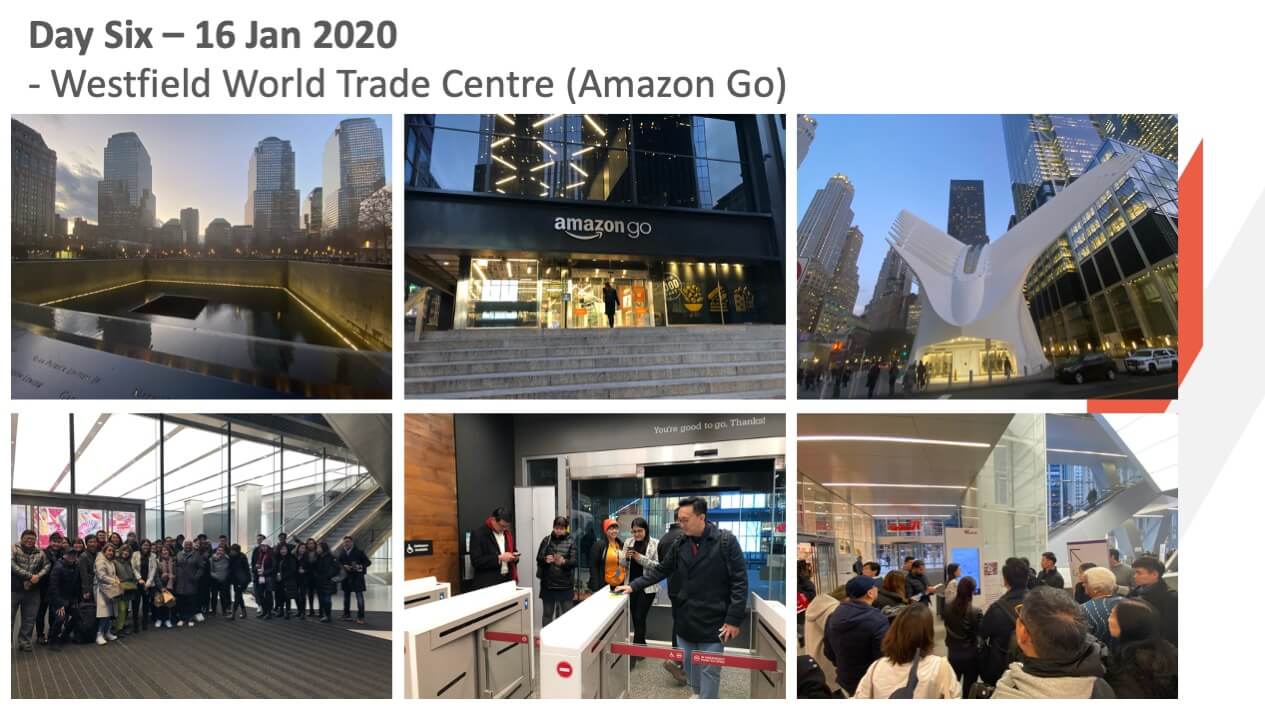 For the last stop of the day, we headed to a well-known mall located at the south of Manhattan, the Westfield World Trade Center. The mall offers a new concept of having customer concierge to assist shoppers sourcing for items, direction or even bring customers to the particular shop for them that they think customers should visit and fulfil what they plan to shop. Certain mall spaces are leased out on a 3-month basis (pop up style) to understand the viability of the store location, and this has led to several success stories. The mall also has a historic significance of the location, together with the design of The Oculus (signifying a dove of peace) create a unique destination setting. Delegates also made a visit to Amazon Go, a 'people-less' store with an instant checkout feature.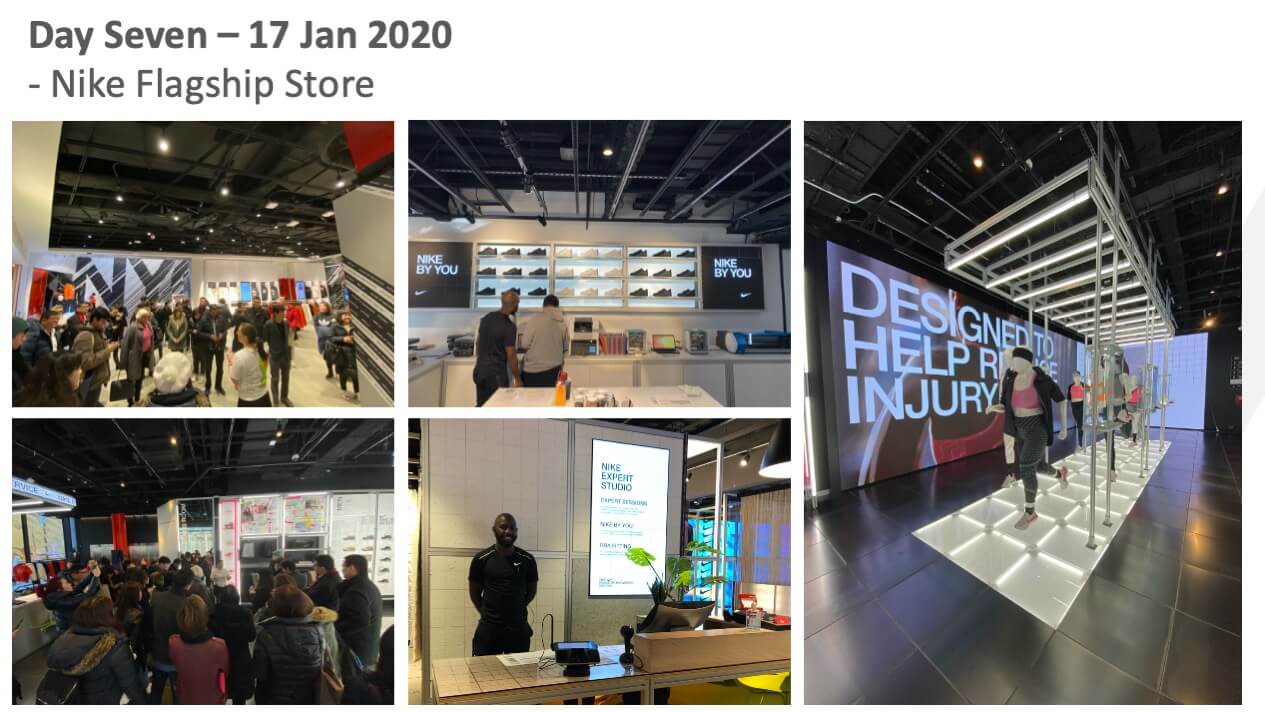 Our last day of visits begins with a visit to Nike's recently opened New York Flagship store, featuring, six-storeys of the brand's most innovative global retail concepts. It includes the Nike Speed Shop, an entire floor that uses local data to stock its shelves, expert assistance at The Sneaker Bar, and seamless integration between online and offline shopping. Nike amplifies their brand values through story telling in their merchandising strategy and allowing consumers to emotionalize and customize their own purchase. The Nike+ app also offers the best shopping experience and also facilitates self-checkout. Some of the technology employed around the store include integration of QR codes and creating consumer experiences through installations and fitting rooms.
The team made a short trip to Dyson, which is right beside the Flagship Store. Product demonstrations and tours with hands on product testing and education, and retail as a secondary activity. Personalisation services for customer's Dyson product case, complimentary appointment booking with Dyson hairstylist, and shopping for exclusive products and colorways, are a few of the value-added services available to create a personal experience for customers. Dyson places a huge focus on R&D revolutionizing household appliances via cyclonic separation technology making a distinctive product range.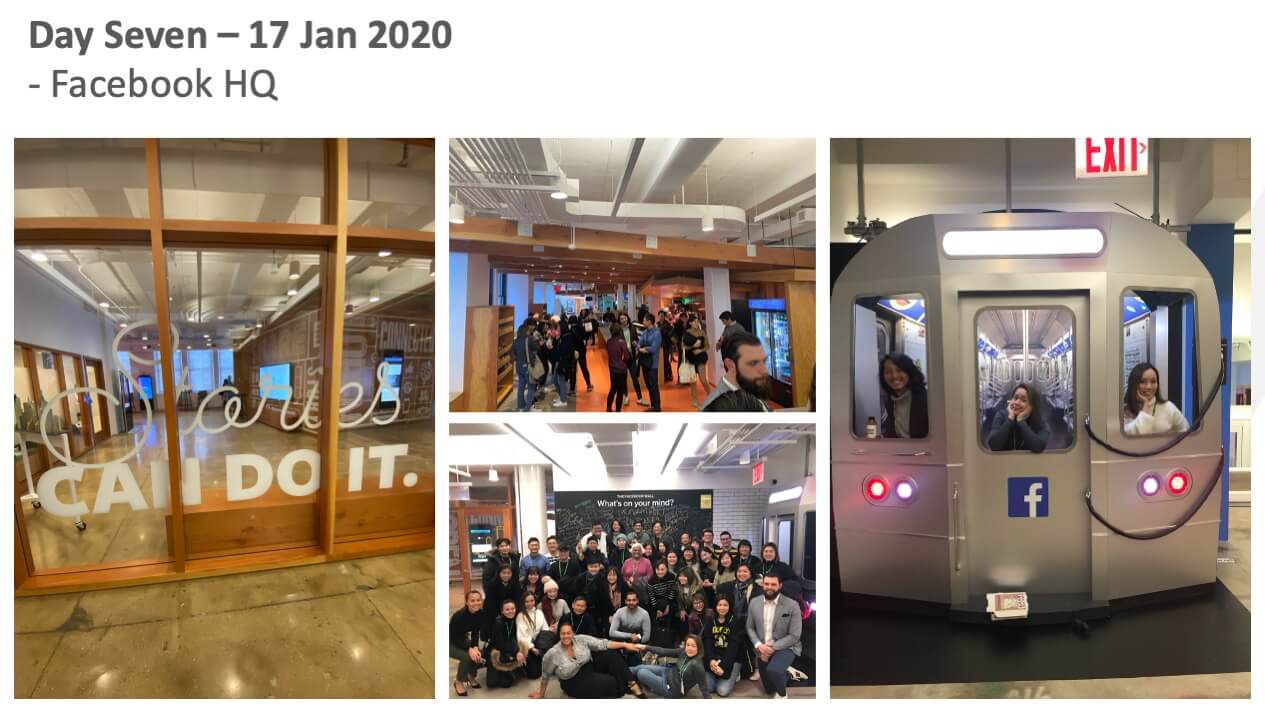 We then visited Facebook HQ, located near the iconic Flatiron building at Broadway district. One of the most influential social networks in the worlds, with 2.2 billion monthly users. Increasing able to offer more business solutions and initiatives. Facebook & Instagram platforms can integrate many CRM solutions – but this is geographically dependent (US and SG CRM's may differ). Budget optimization/dynamics algorithm already built into each FB page, provide recommendations for all avenues by FB and Instagram for advertising and engagement with customers. Instagram provides an all-round platform to showcase products, stores and destinations. Customers check reviews, comments and trends. FB Marketplace very suitable for fashion and apparel, but less useful for furnishings, the latter may only benefit from a branding campaign.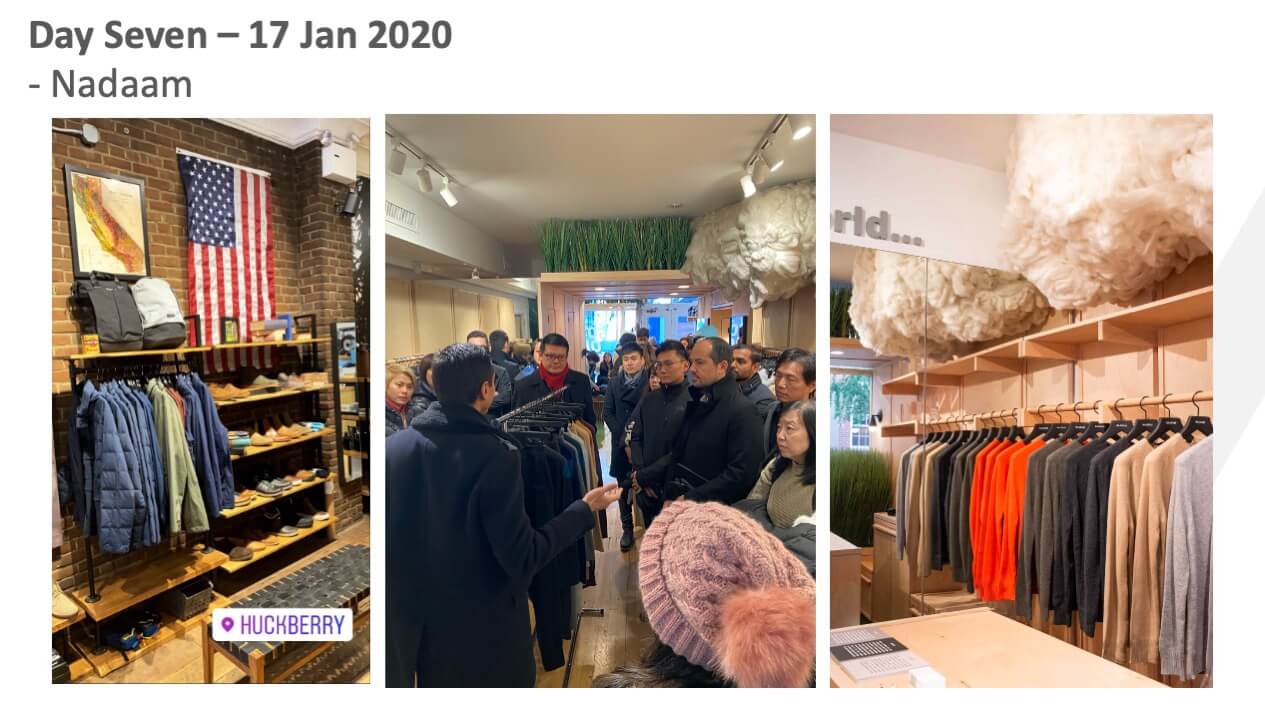 Our last store visit for the trip is Nadaam, a retail brand which `entered the brick and mortar scene with the assistance of Leap Inc (https://leapinc.com/). Nadaam has created its first physical store with the assistance of Leap Inc. Staff are well trained on the product and brand.
Click and collect has been very successful due to Nadaam's origins as a pure-play online retailer, and due to Leap's well catalogued inventory. Effective showcasing of products that are relevant to time of the year/weather/seasons. Idea of sustainability enforced to further engage customers. The omnichannel platform developed by Leap Inc captures customers from Nadaam's website and social media pages as well as through other retailers that sell their brand and products, with constant real time data analysis of movement of consumers from each of the stores within the locale that Leap Inc has in the Soho area.
Conclusion:
This study mission achieved its objectives to understand the latest technology trends and learn from best-in-class retailers in the important areas of retail store innovation, technology implementation, and employee and customer engagement.
The NRF Retail's Big Show highlighted critical areas and issues that our delegates could identify with, inspiring them to share useful takeaways to compliment or revamp their existing business strategies. They also leveraged each other's ideas and thought about applicability to their own businesses.
In addition delegates gleaned insights into strategic technology deployment, HR best practices and value added customer service to instill customer loyalty and drive sales through the guided visits.
For enquiries and interest in our future Study Missions, do contact Anwar at anwar@sra.org.sg.