SRA Job Redesign Workshop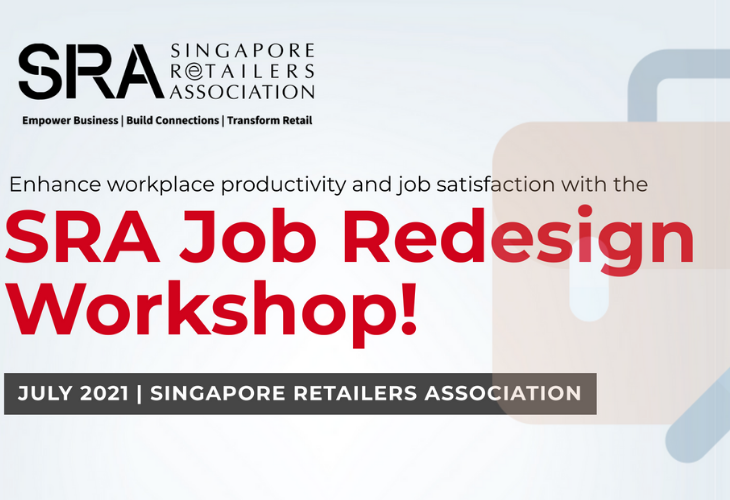 The Job Redesign Framework for Retail aims to help retailers build a future-ready and productive workforce in response to today's growing digital economy, and is often regarded as one of the most effective approaches to increasing productivity for retail companies. 
This half-day workshop provides participants with a high lead overview of job redesign methodology and process, giving them a deeper understanding of what Job Redesign is, and the investment required to reap its benefits. Participants will also be equipped with a job Redesign template to help them kick-start job redesign at the workplace.
Learning Outcomes
At the end of the workshop, participants will be able to:
Understand the trends impacting the retail sector and the importance of redesign as a means of ensuring long-term competitiveness and sustainability
Appreciate the difference between being 'productive' and 'efficient'
Understand the benefits of job redesign
Understand and know how to apply the Job Redesign Framework (diagnose, redesign, implement)
Know the three levels of redesign and the four models of redesign
Know the eight types of activities that can be applied to redesign
Articulate a business case for redesign
Who Should Attend
Business Owners, Managers and Senior Managers from all job functions who are empowered to implement changes to work processes, or who are tasked to enhance organisation productivity and business outcomes.
Approach
A blended approach incorporating games, individual and small group activities, case studies, scenarios and 'war stories' from successful job redesign projects across multiple industry sectors, peer learning and practical sessions.
Course Schedule
Workshop
1st run: 5 July 2021
2nd run: 8 July 2021
Time: 9am – 1pm
Clinic Sessions
1st run: 12 July 2021 (sales associate and cashier)
2nd run: 16 July 2021 (visual merchandiser and store manager)
3rd run: 22 July 2021 (sales associate and visual merchandiser)
4th run: 26 July 2021 (cashier and store manager)
Time: 9am – 1pm
Course Venue
Singapore Retailers Association 1 Coleman Street, #05-11B The Adelphi, Singapore 179803