Retail Progressive Wage Model (PWM) Briefing Session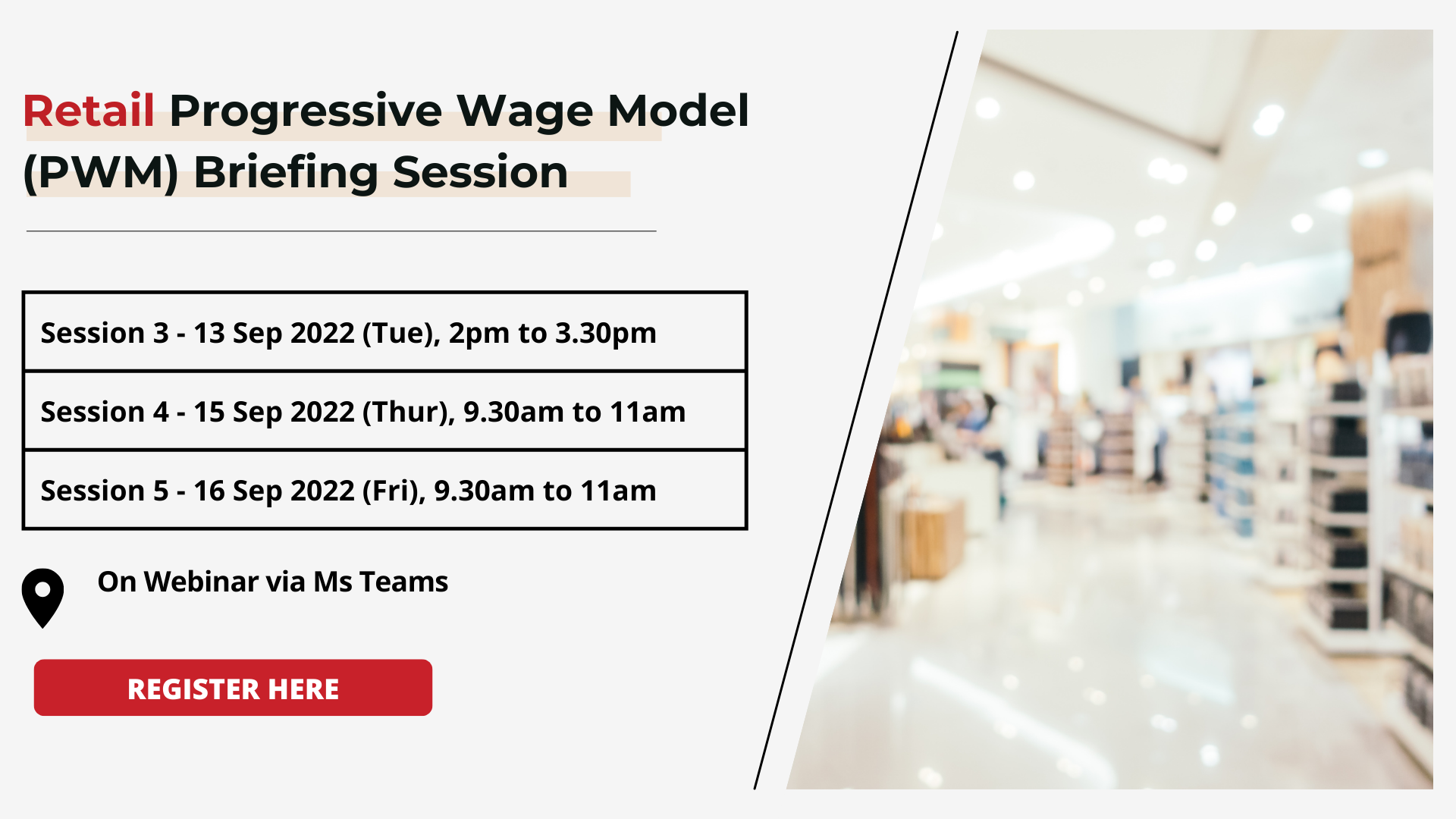 On behalf of the Tripartite Cluster for Retail (TCR) Secretariat (NTUC U Care Centre), we would like to cordially invite you to a briefing session on TCR's Recommendations on introducing the Progressive Wage Model (PWM) for the Retail sector. Slated to be announced in mid-August, the PWM for Retail Industry will require employers of retail workers to comply with the PWM requirements from 1 September 2022 in order to apply for new or renew existing Work Passes.
Since its formation in March 2021, the TCR had held several industry engagement sessions before putting forth its recommendations to the Government.  The briefing session will cover the PWM job roles, training requirements as well as the stipulated PWM wages.
 The details of the briefing session(s) are as follows:
vent

Retail PWM Briefing Session

Date, Time and Registration deadline

Date

 Time

  Register by

Session 3 – 13 Sep 2022 (Tue)

  2pm to 3.30pm

  5 Sep 2022 (Mon)

Session 4 – 15 Sep 2022 (Thur)

  9.30am to 11am

  7 Sep 2022 (Wed)

Session 5 – 16 Sep 2022 (Fri)

  9.30am to 11am

  8 Sep 2022 (Thur)

All sessions are identical, please register for only 1 session.

Mode

Virtual Platform on Microsoft Teams (MST)

Note: MST Link will be provided to all registered participants nearer to date
Click here to register now ! You will receive a confirmation email from SRA closer to the date.