Recruit and Reinvent with Career Conversion Programme (Retail Track)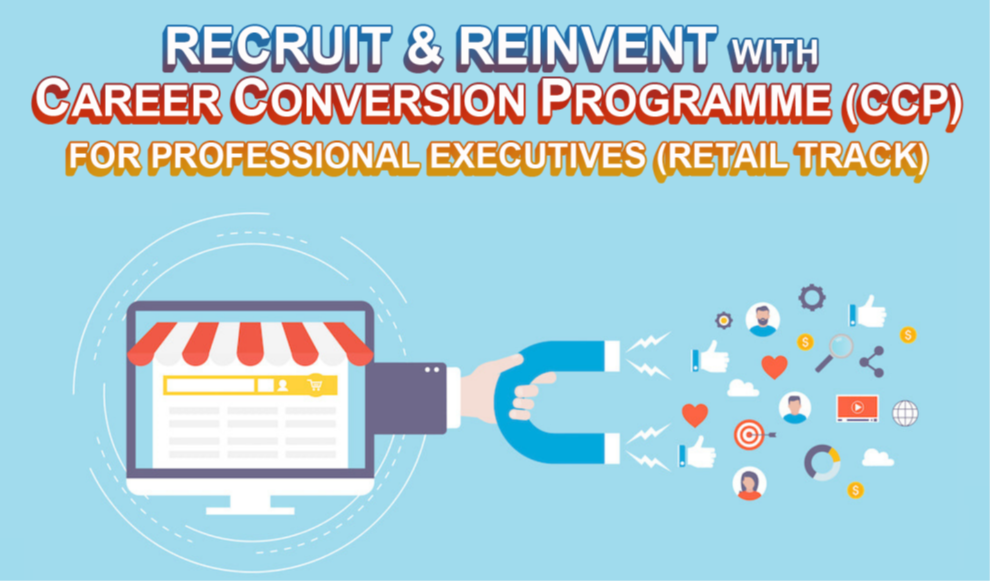 Date: 26 Oct 2021 (Tue)
Time: 10.30am to 12pm 
Webinar via ZOOM
Moving from pandemic to endemic, retailers in Singapore have to innovate and digitally transform themselves in more ways than one to drive and enhance customers' engagement across omnichannel to personalise and improve their journey experience. Increasing brand awareness and differentiating yourselves would help your organisation emerge stronger amidst the new normal.
The Career Conversion Programme (CCP) for Professional Executives (Retail Track) administered by Singapore National Employers Federation (SNEF) and funded by Workforce Singapore (WSG) aims to equip Retail Digital Executives, Supervisors and Junior Managers hired for digital operations with new retail trends and knowledge to support retail companies in their digital transformation and innovation development.
Join us in this complimentary webinar co-organised by SNEF and SRA on 26 Oct 2021 (Tue), from 10.30am to 12pm noon where you can learn how you can build your dream digital team with up to 90% course fee funding and salary support from CCP on top of JGI when eligible new hires are placed in this programme.
Event Schedule
10:15 am –  Admission of Registrants
10:30 am – Welcome Address
10:35 am –  Future Outlook of Retail by Singapore Retailers Association (SRA)
11:05 am –  Digital Transformation & Innovative Development of Retail Companies through CCP for Professional Executives (Retail Track) & Jobs Growth Incentive (JGI) by Workforce Singapore (WSG)
11:20 am –  Insights into the Training Programmes & On-the-job Training (OJT) of CCP for Professional Executives (Retail Track) by SNEF
11:30 am –  Q&A
11:55 am –  Closing Address
Seats are limited. Sign up HERE by 22 Oct 2021. 
For more information, please contact Elise at elise@sra.org.sg / 9768 6981.