MHA's Webinar on Scams: "Scaminar! The Fight against Scams"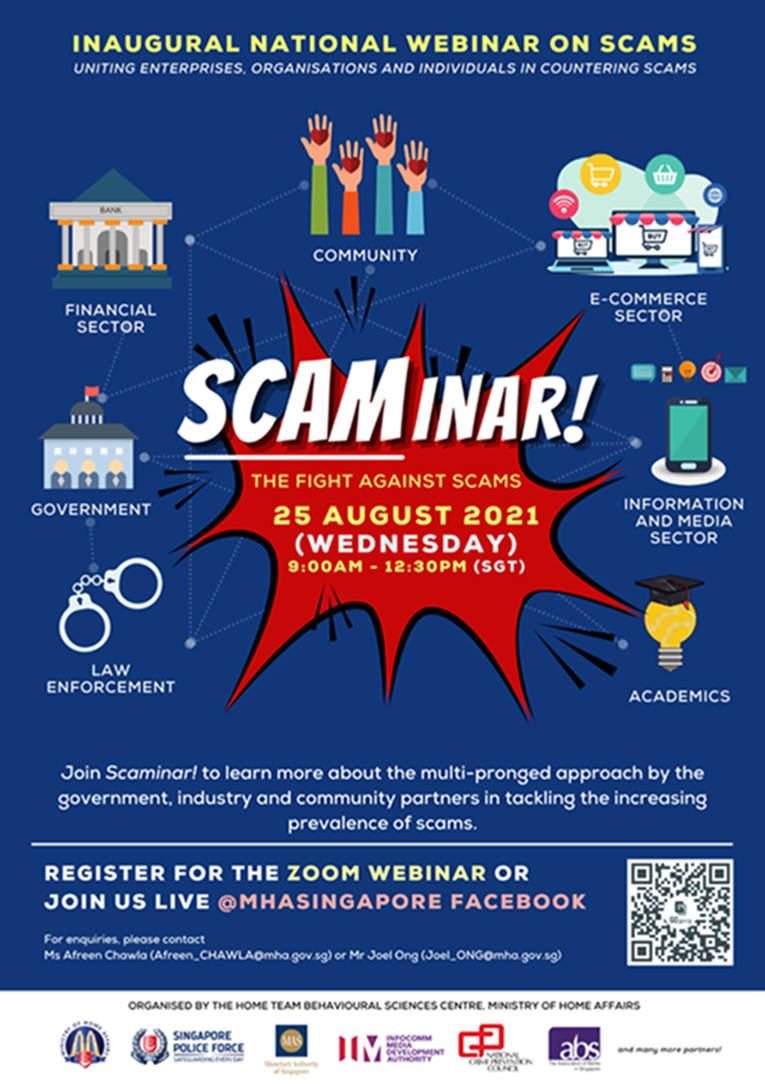 With less than one month to go, SRA would like to encourage and invite you to join us for 
"Scaminar! The Fight against Scams"
, an inaugural 
national webinar on scams.
Organised by the Office of Chief Psychologist (OCP) and the Singapore Police Force (SPF), and led by the Home Team Behavioural Sciences Centre (HTBSC), Ministry of Home Affairs (MHA), the webinar is a proactive whole-of-government and public communications initiative to showcase the active and multi-pronged approach adopted by the government and existing industry stakeholders to combat scams in Singapore.
Through this webinar, OCP, SPF, HTBSC and MHA hope to achieve greater community awareness that scam prevention and intervention is a multi-layered effort that requires the collective responsibility and action of the Home Team, industry partners, the community, and individuals.
Event Details
Date: 25 August 2021 (Wednesday)
Time: 09:00 AM to 12:30 PM (SGT)
Venue: Online (Zoom Webinar) (Meeting link will be sent to confirmed registrants at a later date!)
Guest of Honour: Minister of State (Home Affairs)
There are limited slots left for the exclusive webinar so please sign up soon via the Scaminar
 registration link
.
Please free to share the event and registration details with your friends, families, and colleagues to encourage them to join in this fight against scams too! You can also catch the event livestream via Facebook Live on @MHASingapore on 25 August 2021!
We look forward to having you join the "Scaminar! The Fight against Scams" on 25 August 2021, 9:00am (SGT)!